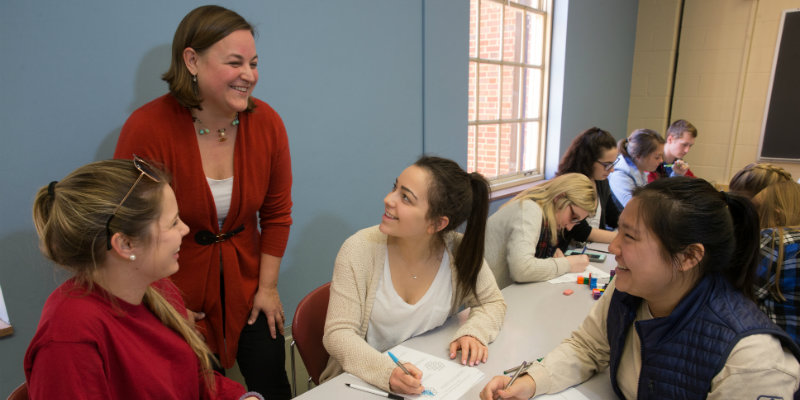 Miami Prepares America's Teachers
Our programs prepare educators for licensure in the state of Ohio.
Although we have reciprocity with many states, teacher/professional licensure requirements are subject to change. Please check appropriate state's board of education website for the most up-to-date license requirements.
To Address our most Pressing Educational Concerns
Our graduates are prepared to address persistent educational challenges, including achievement gaps based on race, class, language and ability.  They utilize strategies such as differentiated instruction, culturally responsive pedagogy and inquiry-based learning to address the educational needs of racial minority students, students from lo-income backgrounds, English language learners and students with disabilities.
Enriching and Intensive Field/School Experiences
Our graduates are immersed in the schools and complete 100-250 hours working with students prior to student teaching. They are placed in urban, suburban and rural school settings.
Completion in Four Years
All teacher education licensure programs at Miami University can be completed in four years, including all Miami Plan and Teacher Education courses as well as a full semester of student teaching.
More About Teacher Education
Learning to Unlearn How We Think about Teaching and Schooling
The world is clearly changing and so is education. So this podcast episode is about learning to unlearn what we know about teaching and schooling. And we'll hear from some of those involved a new project that's challenging what it could mean, or even what it should mean to be a teacher today. 
Managing Evolving Teacher Environments
Over the last few years, classroom dynamics have fundamentally changed, and so has the face of a diversified student population that, in many ways, may respond better to educational approaches that are very different from those that have been used in the past.
So in this podcast episode, we talk to Dr. Michelle Cosmah, an Associate Clinical Professor in the Department of Teacher Education, about how teachers can hope to succeed in such a rapidly evolving environment.
Miami University's Robert Noyce Scholarship Program seeks to encourage talented science, engineering, and mathematics majors and professionals to become secondary mathematics and science teachers.