Practicum and Internships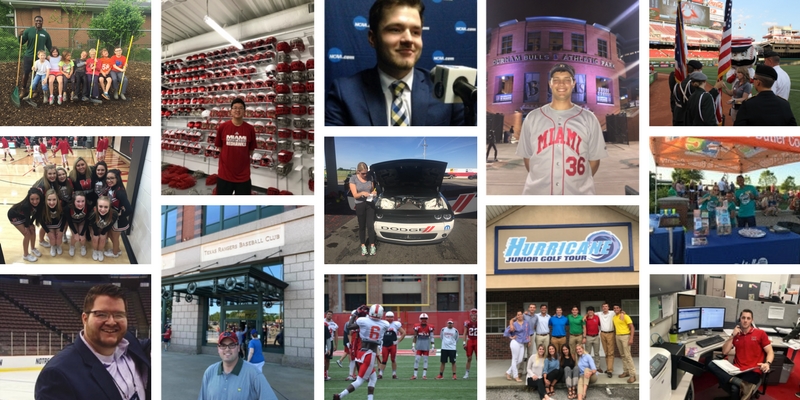 KNH 495: Practicum in Sport Leadership and Management MPC - Senior Capstone 
This course is a practicum designed for Sport Leadership and Management majors but open to all students across campus. The course is comprised of two significant components. One component is devoted to the four tenants of the Global Miami Plan: thinking critically, understanding contexts, engaging with other learners, and reflecting and acting. The other component comprised of a mandatory practicum experience; i.e., an internship. In order to fulfill the internship component students must complete a minimum of 120-hours of service to their site.
You must have senior-status (i.e., 96+ credit hours) prior or concurrent to your enrollment in this course.
KNH 340: Internship (0-20 credits hours)
Internships are a directed practical experience for the student under the guidance of on-site and KNH faculty supervisors.
Examples of Internship Placements for SLAM Students:    
SLAM students are participating in internships with professional sports teams (e.g., Columbus Blue Jackets, Cincinnati Reds, Cleveland Browns, Columbus Crew), the Miami University Athletic Department (e.g., marketing, game operations, coaching interns), sport agencies (e.g. Western & Southern Tennis Open, Munoz Foundation, NFL Play 60, Columbus Marathon) and community recreation and sport programs (e.g., Oxford Parks & Recreation, Boys & Girls Club of Hamilton, local school districts).  
Professional Sports Teams
Cincinnati Bengals 

Cincinnati Reds 

Cleveland Browns 

Columbus Blue Jackets 

Columbus Crew 

Durham Bulls AAA Baseball Team 

Miami Dolphins and Hard Rock Stadium 

Texas Rangers 

Toldeo Mudhens
Columbus Marathon 

Hurricane Junior Golf Tour 

Mopar Marketing 

Munoz Foundation 

NFL Play 60 

ProCamps 

Western and Southern Open 

Zilker Technology
Athletic Communications 

Athletic Equipment 

Athletic Ticket Office 

Football Team 

Recreation Center 

Sports Marketing 

Red and White Club
Community Recreation & Sport
Butler County Visitors Bureau 

E-coach 

Indian Ridge Golf Course 

Lakota High School 

Oxford Parks and Recreation
For more information on internship and practicum opportunities please utilize the Internship Resources tab above or contact:
Dr. Sam Morris: morrissp@miamioh.edu for KNH 495: Practicum in Sport Leadership and Management, or 
Mr. Neal Ternes: ternesnc@miamioh.edu for KNH 340: Internships