Alumni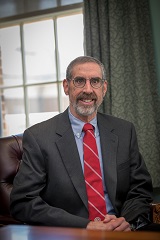 Marc Rubin
Interim Dean and PwC Professor of Accountancy
Message from Dean Rubin
Welcome home! Even though your "Miami days" are behind you, you will always remain a valued member of the Farmer School family. We look forward to hearing about your career and to seeing you back in your Oxford "home"…as a visitor or speaker, attending an event, or even introducing the next generation to the magic of the Farmer School.
The business community is increasingly bombarded by information in this interconnected world. In order to flourish in a complex environment, our students must be able to evaluate information critically, work effectively with others in teams, and communicate clearly to customers and co-workers all over the globe. We prepare them for future leadership through:
increasing opportunities for study abroad, and strengthened international study requirements here on campus;
increased emphasis on, and offerings for, experiential learning and client based projects;
expanding entrepreneurship programs in key areas, including social entrepreneurship, base of the pyramid and creativity;
enhanced interdisciplinary focus in business programs.
Our commitment to teaching excellence and the dedication of our exceptional students continues to gain national acclaim. BusinessWeek again ranked the Farmer School as one of the Top Ten public business schools. The Princeton Review judged our Entrepreneurship Program as one of the Twenty Best, for the 5th year in a row, and our Accountancy department continued its unbroken streak of Top Twenty placements. Our Supply Chain program also ranks nationally in the Top Twenty. Our Part time MBA program, with evening courses held at Miami's Voice of America Center in West Chester Township, was recently ranked best in southwest Ohio, by U.S. News & World Report.
We will continue to seek ways to make you proud to be a part of the Farmer School family and hope that you will seek additional ways to connect and engage with us; in person, on Facebook, Twitter or this website. If you'd like to receive our electronic newsletter, please contact us at deanofbusiness@miamioh.edu and provide us with your name and e-mail address.
Best wishes,

Marc Rubin
Interim Dean and PwC Professor of Accountancy