Brooke Chervenic
Biography of Shawnee Tribe leader Quatawapea/Colonel Lewis
Brooke Chervenic, an undergraduate summer scholar, was introduced to her research subject through her American Identities (AMS 301) course last fall. "AMS 301 taught me how to research, while introducing me to Quatawapea/Colonel Lewis and the Eastern Shawnee Tribe of Oklahoma (ESTOO) that I now feel so deeply for because of their loss of history," said Chervenic, a senior American studies major.
Quatawapea/Colonel Lewis, born in 1765 in Pickaway Plains, Ohio, is an historical figure who is very important to understanding the Shawnee, said Chervenic,  "Quatawapea is his Indian name, and Colonel Lewis is the name he adopted in order to communicate with the Americans during that time. Researching both names and verifying that it is him is a long process."
She is focused on locating primary documents that provide proof about Quatawapea. She will map his travels during his lifetime — from Ohio where the Shawnee were settled until their forced departure in 1832, to the Ozarks in Arkansas where he was head of three tribes on the White River.
Her goal is to expand upon the research she has already conducted for class and write a biography that provides a historically accurate account of Quatawapea's life.
"At first I never knew anything about the Shawnee Indians or that they existed," Chervenic said. Now, "this topic has become really important to me, especially in the terms of cultural preservation of their tribe's history. My most important goal is to contribute this information and research to the ESTOO."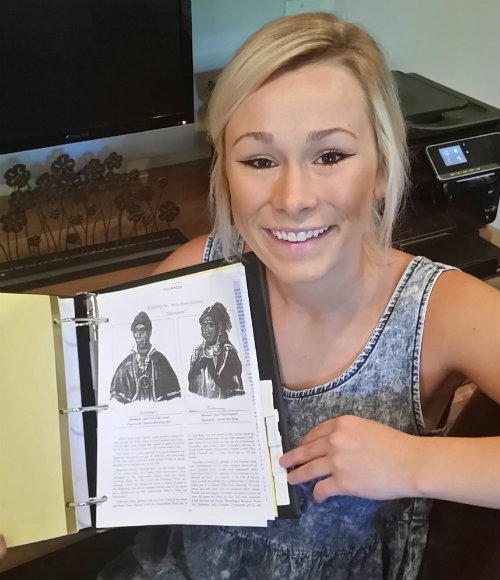 Brooke Chervenic, USS, with her research notes about Shawnee leader Quatawapea/Colonel Lewis