Mobile concentration game turns child's play into research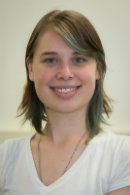 Rachel Ania Kaczka, a junior computer science major and digital games minor, planned to major in electrical or computer engineering. But, she "fell in love with programming" thanks to Peter Jamieson, assistant professor of electrical and computer engineering.
After taking her first programming class with Gerald Gannod, professor of computer science and software engineering, he invited her to work on a research project. She is able to devote more time on that project — the creation of a mobile game for children — now as an Undergraduate Summer Scholar (USS).
Along with her mentor Gannod, Kaczka is working with Yvette Harris, associate professor of psychology, to create a mobile game based on the children's memory game of "Concentration."
Harris has conducted research using this game in its traditional version, to assess early childhood development. Her goal is to eventually have a version that can collect similar data in a digital format while children play the game.   Among other data points, she is interested in latency between card flips, how many turns it takes to find a match and how long it takes to finish the game.
"The complicated part is finding or writing the software that will get the data out of the game," Kaczka said. "Right now it involves the user having to click an extra button for each move."
Kaczka also works with one of Harris's cognitive psychology graduate students. "It is interesting to see how computer science can be tied with psychology," she said.