Broadly preparing students for success in grad school, law, medicine, or whichever career they choose.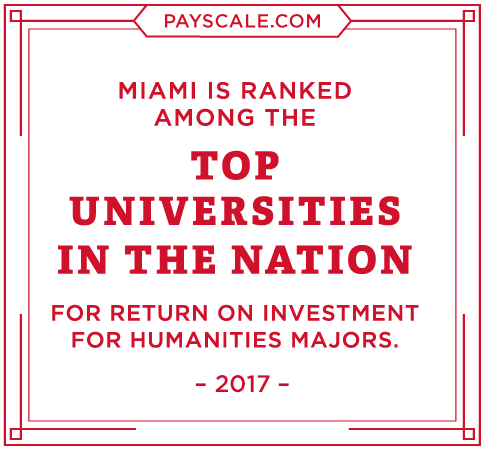 The Humanities are a key component of a Liberal Arts foundation.
Jacob Bruggeman '19
Majors: History, Political Science
"There is no substitute for a liberal arts curriculum.
You would be hard-pressed to find a CAS major that isn't represented by well-rounded, developed people in terms of their interests and worldly perspectives."
Jacob's sign reads, "Be a relentless optimist."
Students visited the set of Wheel of Fortune, where the word puzzle on the board spells out Miami University in Oxford Ohio.
Be an Insider.
Our popular "Inside" workshop programs take students behind the scenes and connect them to successful Miami alumni in media, government, business, and much more!
A group of Miami students gathered on the steps of the Capitol Building in Washington DC.
Kate Hanley '18
Majors: Art and Architecture History,
East Asian Languages and Cultures
"With my liberal arts classes I feel I'm gaining a new skill set at Miami that I'll be able to use for my future career. I've learned how to discuss different topics, apply my knowledge in new ways, and discover different places where they intersect."
Tiffany Campbell '18
Majors: Psychology, Biology, Neuroscience, Premedical Studies
Had a research fellowship at Cincinnati Children's Hospital with neurosurgeon Dr. Vadivelu.
Photo: Professor and pre-medical school student work together in a lab.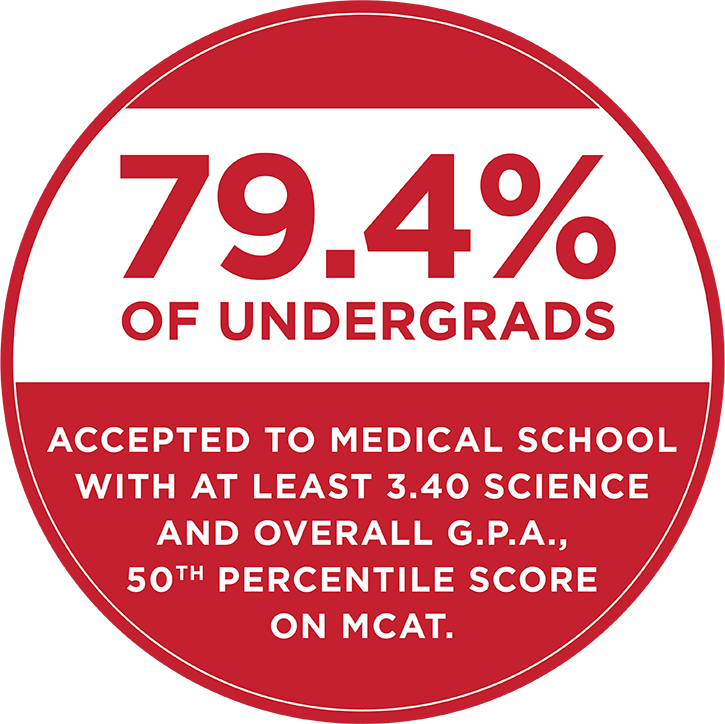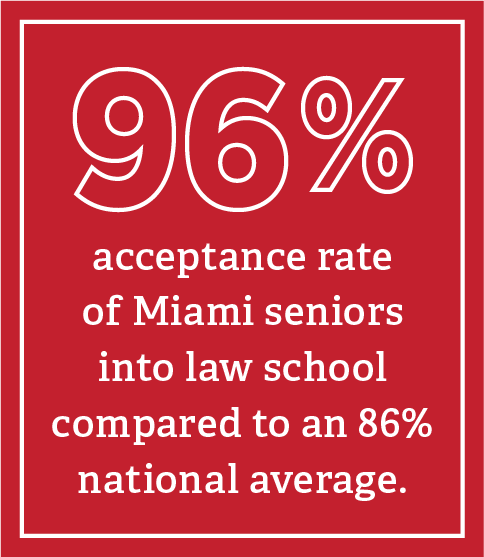 Amanda Gatewood
Assistant Professor, Political Science
"My favorite part about teaching are my students. Learning is a two-way street. I love when my students engage me in dialogue.
These are current and future leaders, so I hope they will take the skills they've learned in my class and throughout their years at Miami, and apply them in the real world."
Michael Markesbery '15, Rithvik Venna '15
Co-Founders, Oros Apparel
Majors: Zoology
"Earning a degree in any STEM field gives you skills for life. You learn to hypothesize, test, and evaluate -- skills that transcend all fields of work, especially entrepreneurship." 
Photo courtesy Cincinnati Enquirer
Arts and Science Majors
Arts and Science Co-Majors
(Requires a primary major)
* Bachelor of Arts in International Studies (A.B.ITS)
** Requires a second major