Fantastic Free Fridays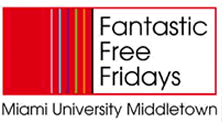 No show
Welcome to the Fantastic Free Fridays program at Miami University Regionals' Middletown campus. This program is intended to provide free opportunities for students in area schools and residents of local communities to enjoy live performances.
Each performance lasts one hour, unless otherwise stated.

Group reservations are on a first-come, first-served basis.

Individual walk-ins are always welcome.

All performances are held in the Dave Finkelman Auditorium at Miami University Middletown.
For more information or group reservations, contact Shawn Fenton: fentonsm@miamioh.edu.
---
Feb. 9 at 10 am: Dayton Contemporary Dance Company
The Dayton Contemporary Dance Company will present excerpts from its contemporary dance works. Students will get a glimpse of the company's versatile repertory created by DCDC's resident choreographers that include a tribute to the icon of civil rights to a fun-filled lighthearted playful dance as they encounter an engaging arts and cultural experience.  Through fun and interactive audience participation, entertaining performance and informative narration, followed by a Q & A, company members inspire students to appreciate and enjoy dance. 
Grades K-8
---
Mar. 9 at 10 am: Bacchanal Steel Band
Performing everything from Belafonte to Beethoven on instruments made from 55-gallon oil drums, the Bacchanal Steel Band can take your students on a musical journey to the island of Trinidad. Along the way, they will learn the history and construction of the steel drum and how a musical ensemble works together.
Grades K-8
---
Apr. 20 at 10 am: Wild Carrot and Their Roots Band
"Our Roots are Showing!" This interactive performance features a wide variety of American Roots music, spanning the last century, from jazz and folk songs to show tunes and original material. Wild Carrot demonstrates and discusses the history and geography of the music, and the people who brought it to this country, including such instruments as guitar, mandolin, concertina, lap dulcimer, penny whistle and banjo. This award-winning group will get your hands a-clappin', your toes a-tappin' and even the most reluctant of singers hummin' along.
Grades K-8
---
May 11 at 10 am and 12:30 pm: Know Theatre of Cincinnati presents "The Inventive Princess of Floralee" ​
This original, two-person, interactive fairy tale will have your students "thinking like scientists" as they follow the Princess of Floralee on the adventure of a lifetime, searching for the kidnapped king kept in the clutches of a viciously vile and wrathfully wicked witch. Along the way, your students will help the princess solve a variety of math, engineering, science, and even dance challenges as she uses her brains, wit, and sound judgment to find her father in the land Scalenfell. Your students will laugh and cheer as they meet characters like a figure-skating dragon, a Platypus saving Pirate, a gate with a flair for dancing, and a witch, that they may recognize! This unique educational opportunity unites science and art by giving your students the chance to laugh, dance, and think critically about topics rooted in STEM.
Grades K-6