This is the twelfth in a series of historical vignettes tracing the work of the community and Miami University that led to the opening of Miami University Middletown in September 1966.
Armco's donation of the initial 127 acres in January 1963 was the beginning of an unprecedented level of community support that led to the opening of Miami University Middletown in September 1966.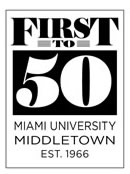 At the first meeting of the Miami University Branch Campus Committee on April 1, 1963, Miami President John Millett spoke of possibilities for the future, particularly with the new bond issue that was to come before Ohio voters that fall that would support campus construction. Millett mentioned that Miami would seek $1 million through that bond issue to support building a campus in Middletown, but that additional funds would be needed, emphasizing that gift funds would be needed in order to begin planning.
In the discussion which followed the committee felt that local support would be possible, and that having support for the advance planning would better position Middletown compared to other Ohio communities which were hoping to have branch campuses.
According to committee minutes, Russell Weatherwax, President of Barnitz Bank, stated that "this was one of the finest things that has ever happened to the community of Middletown since Armco first located here in 1900." He then pledged $10,000 for preliminary planning from the Barnitz Fund, a fund created from the estate of Nell Barnitz to support education, religion and charity efforts in Middletown.
President Millett immediately accepted the donation, noting that it would move the project ahead at least six months. As discussion continued, Herman Lawrence, who had led Miami's Academic Center, reported that a Middletown citizen had approached him, interested in helping to provide a library for the new campus.
That conversation led to the $250,000 donation that made possible the Gardner-Harvey Library through the gift from the foundation of the same name, established by Mr. and Mrs. Colin Gardner, Mr. and Mrs. Robert Gardner, and Mr. and Mrs. Arthur Harvey.
When engineering challenges arose in planning for the campus, Elliott Levey and McGraw Construction stepped forward with $8,000 for feasibility studies to keep things moving forward.
At the time of the dedication of Miami Middletown in September 1966, a $250,000 contribution from Mrs. Gladys Finkelman for the construction of an auditorium named in memory of her husband, Dave, was in place, and planning was already underway.
Such strong local support made Miami Middletown the model for the development of branch campuses statewide, combining local, state, and federal funds.
Just as impressive as the list of major donors was the outpouring of local support from individuals which far surpassed the initial goal of $200,000. As we'll see in the next installment, support from individuals, organizations, and other companies was directed toward buildings, equipping classrooms, and stocking the library with essential research volumes.

Photo Source: Miami University Middletown Archive
To read other stories in this series, visit http://bit.ly/1cQM9Gt.