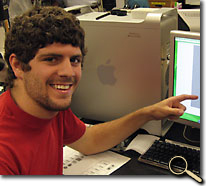 If you're interested in the science of living things, then we have it covered at Miami University. Housed in Pearson Hall, our biological science departments offer dozens of courses that represent all aspects of biology and we offer both undergraduate and graduate degree programs. Faculty and students in the departments often collaborate on research projects that span more than one of the disciplines.
Department of Biology
Recently, the Department of Botany and the Department of Zoology have merged to create the new Department of Biology, one of the largest programs at the university. Faculty and students (undergraduate and graduate) study the biology of plants and animals at scales from the molecule (e.g., DNA) to the ecosystem.
Department of Microbiology
The Department of Microbiology (MBI) offers core courses in general microbiology, microbial physiology, and molecular biology. Undergraduate students begin taking courses in the major in their first semester and have numerous opportunities to collaborate with faculty on research projects. Research interests include immunology, molecular biology, microbial ecology, microbial genetics, microbial physiology, pathogenic microbiology, bacterial cell biology, bioinformatics, medical mycology, and virology.
Department of Chemistry and Biochemistry
In addition, the Department of Chemistry and Biochemistry offers degree programs in biochemistry, which is the study of the chemical processes in all living organisms. Biochemistry deals with understanding how biological molecules, including nucleic acids and proteins, give rise to the processes that occur within living cells, which in turn relates to understanding whole organisms.