<em>Alpha Phi Omega</em>: Skills learned from service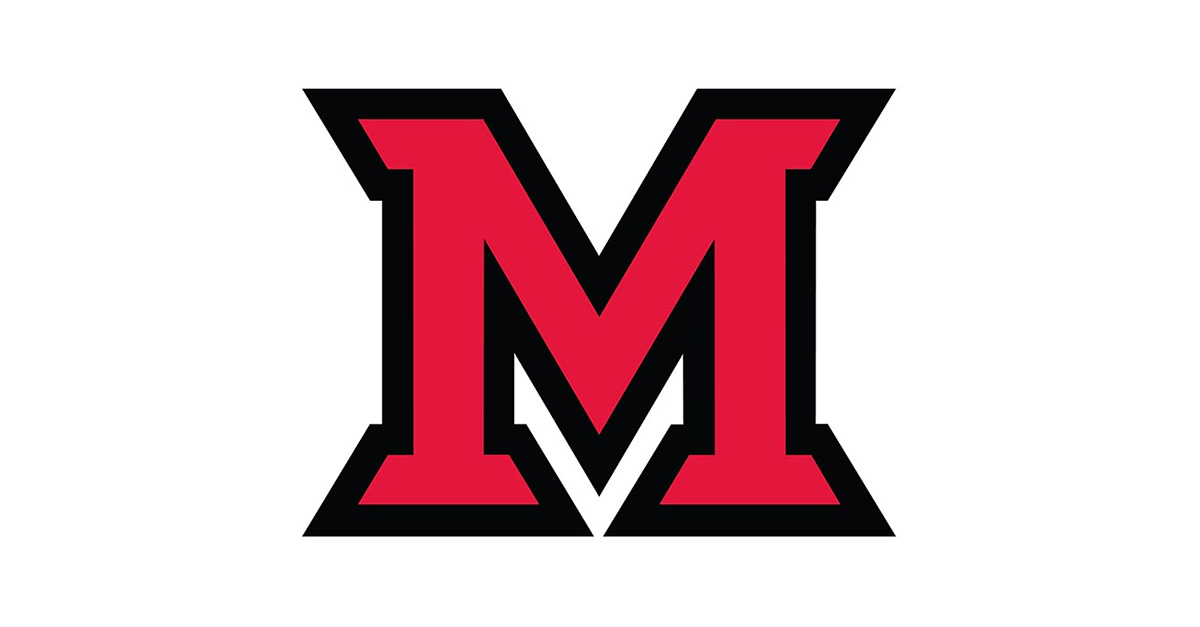 Jan 19, 2017
Written by Ross Tague, CAS communications intern
It's a Sunday night, and a lecture hall full of people get up from their seats to line the walls. They put their arms around each other's shoulders, and in unison begin to sing and sway side to side.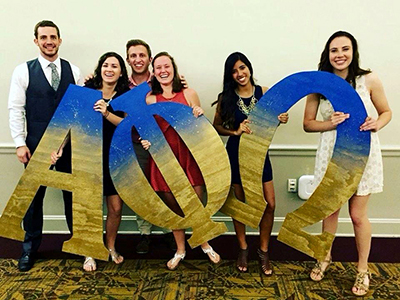 Alpha Phi Omega members holding the Greek letters that represent their service organization (Spring 2016 Closing Banquet)
"Ever mindful, ever serving all humanity," every voice sings out, creating a resounding chorus that rings throughout the hall. The words are a verse in the toast song of Alpha Phi Omega, and this is the close of the organization's weekly chapter meeting.
Alpha Phi Omega, or APhiO for short, is a national co-ed service fraternity founded in 1925 at Lafayette College in Easton, Pennsylvania. Since then, the fraternity has expanded its chapters to include more than 400,000 members on over 375 campuses, including Miami University.
The Miami chapter of APhiO is the Zeta Delta chapter, which was founded in 1948. The fraternity was built upon three principles of leadership, friendship, and service, and it currently stands as the largest service organization on campus with nearly 400 members.
Dedication to Service
Alpha Phi Omega provides a wide array of experiences through numerous different service opportunities, delivering many ways to learn helpful skills.
Many of the Zeta Delta chapter members have majors or minors in the College of Arts and Science (CAS) across all areas. This diverse group is an ideal embodiment of the CAS mission statement, which is to "develop in our students the knowledge and skills for success in a dynamic, global society."
Ambika Kumar, sophomore psychology major and the fraternity's Vice President of Campus, shared her interpretation of APhiO's relation to CAS. "I think it represents a CAS major because of how often you have to deal with a variety of road bumps in tons of different spaces," she said.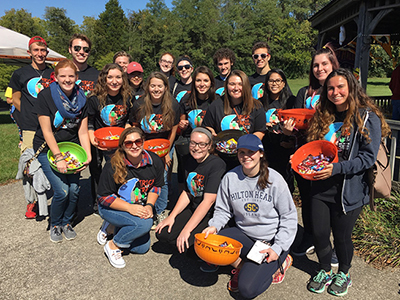 Alpha Phi Omega members at the Luna Cares Trick or Trail fundraiser (October 2016)
Luna Cares was established to directly support the financial needs of women and their families while undergoing treatment for cancer.
Members of APhiO are required to complete at least 20 hours of service a semester, including that for the fraternity, Miami, the Oxford and Cincinnati communities, and the nation. Service projects often go beyond the typical idea of what volunteering entails. Members engage not only in traditional projects such as the Ronald McDonald House, Habitat for Humanity, or visiting retirement homes, but they also clean up abandoned lots, pick up after Miami hockey games, run carnivals, walk dogs, and attend leadership workshops.
Abigail VanGorder is APhiO's sectional regional national representative and a sophomore biology major with a co-major in premedical studies. "It's a rewarding experience to give back," she said. "I love doing service, and I love that I'm able to get back so much from it."
Embracing the Values of the Liberal Arts
On the CAS website, dean Chris Makaroff shared a welcome letter about the many majors and minors available. "This rich diversity of academic opportunities and experiences will help you establish the intellectual framework, critical thinking, and transferable skills that are increasingly necessary for a successful career," he wrote.
Although APhiO is not directly affiliated with any specific Miami division or department, its diversity of service projects reflects the wide variety of CAS majors and minors. Following APhiO's principles, members have experiences and develop skills they otherwise would not receive in a classroom.
APhiO member Abigail Wilson, a senior biology major, attributed much of her healthcare career preparation to service projects. "APhiO has helped me a lot with my career interests because I've gotten to work with and help people I wouldn't normally get to on a college campus," she said.
"Other members have received broader skills from being involved in the organization. "APhiO has taught me to be more understanding, patient, and open-minded," Kumar also said. "I think that is something that is helping me excel with my psychology courses."
Much like choosing from a diverse liberal arts curriculum, each individual APhiO member has the ability to make their experience their own, signing up for their choice of service projects. Some also choose to become more involved by taking on highly revered leadership positions.
Opportunities in Leadership
Despite being built on tradition, APhiO encourages innovation, which is often brought about in new leaders. Each semester, members of APhiO elect 13 new positions for its executive board as well as more than 20 chair positions. Running for leadership roles is highly encouraged in the fraternity, and many members are able to develop valuable leadership skills through their positions.
Senior strategic communication and professional writing double major Devin Arbenz has held the APhiO positions of Pledge Class Secretary, Sergeant at Arms, Publicity Chair, and Social Media Chair. Through these leadership roles she gained a familiarity with handling bylaw revisions.
"The experience I already had working with that type of document is undoubtedly why I was able to obtain an internship last summer," she said.
Members of Alpha Phi Omega go out in the world after their time in the organization with plenty of valuable skills developed through their service.
"When you engage yourself in these rich academic and cultural experiences, your life will be impacted in positive and memorable ways," Dean Makaroff also said in his letter. "Just get involved—in new knowledge, in new friendships, in new personal discoveries, in whatever appeals to you, especially if it exists beyond your comfort zone."
If anything, APhiO is a special group set apart from any other student organization due to its diversity and its dedication to helping others, thus embodying the ideologies of leadership, friendship, and service into their everyday lives, the classroom, and ultimately their careers.
"Members of Alpha Phi Omega challenge themselves, they immerse themselves, and ultimately they strive to be a positive change in the world," said Kumar.