by Amy Toland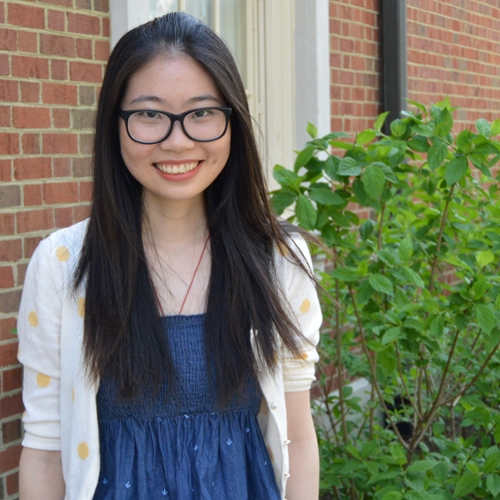 The newly established 1+1 Graduate Program provides opportunities for students from Sun Yat-sen University (SYSU), one of the top 10 universities in China, to complete English MA degrees at Miami University.
Hua Zhu is the first student to graduate through the program. She completed an MA in Composition and Rhetoric this spring (2015). For Zhu, the 1+1 Graduate Program proved an invaluable bilingual, cross-cultural, and cross-disciplinary experience.
"The major thing is that I discovered there are more options for me," Zhu said. "I am able to think in two different ways, evaluating them and then to see how I can react and how I can take action. How to combine them – the two faces. I really enjoy that."
Zhu's field of study at SYSU was linguistics, so she faced added challenges as she transitioned to the study of composition and rhetoric. She was thankful for the support she received from the department.   
"I felt really supported by faculty and other colleagues and I think that part helped me to control my anxieties and start gradually building confidence and gradually enter this field and start understanding what it means being in American academia."
Over time, Zhu became more comfortable with modes of communication at Miami such as writing informal reflections and participating in class discussion. She was used to lectures, but interacting in a seminar setting was new. "I've gradually learned how to speak up in class. Professors allowed me the space and they were really patient… they provided space for me to explore and I really appreciate that."
In turn, Miami's English community has benefited immensely from Zhu's scholarship and viewpoint. Madelyn Detloff, Director of the English Graduate Program and literature professor, served on Zhu's MA thesis committee. "Hua is a fabulous scholar and brings her considerable experience with Chinese and comparative rhetorics to Oxford. We have been fortunate to learn from her as she paved the way for all of the future Sun Yat-sen students who will be joining us through the 1+1 program."
Composition and Rhetoric professor Michele Simmons agreed: "Hua's energy and her interest in the intersections of cross-cultural communication, rhetoric, and characterizations of "the self" and "the other" provided a terrific perspective."
Zhu's thesis at Miami focused on cross-cultural communication. She analyzed different news reporting of a bombing attack attributed to Uighurs in Western China, drawing on theories from Burke and Foucault. Zhu is fascinated by "how different discourse communities interpret and establish reality, how they differ from each other and to explore the reasons. It involves cultural differences and ideologies."
The pedagogical implications of such reality construction interests Zhu too: "In which ways can we engage our students to see out of their own context and out of their own interpretative frameworks and start realizing that contesting ideologies secretly function behind."
English Department Chair, LuMing Mao, served as Zhu's thesis director. "I have been so impressed by the dedication she has brought to her study and the progress she has made since her arrival at Miami. Her thesis project has not only developed a new methodology for analyzing news reports from a comparative lens but also challenged us to look for and give voice to that which has not been reported. I am really excited about her future as a teacher-scholar." 
Zhu returns to China with new insights and career possibilities. After teaching for a year or two she plans to consider PhD programs either in her home country or in the U.S.
"I am able to understand the conversation in two fields, both in linguistics and in rhetoric," she said. "In my future study, I'd like to bridge these two fields, how they can talk to each other and that will become something really valuable to me."
Detloff is enthusiastic about the program's successful start and potential: "The 1+1 exchange program is of immense benefit to our students–both international and U.S. based–as it brings us face to face with scholars who expand our understanding of composition, rhetoric, literature, and writing."
The 1+1 Graduate Program continues with current graduate student Yebing Zhao. Three additional graduate students, Yuanyuan Li, Chulin Zhuang, and Shina Chen begin at Miami this fall.