MU Press author Lawrence Coates launches CAMP OLVIDO and visits capstone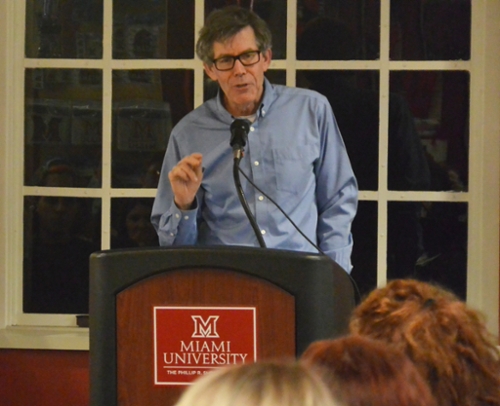 Nov 11, 2016
by Eric Rubeo, English Department Ambassador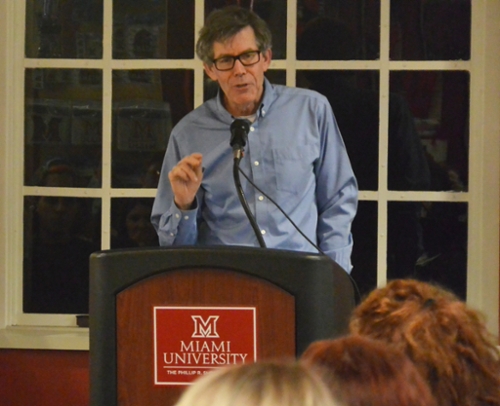 Lawrence Coates, winner of the 2015 Miami University Press Novella Prize and author of five books, visited campus on Wednesday, November 4 to launch his novella Camp Olvido and give a lecture to the undergraduate Creative Writing capstone course on how to brainstorm a novel. His new novella Camp Olvido was published by the Miami University Press and is the most recent addition to the MUPress Novella Prize series.
At the Miami University Bookstore, he read excerpts from both his recent full-length novel, The Goodbye House, and Camp Olvido. Following the reading, Coates answered questions ranging from the degree of research he finds necessary when writing about another place and time, to how Camp Olvido turned out to be a novella-length work. The launch event concluded with book signings, coffee, and conversation.
Earlier that day, Coates had stopped by the undergraduate creative writing capstone class and spoke to students on the topic of how to brainstorm a novel. Specifically, he discussed how to imaginatively develop both the main character and the overarching plot structures. "You want a character who is a seeker, who's going to break rules, who is going to go out and find some kind of meaning," Coates said. "Ask yourself, how will that character find meaning in their life that's not given to them by the contingent relationship they have with a changing world?"
On plot structure, Coates shared his notion of "the season of the novel," the specific period of time in a protagonist's life which is, by definition, filled with significance and is novel-worthy. When thinking about when and where to place the season of time in a character's life, Coates said "things should happen that are unique, unrepeatable, and irreversible."
Coates went on to describe what he identified as seven basic plot structures: Overcoming the monster, rags to riches, the quest, voyage and return, comedy, tragedy, and rebirth. "Take these archetypes and twist them and then maybe you're doing the real interesting work," he said. "Don't just follow [a structure] slavishly, but it can give you some kind of comfort because if you have some kind of architecture, it can help you get through the times in which you face that blank screen."
Coates ended the session by introducing a series of questions which he invited students to use to "interrogate their novels" such as:
How well do you know the main character of your novel?
Is there something about your main character that can't be contained within existing social categories?
Is the main character not going to be content?
What's the inciting incident?
Do you understand the season of your novel?
Is there something going to happen that's unique, unrepeatable, irreversible?
Is there a basic plot underpinning the architecture of your novel?
Copies of Camp Olvido are available at the Miami University Bookstore and from Miami University Press.