Reflecting on the inaugural Marianne D. McComb Conference for creative writing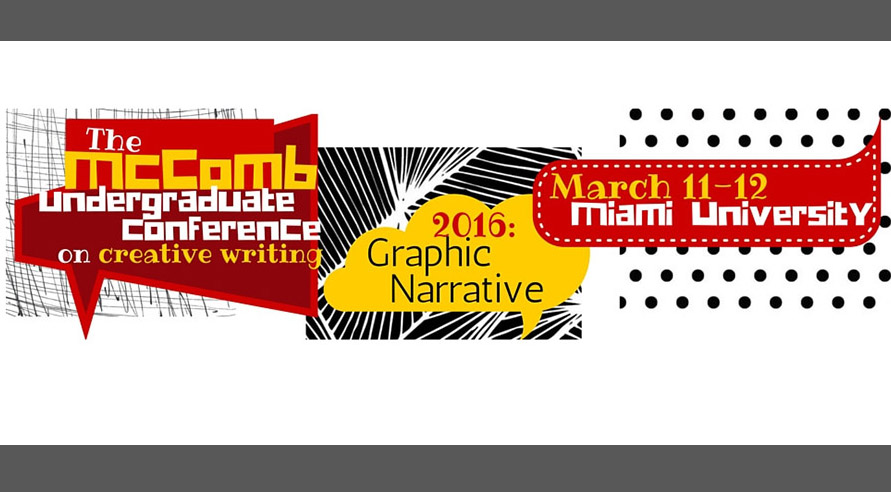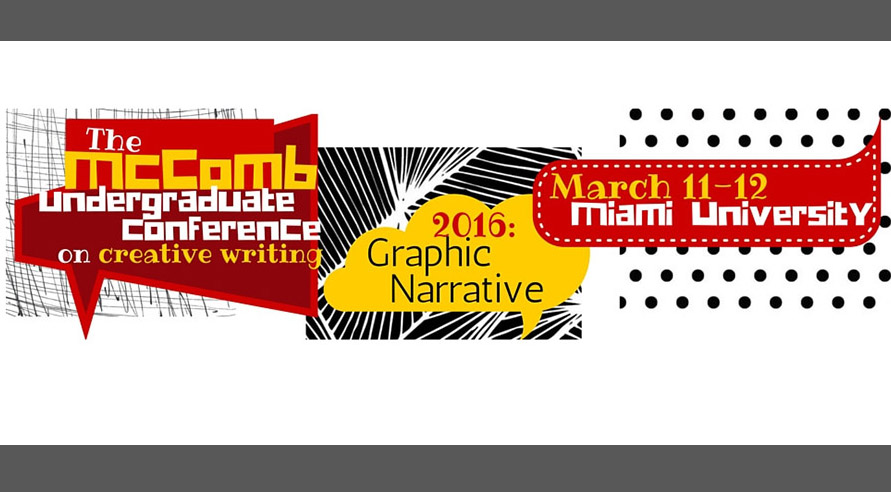 Marianne D. McComb Conference Banner
Mar 14, 2016
by Victoria Slater and Samantha Silber, CAS communications interns
Comic book lovers and graphic memoir readers alike united at Miami University's first McComb Conference for Creative Writing on March 11 and 12 to celebrate the theme of graphic narrative. The biennial conference, hosted by Miami's Creative Writing Program, brought undergraduates, as well as select participants from other universities and high schools, together to discuss the growing genre of graphic narrative, including comic books, memoirs, authors who work with visuals and artists who work with text.
Director of the Creative Writing Program Cathy Wagner said the McComb Conference came about from an endowment from the McComb family to support creative writing at Miami University. The conference is meant to provide creative writers with out-of-the-classroom opportunities and exposure to a variety of writing types.
Wagner said the theme of graphic narrative was chosen because of the genre's growth and relevance in recent years, with graphic memoirs like Fun Home being adapted into Tony-winning musicals and superhero comics like Black Panther being reimagined.
"Graphic narrative is booming, and there's a lot of scholarship being written about it, so we realized we could involve literature majors as well as attracting students from the Art department and elsewhere," she said. "We saw a great opportunity to build community across disciplines on campus and to encourage students even beyond the major to investigate creative writing."
This year's two day event included a keynote presentation and a three-part plenary panel on comics, student panels on graphic narratives, and various workshops and seminars focusing on the pairing of written text with visual elements.
Keynote Presentation
"Comics... [serve] not to make the work simpler, but to make it more accessible"
– Nick Sousanis
The McComb conference kicked off with the keynote presentation "Unflattening: Reimagining Scholarship through Comics" by Nick Sousanis, a Postdoctoral Fellow in Comics Studies at the University of Calgary, and creator of the first graphic narrative published by Harvard University Press.
"I'm one of those kids whose first word was Batman," Sousanis began, explaining how his lifelong love of reading and writing comics tapered off in his college undergraduate years at a time when graphic narratives were excluded from the academic sphere.
He felt compelled to return to graphic narratives to write his graduate thesis, realizing they enabled him to communicate and think in ways that written pieces could not.
"Comics," according to Sousanis, serve "not to make the work simpler, but to make it more accessible."
They can address complex subjects using other symbols, enabling creators to communicate more easily with people of diverse opinions, who may chose not to engage with a clearly stated written argument.  
Quoting another artist, Sousanis explained, "Comics are graphic design and poetry."
He described his concept of "flatness" as people limiting their creativity and innovation to what they already know and cannot imagine anything beyond that.
He feels that comics allow people to "unflatten," moving past scholarly limitations on forms of creative expression,  representing complex thoughts, and helping them generate fresh ideas. Following his presentation, audience members were invited to participate in a drawing exercise to better understand this process.
Plenary Panel
"Graphic novels aren't just depicting things as
they are, but depicting how they feel to us"
– Michael Chaney
On Saturday, the McComb Conference welcomed three renowned graphic authors to a panel in Leonard Theatre titled, "The Story Seen: Three Perspectives on the Art of Comics."
Michael Chaney, the editor of Graphic Subjects: Critical Essays on Autobiography and Graphic Novels, discussed the multiple meanings a visual element can convey in relation to its supplemental text. He explained that an image is always performing something and providing new perspectives and meaning to the written work.
"Graphic novels aren't just depicting things as they are, but depicting how they feel to us," he said.
Next, Lila Quintero Weaver presented her graphic memoir, Darkroom: A Memoir in Black and White, in which she chronicles her experiences immigrating to Alabama from Argentina as a child. She drew on the ability of images to further support and illustrate text, which proved especially important in her case where she was able to better represent the stark divide of races in Alabama during the civil rights era through her illustrations.
Finally, author and illustrator of several graphic memoirs Carol Tyler discussed the development and writing process of her memoir about her father, a PTSD-ridden WWII veteran. Through careful, meticulous visual representation, Tyler said she was able to demonstrate what it was like to grow up with an abusive father, and to illustrate her thesis, "not all scars are visible."
Student Panel
The conference also featured student panels in which undergraduate students of multiple disciples from Miami University and other colleges and universities presented recent research projects.
One 2:30 p.m. panel, "Middletown to Maus," featured presentations by Wittenberg senior Carl Burgason on the layered symbolism "Of Mice and Masks and Men" in the Holocaust graphic narrative Maus; Miami University senior Daniella Conti on reviving the local history the Sorg Opera House through graphic nonfiction; and Otterbein sophomore Daniel Kushnir on comparing methods if cinematography and graphic narratives.
Attendees and participants, students and advisors, engaged with the presentations enthusiastically, generating lengthy, thoughtful discussion and helpful feedback.
As the conference came to a close, conference intern and sophomore English literature major, Shannon Dolley, said, "After attending the conference, I'd like to begin crafting my own graphic novel. I don't have any definite plans for it yet, but the conference really inspired me, showing that the art of graphic narrative is alive and gaining ground right now."
Sophomore creative writing and biology major Brianne Moore, who was also a conference intern, said she was enlightened by the conference's emphasis on nontraditional storytelling.
"What impacted me as a writer and
English student was the idea of intersection. Every single panel and workshop focused on telling stories in a nontraditional way that would facilitate it better than typical prose" 
– Brianne Moore
"What impacted me as a writer and English student was the idea of intersection. Every single panel and workshop focused on telling stories in a nontraditional way that would facilitate it better than typical prose," she said. "Comics, little doodles, anything. I think it sort of reminded me that thinking outside the box is necessary for growth even if you don't stray from traditional writing styles."
With 150 students attending, and 48 students participating in workshops and panels, Wagner said, overall, the inaugural conference was very successful. She attributes this success to the unique environment the McComb conference works to support.
"The McComb is special," she said. "There are no other conferences for undergraduate creative writers that focus on a particular theme in creative writing, and in fact, there are very few creative writing conferences for undergraduate students at all, and none in the Midwest. So we're delighted and proud to be able to offer this chance to Miami students."