by Samantha Silber, CAS Communications Intern
The thirteenth annual Miami University English Graduate and Adjunct Association (MEGAA) Symposium was held on Friday, March 4. 
Student-led MEGAA, comprised of graduate students and adjunct professors, designed and organized the event, which corresponds with the English Department's McComb Conference (March 11 and 12). The symposium was open to to the public and over sixty people presented and attended including many graduate students as well as some undergrads and faculty members. Prospective graduate students in English were also invited to attend.
"We've admitted a number of highly qualified students to our PhD and MA programs. So they are coming to check out our programs, to get to meet our graduate students, but also to participate as audience members in the conference, so that they can really see what we do intellectually," explained the English Department's Director of Graduate Studies Dr. Madelyn Detloff. This year, students from as far as Bangladesh, China, and Saudi Arabia visited Bachelor Hall.  
The theme of this year's conference was "Conformity and Resistance." Graduate students from every department were invited to present.
"The theme of conformity and resistance has a wide appeal," Detloff said. "It's also a theme that probably makes sense given the social climate right now in the United States. If you turn on the television and you listen to any of the political rhetoric out there, there is a lot of talk that can be classified according to whether it's advocating conformity or advocating resistance to conformity."
"We try to generate themes that are relevant to our respective fields as well as a broader social-cultural context" MEGAA executive committee member and literature PhD student, Tyler Groff said.  
The event's official call for papers elaborated, "In a social climate that seeks to divide us into categories, we are impelled to work in tandem with or challenge cultural hegemonies. The intersectionality of identity categories related to race, class, gender, sexuality, and ability creates multiple avenues to speak out against oppression; yet, many still conform to these hegemonic ideologies."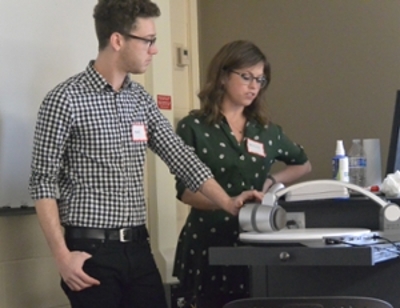 Isaac Pickell and Molli Spalter present "there was no blood"
The Symposium featured 11 panels, most with three presenters each, and two keynote speakers: Dr. Ann Elizabeth Armstrong, Associate Professor Theatre, and Dr. Theresa Kulbaga, English Associate Professor and Faculty Affiliate in American Studies & Women's Studies from Miami Hamilton.
Armstrong's presentation of a paper entitled "Feeling for Reality: Rehearsing the Role of the Ally in Freedom Summer 1964" explored the history of Freedom Summer and the nonviolent techniques used by the SNCC program training sessions, which were held at Western College for Women. Armstrong discussed the ways in which theatrical techniques such as storytelling, singing, and roleplaying were used to prepare student volunteers, 9 out of 10 of whom were white and nearly half of them women, of the unimaginable racism they would face in Jim Crow Mississippi. There they would hold voter registration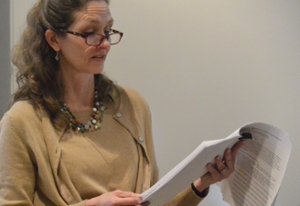 Dr. Ann Elizabeth Armstrong, Associate Professor Theatre
Armstrong embodied the spirit of this initiative with a quote from activist and Freedom Summer coordinator Bob Moses: "When you're not in Mississippi, it's not real. And when you're there, the rest of the world isn't real." The quote spoke to the significance of the conference's theme.drives and open schools and community centers. After the event students engaged Armstrong in a discussion of social issues and rhetoric.
Entitled "Self Help, Self Hurt: Inspirational Memoir in an Age of Anxiety," Kulbaga's  address discussed self-help narratives, which seek to inspire readers through sharing experiences of trauma and transformation. She argued that some participate in this "individualist ethos of neoliberalism" and others conform to "normative scripts" displaying cultural oppression of women and minority groups.
The eleven panels featured presentations, varying from readings of theses to presentations of research to readings of creative short stories, and covered a wide range of topics including race, sexuality, body image, biopower, globalization, archives, and advocacy.   
Detloff was particularly excited to see the graduate students presenting their papers, and to see the hard work and leadership of co-chairs Groff and Audrey Bader, and all the graduate students organizing and participating  the symposium come to fruition.
"I'm really proud. I've seen some in the past years, some very terrific papers, very professional, worthy of being at a national level conference, so I'm looking forward to seeing our awesome graduate students show their stuff in a presentation mode."
"We think it's important to generate interdisciplinary conversations because such conversations can help broaden our outlooks on complex issues and help us arrive at new insights, said Groff.
"I enjoy engaging the work from fellow graduate students that I don't get to interact with regularly," he continued, "As a literature student, I don't always get to see the work/research of people pursuing degrees in creative writing and composition and rhetoric. The symposium provides a good opportunity to see the work being done by students with different concentrations."
University of Cincinnati graduate student and Miami alumna Samantha Edmonds agreed, "It was an excellent symposium. Condensed nicely into a day, with plenty of time to gather together and chat with other presenters, people who are just as excited as you about the same kinds of things, and in similar places in their career as you. It's extremely beneficial to attend conferences every once in awhile that have professors presenting their work, of course, but it's also fun to attend a conference for graduate students only, like this one was. It takes the pressure off."
Edmonds presented her own short story, "Icarus Drowning."
She was impressed with the audience's participation, echoing the general feel of the conference, "They seemed to enjoy the stories, paying close attention, laughing and actively listening. They remembered small details and asked questions about motivation and craft at the end, which was pleasant."
Edmonds had the opportunity to support her friends by attending the "Past and Future:  Creative Engagement with Memory" panel.
"The presenters were attempting to showcase the ways in which memory engages, affects, and—more often than not, I think—creates story. Two of the presenters read original poetry that were semi-autobiographical or inspired by true events...The third presenter read fiction... focused on exploring and emphasizing the ways in which the past can often haunt the present, particularly in family matters."  
Each panel and presenter approached the theme of conformity and resistance in a unique and innovative way, their diverse perspectives generating rich and thoughtful conversation.
"I hope that the discussions that took place during the panels and keynotes helped attendees think deeply about conformity and resistance and the important questions surrounding them in the current moment," Groff said. "I learned the value and the important insights that can be gained by bringing a range of thinkers from diverse disciplinary backgrounds into conversation with one another."