Written by Tori Levy, CAS communications intern
Beyond Bachelor Hall is an annual event that brings in distinguished Miami alumni to talk to students about their careers. It started off with an inspirational word from Patrick Murphy, professor of English and associate chair for undergraduate studies.
"English majors have a future. They are doing great things in the world," he said. On the projector, he showed the audience pictures of various English majors he himself went to school with: a screenwriter, a teacher, a museum director: All of them have made very successful careers.
Five Miami alumni on the panel further proved his point:
Mark Roberts ('10), a videographer and content producer at ahumanperson productions in Cincinnati
Jenna Moran ('09), a health care attorney in Cincinnati
Caitlyn Alley Peña ('13), an education program specialist at the Ohio Department of Education in Columbus
Melissa Roemmele ('09), a recent USC PhD, with a dissertation on narrative and machine learning
Mark Curnutte ('84), reporter and editor at The Cincinnati Enquirer and author of A Promise in Haiti: A Reporter's Notes on Families and Daily Lives (Vanderbilt University Press)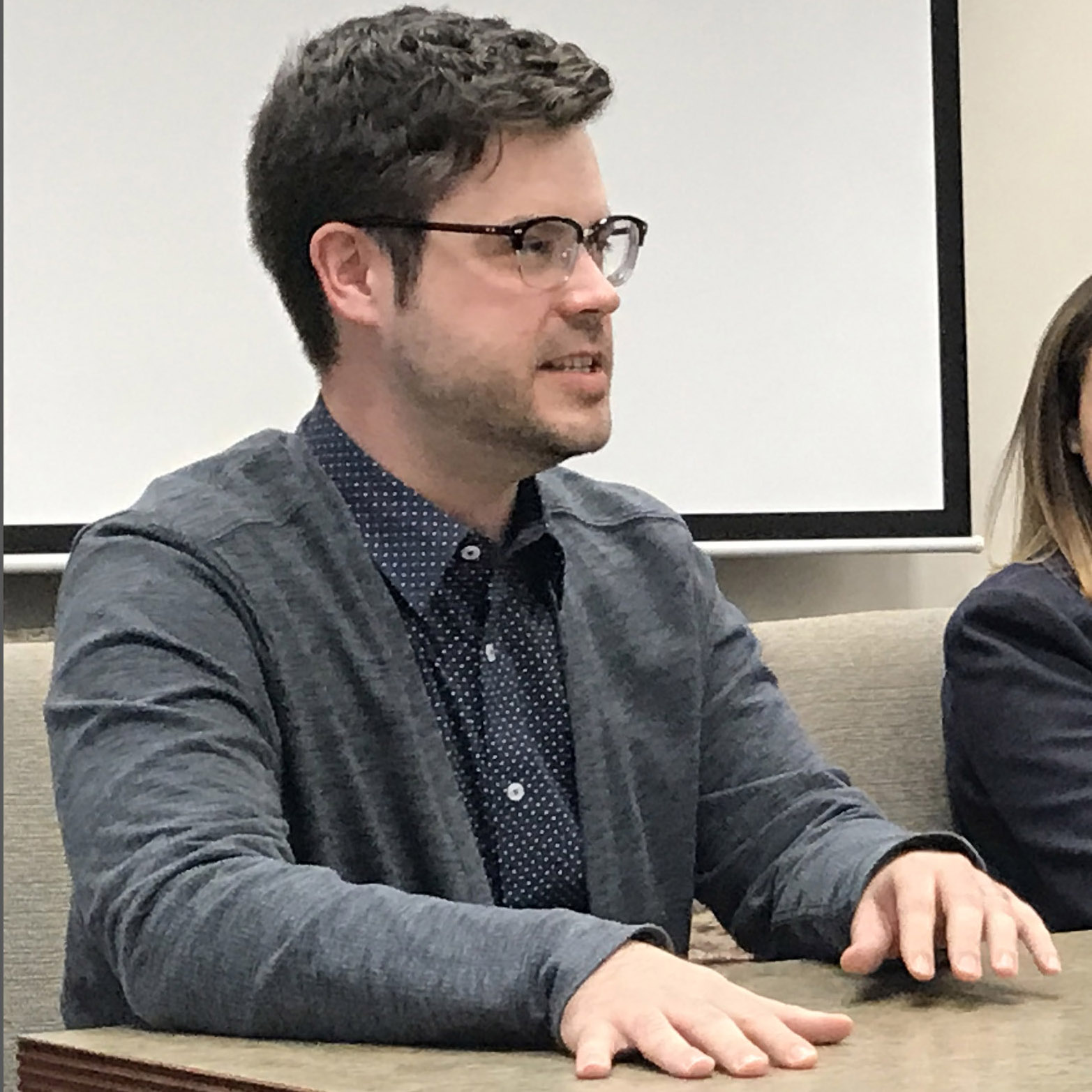 Mark Roberts
As undergraduates, the question that lingers on a student's mind is "What do I do with my major?" Each English alumnus talked about their career paths and gave advice based on their English major experiences.
Mark Roberts: Producing by his rules
Roberts started off the panel by discussing his job in media and videography. His first jobs were at ad agencies, where he wrote blog posts and social media. After gaining experience, he founded ahumanperson productions. By working for himself, he said that he is provided a lot of freedom and can choose what he works on.

Jenna Moran: From teaching to litigating
Jenna MoranNext, Moran spoke about her experience after graduation. As a major in English literature, she was always drawn to writing and reading; it was something she could do that she liked. Moran spent her first five years teaching after graduating, first in Costa Rica for five months, and then to Seoul, South Korea with a teaching certificate.
"Take risks," she told the students. "I was 27 when I had my first job."
Eventually, Moran took the LSAT and applied to law school. In 2014, she began law school in Chicago where she would later work at a large law firm in Cincinnati. She now works as an attorney for a hospital system.
Caitlyn Alley Peña: Redesigning standardized testing
Caitlyn Alley PeñaPeña graduated Miami with a major in linguistics. She then moved to New York to get her master's degree at Columbia. She spent her time there teaching English to adults of other languages.
With one class left to finish her degree, Peña moved back to Ohio and commuted to New York on the weekends. In Columbus, she was hired to help create assessments for English language arts.
She now works with different schools to design a standardized test for grades 3-7. Peña told the audience that she finds it fun to look at passages, edit, and then improve them based on feedback.
"I work with teachers. They review, and I get to hear feedback. It's important to me," she said.

Melissa Roemmele: Developing the future of English
Melissa RoemmeleAt Miami, Roemmele double majored in psychology and linguistics. She focused on the area of computational linguistics because she was always interested in getting computers to understand the human language. Also, she explained, there were plenty of jobs in this major.
After graduating, she went to pursue a master's degree at Indiana University towards a social science background. She went on to complete an internship in California and enter a doctoral program in artificial intelligence research.
While getting her PhD, Roemmele developed an app intended to help people with creative writing stories. The app generates new sentences as a person is writing to spark ideas and help with the creative process.
"Artificial intelligence can be used to enhance abilities," she said. "People can become better writers."
Mark Curnutte: Returning to reporting
Mark CurnutteCurnutte started his talk by praising all of the alumni who spoke before him.
"What you can do with an English degree -- look at these people: law education, video production, artificial intelligence," Curnutte said.
He graduated Miami with an English and geography degree. As an aspiring journalist, English helped him integrate into a newspaper career.
"[English] is beneficial in the long run," Curnutte said. "It teaches you to read a piece of material, analyze it, infer it, and write about it."
Curette's first job was working at a Gannett newspaper, and, over time, he worked his way up to become an editor. Later, he became a reporter for the Cincinnati Enquirer.
After his time at the Enquirer, he said he moved on to become vice president for the Urban League. However, he wasn't done being a reporter. He came back to the Enquirer, where he now focuses on writing about civil right cases, racism, immigration, and refugees.
Final words of wisdom
Towards the end of the presentation, Roberts explained that once students graduate, they might feel lost.
"Everyone feels that way at some point or another, and that's fine," he said. "Going into the workforce, it's okay to turn opportunities down; it's important to know you can say no to a job offer if it doesn't feel right."
"Other people's accomplishments are not stepping stones you have to reach," he added. "Work hard, and you will make money and be successful."
Moran's advice was to take a breath -- you don't have to do everything immediately. She waited years before going to law school because she didn't want to go until she was ready.
"For me it was helpful to take time some off between school and law school," she said.
In law school, she was top in her class because she didn't rush into anything. Moran said that she was ready to work hard and become the best.
Peña told the audience not to worry.
"No one knows where they're going to end up, but eventually they find their way," she said.
When she looks at job descriptions, she sees what skills they want and how do her experiences align with those skills.
"Focus on your skills. And prove to them you have these skills because of [your] English degree," Peña said.
Having just finished her PhD, Roemmele said that she sees English and computer science as one of the same. For her, writing was a huge part of her research -- to convey knowledge to people about her work on artificial intelligence.
"I think there is a perception that you're either art or science," she said. "The idea that they are totally two different paths -- you don't have to think of it that way."
Finally, Curnutte spoke about his time at Miami, saying that the success he's had is due to his education.
"Everything I've had to learn -- Miami forced [me] to do," he said. "It's a cliché, but it teaches you how to learn. It prepares you well for life. [It's] a lifelong learning process."
Curnutte encouraged students to keep the cost of living low after they graduate. It allows for flexibility -- to do a job they like that doesn't pay as much. The happiest days of his life, he told the audience, was when he was driving in his Dodge with no air conditioning.
"I marvel at the young people your age coming into the newspaper with much more education," he said. "Liberal arts allow you to do anything."
The consensus among the five alumni panelists was that you don't need to have everything figured out upon graduation. Their wisdom goes a long way for undergraduates feeling pressured to have their lives figured out.