Visiting Lecturer Discusses Second Language Research Studies
By Victoria Slater, CAS Communications Intern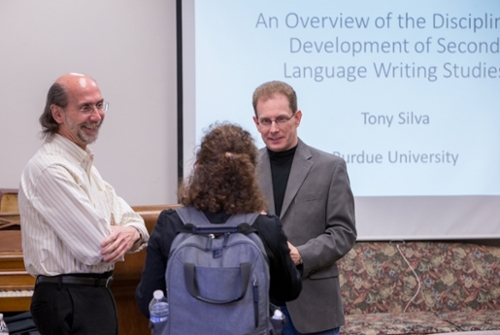 Professor Tony Silva, Director of English as a Second Language (ESL) Writing Program at Purdue University, presented a lecture, "The Disciplinary Development of Second Language Writing Studies," on October 23. The renowned scholar of second language research and pedagogy discussed the evolution of second language research studies throughout the past fifty years, and offered thoughts on what still can be done.
Silva began the lecture by describing the landscape of second language writing research, an area he has been working in since the 1980s.
"As I have been working in this area for the past thirty years, I have been compiling a fairly exhaustive Professor Tony Silva (l) and Miami University's Tony Cimasko (r) chat with a student. geographical database of work in this area," he said. "This database has more than 6,000 items."    
From these items, which include journal articles and dissertations, Silva was able to track trends throughout second language writing scholarship since the 1960s, when research in this area began to emerge. Scholarship has increased moderately from the 60's to the present day. The 1990's saw a critical rise in authors whose work would help shape the state of second language writing scholarship today. During this time, Silva co-founded and edited one of the most prominent journals on second language research, Journal of Second Language Writing, which is widely used today among ESL teachers and researchers.
After discussing the past, Silva turned to the future, offering his thoughts of what could be improved or changed about second language writing scholarship today. He noted that 5 million second language students study in the United States. In addition, he said while more than 150 universities exist in the U.S. where students have produced dissertations in the area of second language writing, there are no U.S. organizations devoted exclusively to second language writing studies.           
He added that the past way to teach and study second language writing is with a multi-disciplinary approach.
"Adopting different frameworks and using a multidisciplinary approach when teaching international students would be appropriate," Silva said. 
He said a beneficial program is the inclusion of writing centers, as "international students are now the vast majority of students who are coming into writing centers."
Silva concluded by discussing the impact the Internet has had on second language writing research and globalization, emphasizing the importance of second language writing scholarship in the future.
Event sponsors: Department of English Composition and Rhetoric & Writing Program, the Howe Writing Center, and the Howe Writing Initiative