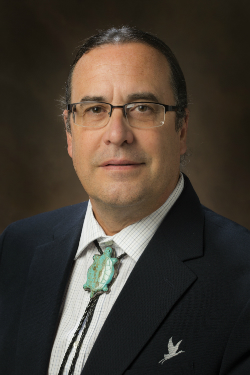 Daryl Baldwin
Daryl Baldwin (Kinwalaniihsia), a citizen of the Miami Tribe of Oklahoma, was born and raised in the Great Lakes area and currently resides with his wife Karen in Liberty, Indiana, USA.

Daryl's forefathers were active in the political affairs of the Miami Nation dating back to the 18th century, and he continues this dedication towards tribal self-determination through his efforts in language and cultural revitalization today. Daryl was born during the mid 20th century, at a time when the last speakers of his heritage language were passing. This loss motivated him to begin seeking documented language resources and linguistic support, which ultimately led him to pursue an MA in English-linguistics at the University of Montana. With the support of his wife Karen, together they embarked in 1991 on the difficult work of raising their four children with the language in a homeschool environment.

Growing community interest for language and cultural education prompted Miami Tribal leaders to approach their allies at Miami University in Oxford, Ohio in 2001 to create the Myaamia Center. Daryl was asked to be the founding director, and since its inception he and his staff have continued capacity building for this effort. The work of the Miami Tribe of Oklahoma, with its partner Miami University, has become nationally and internationally recognized for its research, planning, and implementation of community language and cultural revitalization efforts.

In the fall of 2016, Daryl's lifelong efforts, and arguably those of his family, tribal community, and university, were recognized with an award from the MacArthur Foundation (https://www.macfound.org/fellows/955).
In 2021, Daryl was nominated by President Biden and confirmed by the U.S. Senate to become a member of the National Council on the Humanities. His term ends in January 2024 https://www.neh.gov/staff/daryl-baldwin.
Publications
Baldwin, D., S. Mosley-Howard, G. Ironstrack, H. Shea. 2022. Community-Engaged Scholarship as a Restorative Action. In B. Barnes & S. Warren (Editors) replanting Cultures: Community-Engaged Scholarship in Indian Country. Suny Press. Albany, NY.
Baldwin, Daryl. 2020. Myaamiaataweenki: the Myaamia Language. In: International Education at the Crossroads. Edited by: Deborah N. Cohn and Hilary E. Kahn. Indiana University Press, Bloomington, IN.
Shea, H., Mosley-Howard, G. S., Baldwin, D., Ironstrack, G., Rousmaniere, K., & Schroer, J. E. 2019. Cultural Revitalization as a Restorative Process to Combat Racial and Cultural Trauma and Promote Living Well. Cultural Diversity and Ethnic Minority Psychology. Advance online publication.
Baldwin, D., David J. Costa. 2018. Myaamiaataweenki: Revitalization of a sleeping language. In: The Oxford Handbook of Endangered Languages. Edited by: Kenneth L. Rehg and Lyle Campbell. Oxford University Press, New York.
Baldwin, D., M. Noodin & B. Perley. 2018. Surviving the Sixth Extinction: American Indian Strategies for Life in the New World. In R. Grusin (editor) After Extinction. University of Minnesota Press. Minneapolis, London.
Baldwin, D., L. Hinton & G. Pérez Báez. 2018. The Breath of Life Workshops and Institutes. In L. Hinton, L. Huss and G. Roche (eds.) The Routledge Handbook of Language Revitalization. New York: Taylor & Francis Group.
Baldwin, Daryl, David J. Costa & Douglas Troy. 2016. Myaamiaataweenki eekincikoonihkiinki eeyoonki aapisaataweenki: A Miami Language Digital Tool for Language Reclamation. Language Documentation & Conservation 10. 394-410.(https://scholarspace.manoa.hawaii.edu/handle/10125/24713)
Whalen DH, Moss M and Baldwin D. Healing through language: Positive physical health effects of indigenous language use. F1000Research 2016, 5:852 (doi:10.12688/f1000research.8656.1
Mosley-Howard, G. Susan, Daryl Baldwin, George Ironstrack, Kate Rousmaniere, Bobbe Burke. 2016. Niila Myaamia (I Am Miami): Identity and Retention of Miami Tribe College Students, In: Journal of College Student Retention: Research, Theory & Practice. February 2016 vol. 17 no. 4 437-461. Sage Publication, Inc. (doi:10.1177/1521025115579249)
Gonella, M.P., D.W. Baldwin, D.W., and A.Greenberg. 2015. Community-led ethnobotanical triage: Case study—Myaamia corn traditions. Ethnobotanical Research and Applications Vol. 14: 517-531
Baldwin, Daryl, George Ironstrack. 2015. Mihšihkinaahkwa (Little Turtle). In: Indiana's 200: The People Who Shaped The Hoosier State. Edited by: Linda C. Gugin and James E. St.Clair. Indiana Historical Society Press, Indianapolis.
Baldwin, Daryl. 2014. oowaaha myaamiaataweenki: Miami Is Spoken Here.  In: Handbook of Heritage, Community, and Native American Languages In The United States. Edited by: Terrence G. Wiley, Joy Kreeft Peyton, Donna Christian, Sarah Catherine K. Moore, Na Liu. Routledge – Taylor & Francis Group, New York and London.
McCarty, Teresa L., Daryl Baldwin, George M. Ironstrack, Julie Olds. 2013. neetawaapantamaanki iilinwiaanki meehkamaanki niiyoonaani: Searching for Our Talk and Finding Ourselves In: Language Planning and Policy in Native America: History, Theory, Praxis. Teresa L. McCarty, Multilingual Matters, Bristol, Buffalo, Toronto.
Baldwin, Daryl, Karen Baldwin, Jessie Baldwin, Jarrid Baldwin. 2013. Myaamiaataweenki oowaaha: Miami Spoken Here. In: Bringing our Languages Home: Language Revitalization for Families, Leanne Hinton (ed.), Heyday Books, Berkeley, California.
Obonyo, Victor, Douglas Troy, Daryl Baldwin and James Clarke. 2011. Digital Smartpen technology and revitalization of the Myaamia language. Journal on Computing and Cultural Heritage (JOCCH), Volume 4 Issue 4. (doi:10.1145/2050096.2050097) 
Baldwin, Daryl and Olds, Julie. 2007. Miami Indian Language and Cultural Research at Miami University. In: Beyond Red Power: New Perspectives on American Indian Politics and Activism. Cobb, M, Daniel and Fowler, Loretta (ed.), Sante Fe: School of American Research Press.
Baldwin, Daryl and Costa, David. 2005. myaamia neehi peewaalia kaloosioni mahsinaakani: A Miami-Peoria Dictionary. Miami Tribe of Oklahoma.
Warner, S. Mark and Baldwin, Daryl. 2004. Building Ties: The Collaboration between the Miami Nation and Archaeology. In: Places In Mind: Public Archaeology as Applied Anthropology, Shackel, A., Paul, Chambers, J., Erve, (ed.), Routledge, New York and London.
Baldwin, Daryl. 2003. Miami language reclamation: from Ground Zero. A lecture presented by the Center for Writing and the Interdisciplinary Minor in Literacy and Rhetorical Studies. Speaker Series No. 24. University of Minnesota: Center for Writing.
Baldwin, Daryl. 2002. Mihšihkinaahkwa: maamiikaahkia akima. Northwest Ohio Quarterly 74(1): 22-28.