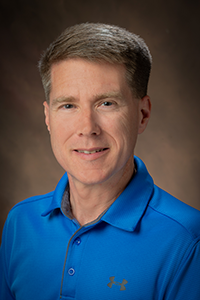 Dirk Tepe
Dirk Tepe is the Director of Application Architecture and Operations in IT Services at Miami University. He holds a bachelor's degree in management from Miami, with a focus in organizational behavior, which he achieved in 1992.

Dirk has been a fixture of IT Services for more than 25 years. He has held positions in nearly every department, including operations and software development, and has been the finger on the pulse of several important projects. It's a common mantra in IT that without Dirk, things would be less efficient and would go awry more often. He knows a lot and can execute on that information unlike anyone else.

Dirk has helped the Myaamia Center adopt development and deployment processes similar to those used by IT Services, which helps IT support them more effectively. These processes also allow the Myaamia Center development teams to be in control of their own application deployments -- providing a level of autonomy that allows them to develop and launch applications more quickly and predictably. This also means that it's easier to bring student developers into the fold and thus reduce the impact of student turnover from year to year.