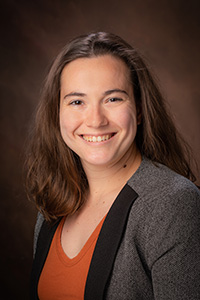 Megan Mooney
Megan Mooney (Kiilhsoonsa) is from Lafayette, IN, which is situated in Myaamionki, 'the Miami homelands'. She attended Miami University through the Myaamia Heritage Award Program and while there was able to strengthen her connection with her tribal community. She graduated with a Bachelor's Degree in English in 2018.
Throughout her tenure at Miami, she strived to engage with the Tribe and aid in language and cultural revitalization efforts by assisting at community events such as the Eemamwiciki Summer Youth Educational Experience as a counselor.
Megan began working with the Miami Tribe of Oklahoma in 2021 as a writer producing stories for the tribe's newspaper. In 2022, she transitioned to the Myaamia Center to continue her writing contributions and now assumes the position of Community Content Specialist. She is interested in the many narratives that weave together the stories of revitalization. Through her work she provides the tribal community and public with interesting and relevant information that strengthen awareness and support for the tribe's collective efforts.