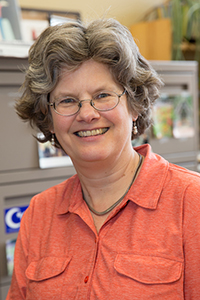 Kate Rousmaniere
Dr. Kate Rousmaniere is a professor in the Department of Educational Leadership at Miami University. A historian of American education, Dr. Rousmaniere became involved in the Myaamia Center when her department sponsored the Myaamia Heritage Courses for Myaamia tribal students.
Since 2012, Dr. Rousmaniere has worked with other Myaamia affiliates on long-term annual interviews with Myaamia tribal students as part of a long-term research initiative in the Myaamia Center to study the impact of language and cultural education on Miami tribal students' college retention, identity, and native cultural and language acquisition. The questions used in the interviews focused on students' sense of identity and sense of belonging while on campus and on what they anticipated learning in Heritage Courses about tribal issues, issues of identity, social support partners, and their overall experiences at the university and with the Myaamia Center. Initial findings of the team have been published in The Journal of College Student Retention, "Niila Myaamia (I Am Miami): Identity and Retention of Miami Tribe College Students" (2016) and have been presented at the Myaamiaki Conference. This research stems from the assessment efforts of the Myaamia Center examining the impact of cultural revitalization on tribal youth.
In part because of this work with the Myaamia Center, Dr. Rousmaniere is the 2016 recipient of Miami University's Benjamin Harrison Medallion Award, one of the most significant recognitions Miami has to offer faculty for contributions attesting to qualities of teaching, research, and/or service.