Miami launches career-enhancing Writing Institute
New online program teaches effective writing for any profession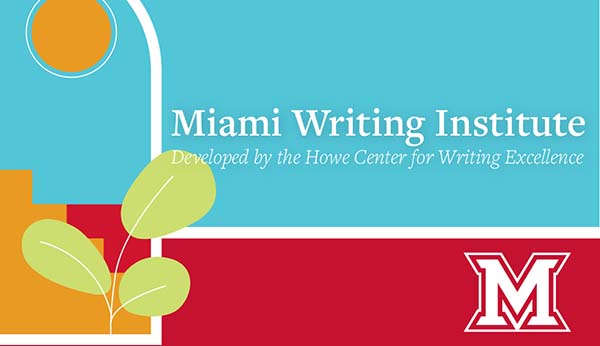 As Miami welcomes its students back to campus for spring term, it will also welcome a cohort of about 700 alumni to the Miami Writing Institute, a career-enhancing online program that equips participants to be effective and ethical communicators. The Writing Institute is the second installment of the university's popular professional education series, which launched last year with the miniMBA.
The four-part, self-paced program was developed by the faculty and staff of the Roger and Joyce Howe Center for Writing Excellence and explores why good writing goes beyond correct, error-free, clear, or concise writing. Miami President Gregory Crawford initiated and funded the development of the institute, recognizing the importance of writing at Miami.
"Roger and Joyce Howe have focused their contributions to Miami to ensure that our graduates are excellent writers," said Miami University President Gregory Crawford. "We are thrilled to extend the Miami Writing Institute to our alumni, faculty and staff now, and to our community this summer. The Howe Center team has created an exceptional, one-of-a-kind program that will help advance participants' careers and set them up for success."
Throughout the course, the faculty and staff of the Howe Center will debunk four common misconceptions about writing: writing is just words and rhetoric is empty speech; good writing is just good writing; sticks and stones may break my bones, but words will never hurt me; and writing is solitary and some people are just born good writers.
"We think that you will find this course to be completely different than any writing course or any writing professional development in which you have engaged in the past," said Elizabeth Wardle, director of the Howe Center. "If you don't think of yourself as a writer, we challenge you to think again."
The Writing Institute builds on Miami's long-established commitment to writing education and excellence. With funding and vision from Roger and Joyce Howe (both '57 alumni), Miami established the nationally-recognized Howe Center in 1996. As a signature program at the university, the Howe Center serves as the hub for supporting and facilitating the teaching and learning of writing on campus.
"Writing really matters at Miami," Wardle said "We make an investment in all of our students to prepare them to excel as effective communicators wherever life takes them. With the Miami Writing Institute, we are hoping to help even more people and share this special piece of Miami." 
Registration for the Miami Writing Institute will open to a wider audience of learners in Summer 2022. Those interested in participating can fill out this interest form to be notified when enrollment opens.