Miami University's Games + Simulation degree ranked among Top Game Design Programs in the U.S. by Intelligent.com
Miami's Games + Simulation degree was also noted for Best Industry Partnerships (online degree); Best for Game Art; and Best for eSports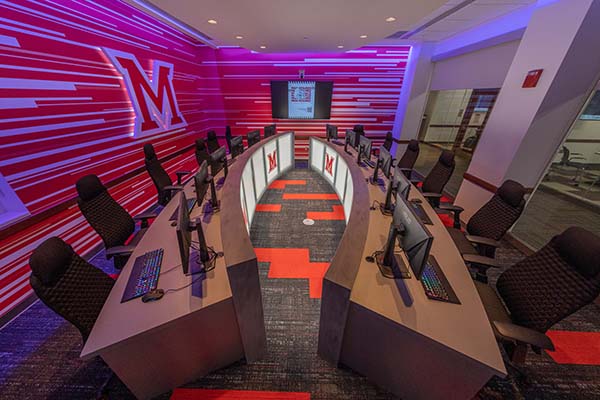 Miami's new Esports lounge, available for all students, recently opened in the Armstrong Student Center
Miami University's Games + Simulation degree ranked among Top Game Design Programs in the U.S. by Intelligent.com
Miami's new Esports lounge, available for all students, recently opened in the Armstrong Student Center
The Miami University Games + Simulation degree program has been identified as one of the top ten Game Design programs in the United States for 2022 by Intelligent.com.
Researchers at Intelligent.com identified programs based on flexibility, faculty, course strength, cost, and reputation.
Miami's Bachelor of Science in Games + Simulation, within the Department of Emerging Technology in Business + Design, is now in its second year as a bachelor's degree program (game design had been a major or co-major for the 12 years prior).
Games + Simulation marries a liberal education with novel research and the design of playful technology. Recognized nationally as a center for game design and development, it bridges computer science, engineering, education, communication, art, and business.
Currently,  Games+Simulation offers nearly 50 games courses and both a major and a minor in Games + Simulation.
Miami's Games + Simulation degree ranked:
Intelligent.com's methodology ranks each program on a scale from 0 to 100 across five categories. The scoring system compares each university according to program strength, student readiness, return on investment, cost, and student engagement.