Cameron Hay-Rollins and Whitney Womack Smith receive Miami University's Distinguished Service Award
One of Miami's premiere awards, the Distinguished Service Award recognizes faculty or staff who have made a significant impact on the life and mission of Miami University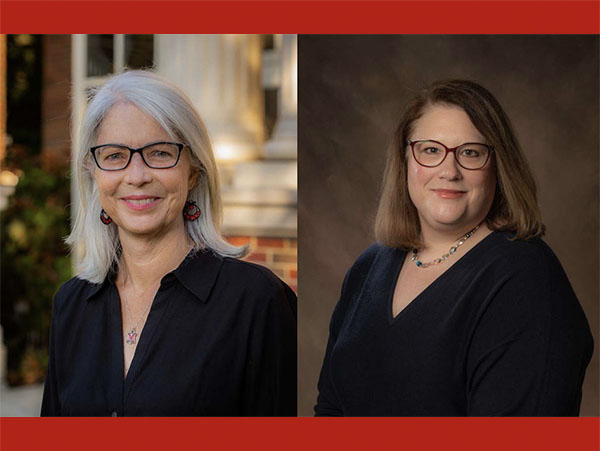 Cameron Hay-Rollins (left) and Whitney Womack Smith
Cameron Hay-Rollins and Whitney Womack Smith receive Miami University's Distinguished Service Award
Cameron Hay-Rollins (left) and Whitney Womack Smith
Cameron Hay-Rollins, professor and chair of Anthropology and director of the Global Health Research Innovation Center, and Whitney Womack Smith, professor of English and chair of the Department of Languages, Literatures, and Writing, are honored with Miami University's 2022 Distinguished Service Award. 
The Distinguished Service Award — one of Miami's premiere awards — recognizes faculty or staff who have made a significant impact on the life and mission of Miami University.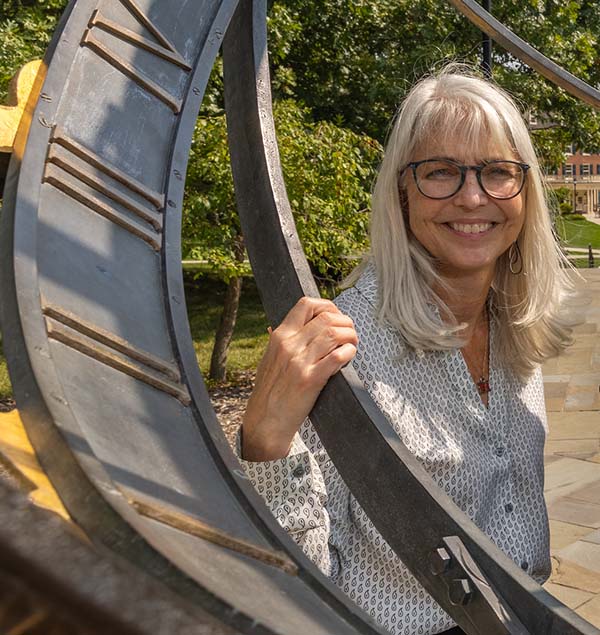 Cameron Hay-Rollins
Cameron Hay-Rollins: Service contributions to Miami are deep and wide
Hay-Rollins works with students to enable them to solve real world problems, brings faculty from across divisions together under the umbrella of Global Health Research Innovation Center, and works to enhance the welfare of our local and global communities, according to several of her nominators.
She developed Miami's transdisciplinary Global Health Studies program in 2013 and led the curriculum development for all of the new global health courses.  
In 2015 she founded Miami's  Global Health Research Innovation Center (GHRIC). Originally supported by the Provost's Interdisciplinary and Innovation Fund, the center facilitates interdisciplinary faculty research and alumni engagement, creating opportunities for students to engage in research. Under her leadership, the GHRIC has facilitated more than $1 million in grants or contracts for research or service projects on health inequity by affiliated faculty, and faculty have published more than 41 peer reviewed articles on their global health related work.
Global Health Studies was a founding partner with the Farmer School of Business's Social Entrepreneurship program in creating the annual Social Innovation Weekend. Her work with Social Innovation Weekend and the Global Health Case Competitions brings students from across campus together to explore issues such as infant mortality, opioid addiction, and homelessness in recovery populations, according to her nominators.
Hay-Rollins's service to our local communities has been "meaningful and timely," a nominator said. In 2016, she worked with Paul Flaspohler, associate professor of Psychology, and Ann Elizabeth Armstrong, associate professor of Theatre, on a Miami-community partnership with the Butler County Board of Health to reduce infant mortality in Butler County. The project,  PRIMED For Action, included a digital narrative that won recognition from theNational Academy of Medicine's Community Art Project.
She has worked with global communities on externally funded global health projects, including two projects at Christ University in Bengaluru, India, led by Vaishali Raval, professor of Psychology. She also worked with Jonathan Levy, associate professor of Geology, traveling to Zambia to better understand and help address issues related to water sanitation.
Keeping the University open during the pandemic
Along with others, Hay-Rollins gave of her time generously with the COVID Response Team and the Return to Campus Committee to ensure a safe transition back to campus in 2020.
Hay-Rollins and Kendall Lesser, director of the Public Health program, led the contact tracing efforts that minimized the transmission of COVID-19 not only across campus but also across all of Butler County during the pandemic.  She worked with Leser and  the Butler County General Health District to train nearly 100 Miami students as contact tracers and provide a real-world experience of engaging in global health work during the pandemic.
The criteria for Distinguished Service Award include 'service that has made a significant impact on the life and mission of Miami University' and "I cannot think of another Miamian whose caring, thoughtful, compassionate, and inspiring work has touched the lives of students and colleagues across the university, and communities in Ohio and around the world," a nominator said.
Among other service at Miami, she is Resilience co-chair for the Climate Action Task Force. Hay-Rollins received the 2016 Miami University Distinguished Scholar Award (now called Faculty Scholar Award). Her service has been recognized with a Miami University President's Medallion, a Proclamation from the city of Oxford, and with a Senatorial Citation from the General Assembly of the state of Ohio.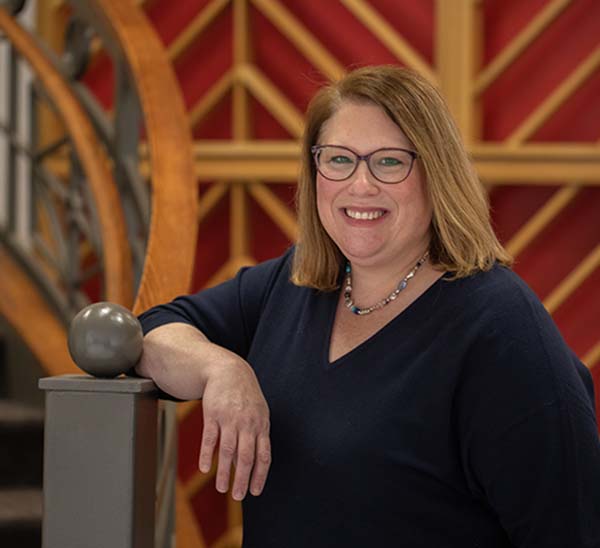 Whitney Womack Smith
Whitney Womack Smith: Remaking Miami Regionals 
One of Womack Smith's most significant contributions to Miami has been service that led to the establishment of a new academic division at the Regionals, several of Womack Smith's nominators said. 
"Before we were talking about 'One Miami,' Whitney exemplified this approach," one of her nominators said. 
The scale of the changes at the Regionals over the past ten years could only have been accomplished "through the hard work of many of our campus leaders from both the faculty and staff. Whitney clearly represents one of the best of those leaders," another nominator said. 
Womack Smith helped the campus communities — Oxford, Middletown, and Hamilton — navigate a challenging, transformative time. She served as a central figure in the transformation of the Regionals from a largely two-year feeder institution to a baccalaureate institution. 
"She recognized the opportunities we wanted to create for our students, and she was willing to throw herself into work for which there was little or no precedent at Miami," a nominator said. 
As a tenured faculty member in both an Oxford department and in a Regionals department, she works across campuses and divisions to support student success
Her service on the 2020 Strategic Planning Coordinating Team, the Regional Campus Process Committee, and the Committee on College and Governance are "just the tip of a very deep iceberg of service on behalf of Miami," a nominator said. Her service includes:
serving as the first director of the Hamilton Campus Honors Program, 

serving as the president of Miami's Phi Beta Kappa chapter since 2012

serving as the very first Faculty Director for the Hamilton Campus,

leading the development teams for three different Regionals degree programs: BS in Civic and Regional development; the  

BA/BS in Liberal Studies

; and the 

BA in Community Arts

 
As the first chair of Languages, Literatures, and Writing, created in 2016, Womack Smith works to ensure that all faculty — both full-time and part-time — feel a sense of community in the department, according to her nominators. 
She has led the growth of the English Studies major, which launched in 2017. More than 100 majors enrolled for the degree in fall 2021, the largest group yet. 
Womack Smith, who joined Miami in 1998, has been recognized with multiple awards including the Regionals Excellence in Full Time Teaching Award, the Miami Hamilton Excellence in Service Award (2011); the  YWCA Hamilton Outstanding  Woman of Achievement for Higher Education Award (2014), and a Cincy Magazine Outstanding Educator Award (2019).