2022 Miami University Faculty Scholar and Junior Faculty Scholar Awards announced
Thomas Poetter, Zara Torlone, and Veronica R. Barrios were honored by their peers in recognition of sustained excellence or great potential in research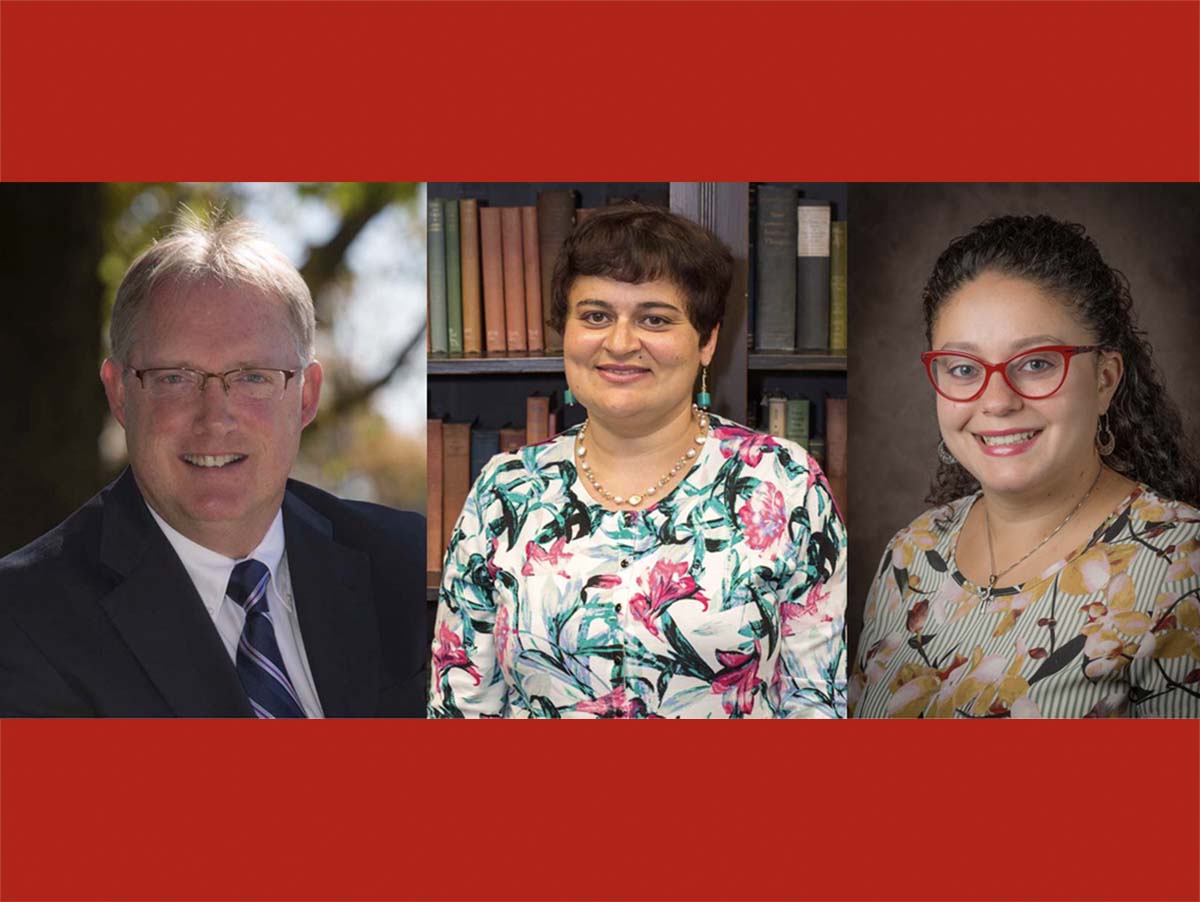 Left to right: Thomas Poetter, Zara Torlone , and Veronica R. Barrios
2022 Miami University Faculty Scholar and Junior Faculty Scholar Awards announced
Left to right: Thomas Poetter, Zara Torlone , and Veronica R. Barrios
The 2022 Miami University Faculty Scholar awards have been presented to Thomas Poetter, chair and professor of Educational Leadership, and Zara Torlone, professor of Classics. Veronica R. Barrios, assistant professor of Family Science and Social Work, received the 2022 University Junior Faculty Scholar Award.
University Faculty Scholar Awards (formerly called the Distinguished Scholar Awards) honor faculty whose sustained excellence in research or other creative activity has brought them prominence in their fields. The University Junior Faculty Scholar Awards honor faculty who have demonstrated great potential in research or artistry and have achieved significant standing in their fields.
Thomas Poetter received the University Faculty Scholar Award for a faculty member in business, education, and social sciences
As a renowned scholar of curriculum studies, Poetter views curriculum as far more than what happens inside a school or classroom. His work, which often explores the distinction between education and indoctrination, has important implications for anyone that hopes to play a positive role in a democratic society.
Noted by his peers as a dedicated scholar-leader, Poetter also has a tremendous record of mentoring new faculty and graduate students who often achieve significant success under his guidance, his nominators said. 
"Dr. Poetter works diligently to support emerging scholars in the development of their distinct lines of inquiry, from conceptualizing their big ideas to the details of copyediting," a nominator said. "While it is not uncommon to publish with or support graduate students in publishing their work, it is unusual for a faculty member to teach an intro level doctoral seminar in curriculum, where he works closely with every one of the 10-15 new doctoral students to ensure that they produce quality publishable papers by the end of the semester."
Poetter currently serves as the chair of the Department of Educational Leadership, where he continues to publish research and host conferences around an autobiographical form of qualitative inquiry called currere. In addition to his many works, he also continues to produce the popular Curriculum Windows series, which often features the work of his students.
Poetter, who joined Miami in 2005, said, "I have spent the balance of my career at Miami, and they have been my best years in education. Primarily, my job has entailed working with undergraduate, masters, and doctoral students, [and] I have found that to be intellectually, professionally, and personally rewarding. For that I am very grateful and I hope our contributions together have been meaningful to the fields we serve."
Zara Torlone received the University Faculty Scholar Award for a faculty member in the humanities and creative arts
According to one nominator, "Zara's level of research has always been exceptional, and she shows no sign of slowing down."
As a faculty member in the Havighurst Center for Russian and Post-Soviet Studies, Torlone researches the reception of Greco-Roman antiquity in modern literature, specifically Russian.
Her most recent book, Vergil in Russia: National Identity and Classical Reception, addresses the role of Vergil's literary legacy in the formation of Russian national and literary identity from the 18th century to the present day.
She is also the author of Russia and the Classics: Poetry's Foreign Muse and Latin Love Poetry, as well as numerous articles and edited and co-authored volumes on Roman poetry and novel, Russian reception of antiquity, Roman games, and textual criticism.
Alongside her extensive body of academic work, Torlone, who joined Miami in 2000, is also noted for her leadership.
"Her guidance, testimonies, and new insights have significantly influenced the diversity, equity, and inclusion of the international faculty community at Miami," a nominator said. "Serving on the International Faculty and Staff Association at Miami (IFSAM) Faculty Promotion Committee as a chair, she continues mentoring junior faculty and assisting IFSAM faculty to prepare for promotion. Living through the international faculty history at Miami, Dr. Torlone values her contribution to IFSAM by actively participating in its 'continuous and long-lasting effect on the campus climate.'"
"What I appreciate most about Miami is the opportunity to truly follow the scholar-teacher model," Torlone said. "I was able to share my publications not only with my peers, but also with my students, and develop courses that are connected directly with my current research. The ability to share my research with students is the most meaningful way of exploring what the new generation is interested in, [and] I am especially touched that my life-long pursuit of comparative literary studies has been acknowledged with this award." 
Veronica R. Barrios received the University Junior Faculty Scholar Award for a faculty member in business, education, and social sciences
Barrios primarily explores the barriers that prevent many victims of intimate partner violence and sexual assault from reporting their experiences, as well as what can be done to change this culture of non-disclosure. Her second line of research is dedicated to cultural and trauma responsive practices.
"Dr. Barrios makes us all better educators," a nominator said. "She is always willing to engage in critical conversations about improving the classroom environment and experience for our first generation college students and all of our students of color."
Barrios is further praised for innovative work that transcends the confines of academia by integrating theory, research, and practice to create scholarly work that can be used by communities.
"Dr. Barrios is producing cutting-edge scholarship on implicit bias and disclosure of sexual assault that is earning widespread recognition," another nominator said.
By working directly with survivors of sexual violence and clinical practitioners, Barrios strives to develop the clinical tools that can facilitate the disclosure of sexual violence and to elucidate the family dynamics and harmful social norms that can perpetuate silencing practices. 
"I often move through life with the notion that if one person is helped by what I say, write, or advocate for, then I am doing my job," Barrios said. "My most meaningful moments have been watching students I mentored as undergraduates attend master and doctoral programs as their gains feel like my gains." 
Barrios joined Miami in 2018 after receiving her doctorate from Montclair State University.