John Reynolds receives 2022 Knox Distinguished Teaching Award
Reynolds approaches teaching assignments "with the same high level of enthusiasm and creativity that he has modeled throughout his Miami career," a nominator wrote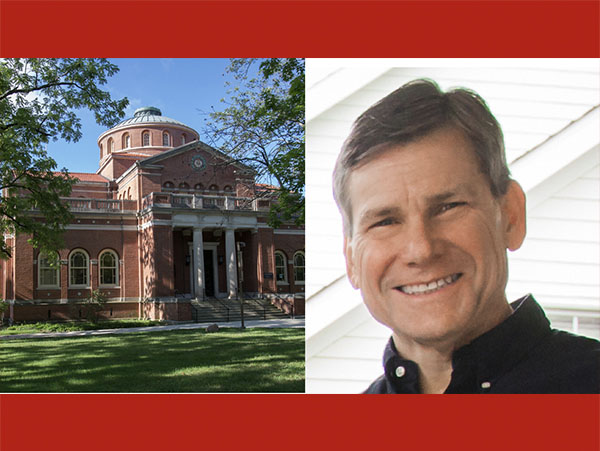 John Reynolds receives 2022 Knox Distinguished Teaching Award
John Reynolds, professor of Architecture, is the recipient of Miami University's 2022 E. Phillip Knox Distinguished Teaching Award.
The award recognizes faculty members who demonstrate creative, innovative, and engaging teaching methods at the undergraduate level.
After nearly 35 years of teaching in the Department of Architecture + Interior Design, Reynolds continues to approach each new teaching assignment "with the same high level of enthusiasm and creativity that he has modeled throughout his Miami career," a nominator wrote.
"He engages his students in real-world, outside-the-classroom problem solving; models himself as a learner and his students as teachers; and exemplifies the teacher-scholar by blending his scholarship and his teaching in carefully constructed classroom activities."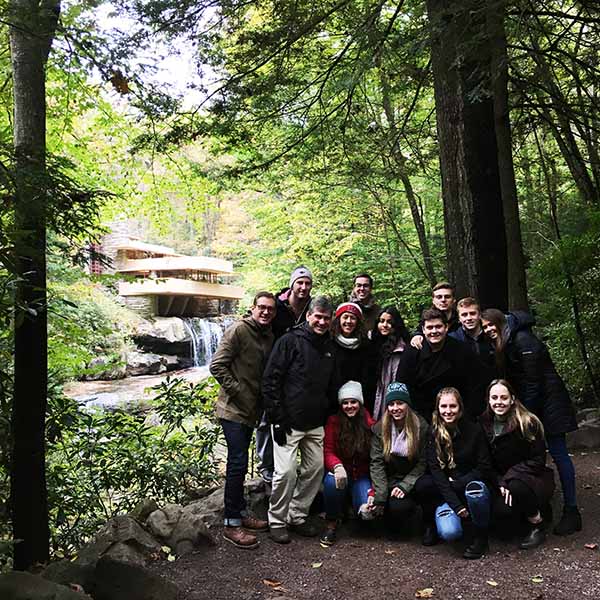 John Reynolds and students at Fallingwater, designed by architect Frank Lloyd Wright (submitted photo)
Teaching recognized nationally 
Reynolds received the Collaborative Practice Award by the Association of Collegiate Schools of Architecture in 2004 for "best practices in school-based community outreach programs."
In 2006, he was the sole recipient of the College of Creative Arts Crossan Hays Curry Distinguished Educator Award. 
Most recently, Froebel USA came to Miami's campus to film Reynolds and his students' transformed use of "Froebel blocks" as a teaching tool in the classroom — which is how Frank Lloyd Wright began his design education. This documentary film project is being pitched in a series of episodes to major outlets and includes interviews with some of the top architectural educators in the country. 
One nominator, who earned her Master of Architecture from Columbia University, said she benefited from Reynolds' teaching when she was an undergraduate at Miami.
"A student of John's automatically becomes part of this community of learners; we inspire each other and pay attention to what others are doing," she wrote. "His studio's award-winning project for the National Center for Migration History in Luxembourg caught my attention in 2004 when I was curator at Frank Lloyd Wright's Fallingwater, and I invited John to bring his students to design furniture for Fallingwater's Servant's Sitting Room, now used as a break room by tour guides."
Reynolds cultivates a supportive learning environment that brings out the best in his students, wrote a nominator who has partnered with Reynolds over 10 years through the Fallingwater Design Studio as its former curator of Buildings and Collections and now its director.
"His teaching empowers students to explore and challenge their personal identities through inquiry, discovery, and experimentation while always respecting their individual talents and unique ways of learning."
Another nominator from the National Documentation Center on Human Migration in Luxembourg wrote that Reynolds was involved in a multi-year partnership with the center, Miami University John E. Dolibois European Center, and the Department of Architecture + Interior Design.
"We could observe how carefully he led his students to the practice of real-world problem solving," she wrote, noting that included dealing with the sponsors, the community, administration, and prominent international architects.
A focus on active, experiential learning
Reynolds said he strives to enhance active, experiential learning and critical thinking, and aims to support the voices and perspectives that comprise culturally diverse and inclusive teaching. 
He encourages risk-taking that engages the student within teaching, learning and design contexts, and advances the design studio inquiry model both as creative activity and to inform teaching and learning contexts, local and global, while engaging and fostering community-based partnerships.
"My teaching focuses on active, experiential learning through student engagement with the instructor and affected community while inclusive of the diverse voices, ideas, and forces that shape architectural theory and design," said Reynolds, who joined Miami in 1987. 
"Whether in large lecture, seminar, or design studio courses, the intent is to engage students with their world and understand their role as 'citizen architects' concerned not only with high quality design of aesthetic import but directly contributing to communities, both local and global, and human well-being." Currently Reynolds and his students are working on a proposed Center for the Advancement of American Architecture at Fallingwater that was presented to a global audience via webinar in March 2021.
Raising the profile of the program and students
As director of Graduate Studies from 2001-2010, he took the lead in implementing multiple changes that have raised the profile of both the program and its students.  
"He completely revised the Master of Architecture curriculum in 2004, anchored in a unique requirement for a written thesis as a precursor to the more conventional design thesis," a nominator wrote. 
The written thesis was submitted in the form of a conference paper for presentation at the Association of Collegiate Schools of Architecture (ACSA) national conference in competition with Architecture faculty around the country. An impressive number of master's candidates have had their papers accepted for presentation at ACSA, the nominator wrote.
Knox Award
Established by Miami alumnus E. Phillips Knox ('68), the award is presented to faculty members whose achievements unequivocally merit recognition for excellence in teaching along dimensions such as learning through inquiry and experimentation; awareness and appreciation of cultural diversity; or active participation in experiential learning and community partnerships.  
Award winners receive a professional expense allocation of $3,000.