Meet Miami's 2022 Goldwater Scholars Evan Danielson and Zoe Platow
Their undergraduate research experiences through the pandemic lockdown helped guide their paths forward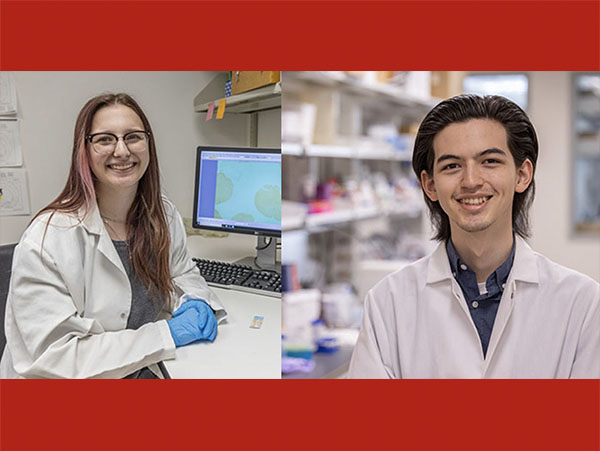 Zoe Platow and Evan Danielson
Meet Miami's 2022 Goldwater Scholars Evan Danielson and Zoe Platow
Zoe Platow and Evan Danielson
Miami University juniors Evan Danielson and Zoe Platow have each received a Goldwater Scholarship for 2022-2023. They are among 417 students nationwide to receive the scholarship, the premier undergraduate award for students intending a research career in mathematics, natural sciences, and engineering.
Danielson is a Chemical Engineering and Music Performance double major from Oxford, Ohio. Platow is a Biochemistry and Psychology double major and neuroscience co-major from Harleysville, Pennsylvania. 
They are both involved in undergraduate research at Miami.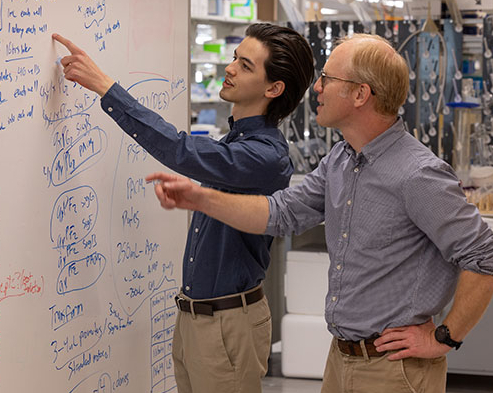 Danielson with his faculty mentor Jason Berberich, associate professor of Paper, Chemical, and Biomedical Engineering
Evan Danielson
Danielson was interested in conducting research on enzymes and connected with his faculty mentor Jason Berberich, associate professor of Chemical, Paper and Bioengineering (CPB), during his first semester at Miami. He joined Berberich's lab the following summer and has been an undergraduate research assistant (URA) since then, with Berberich and also Jason Boock, assistant professor of CPB.  
"I am fascinated by enzymes and the potential that protein engineering has in bringing us towards a sustainable future," Danielson said. His projects have included work on biocatalysis, researching how proteins interact with cleaning formulations and surfactants. 
He is planning to start work on a project with the Boock and Berberich labs researching how enzymes can be used for polyester degradation — or recycling plastic — to replace the solvents and energy-intensive high temperatures currently used in the process. 
After Danielson's first semester in the lab, in March 2020, Miami closed due to the COVID-19 pandemic and shifted to remote learning and working during Ohio's  stay-at-home orders. He was able to shift to computational work on protein characterization, working at home, until labs reopened. "As a result of lost opportunities during the pandemic, I have learned the importance of being able to work with what resources I have, whether that's investing more time in computational protein characterization techniques or learning how to grow plants," Danielson said. 
Berberich explained that just days before Miami closed, he, Boock, Danielson and another student traveled to Cornell University to run samples on a small-angle X-ray scattering (SAXS) instrument. They ran samples and gathered data for 24-hours straight. Fortuitously they generated enough computational data for the researchers to work with during the work-from-home months. 
"Evan has shown a great ability and passion for research, focusing not just on performing precise experiments, but understanding complex theory and applying advanced data analysis to elevate our projects," Boock said. "We are excited to hear how he builds upon his success at Miami in his future research endeavors."
Danielson was a 2021 Miami Undergraduate Summer Scholar. He has presented posters (virtually) on his research at the national conferences of the American Chemical Society (ACS) and the American Institute of Chemical Engineers, and he will give an oral presentation at the ACS conference this summer. He is also co-author on a paper recently submitted for publication. 
As a piano performance major, with faculty mentor Siok Lian Tan, Danielson said his studies in music "have complimented my engineering degree by improving my skills in communication, organizational leadership, and creative thinking." 
He is a pianist for Oxford's Hopedale Unitarian Church, and he was the 2021 Geoffrey Hall Undergraduate Artist Competition winner (formerly known as the Miami University Concerto Competition).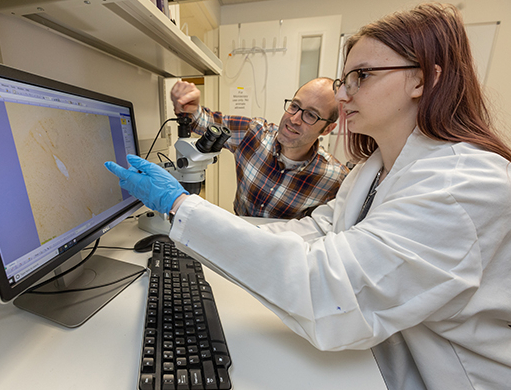 Platow with her faculty mentor Matthew McMurray, assistant professor of Psychology
Zoe Platow
Platow was interested in pursuing undergraduate research even before she started at Miami. During a Make it Miami event for accepted students, she met with Matthew McMurray, assistant professor of Psychology, after reading online about his research on the neurocognitive factors that contribute to disorders involving drug use and impaired decision-making.
Platow initially worked on a research project with McMurray's doctoral student Danielle Tapp, Ph.D. '21, (currently a postdoctoral researcher at University of Cincinnati/Cincinnati Children's Medical Center). When Miami shifted to remote learning and working due to the pandemic, Platow was able to continue working with Tapp remotely.
When Miami reopened in fall of 2020, Platow and Tapp received a Doctoral Undergraduate Opportunity Scholarship (DUOS) from Miami's Office of Research for Undergraduates.  
Platow is researching the effects of adolescent exposure to benzodiazepines (such as Valium, Xanax and Ativan) on adulthood stress and alcohol intake, using rats as research subjects. 
She was a 2021 Undergraduate Summer Scholar, and she was selected to present her research at the International Behavioral Neuroscience conference in Glasgow, Scotland, this summer. 
"Zoe is committed to bettering the world through her research," McMurray said. "She studies important societal issues like drug use among college students, and her creative interdisciplinary experiments will no doubt have a real impact on society."
Outside of the lab, Platow is a member of the Miami University Marching Band and plays the vibraphone. She is also a student tutor for chemistry, psychology, and neuroscience courses. 
The Goldwater Scholarship
They are among seven Goldwater Scholars among Ohio public universities this year.  Nationwide, faculty nominated 1,242 students — from a pool of more than 5,000 — for the scholarship, worth up to $7,500 per year.