Miami senior named to list of top 2022 architecture and interior design graduates
Metropolis magazine started its national Metropolis Future 100 list last year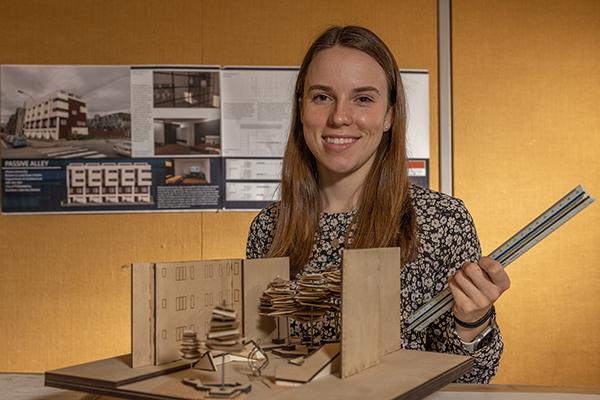 Miami senior named to list of top 2022 architecture and interior design graduates
By Jeni Barton, university communications and marketing
A senior in the Department of Architecture + Interior Design at Miami University has been named to the Metropolis Future 100  list of the top architecture and interior design graduates of the class of 2022.
Started in 2021 by Metropolis magazine, the list recognizes 50 architecture and 50 interior design students nominated by their instructors and mentors for their outstanding leadership, design, and advocacy for equity and inclusion.
Julia Bohlen was nominated by John Blake, Design-Build Studio instructor in the Department of Architecture + Interior Design  and interim director of Miami University's Center for Community Engagement in Over-the-Rhine, where he also serves as coordinator of community projects.
"The nomination of Julia Bohlen for this award was one of the easiest letters I'll ever write," Blake said. "Julia is thoughtful, hard working, and always well-prepared. She is a quiet leader in the studio and in student organizations like AIAS (American Institute of Architecture Students)."
Bohlen's ability to think about larger issues was one of the reasons Blake was inspired to nominate her.
Bohlen, who majors in Architecture, submitted a portfolio of six projects. One project was particularly meaningful, she said, because "it was entirely research-based and allowed me to talk with many people throughout the research process as well as gather a vast amount of information through mapping to identify and think about a larger issue in my hometown of Milwaukee."
The project, Eviction to Empowerment: Shared Housing in Milwaukee's Urban Neighborhood, proposed a cohousing solution for groups primarily impacted by eviction, single mothers and children. 
For Blake's studio, she worked on a project in Cincinnati with community partner Over-The-Rhine Community Housing. Her focus was working with the maintenance staff to propose renovations to the maintenance warehouse.
"The project included many phases of documentation and community presentations, but throughout the course of the conversations and iterations of the design process, we were able to reimagine the maintenance warehouse and the ways it functions to serve the maintenance staff as well as proposed additions to the goals of the maintenance program as a whole," Bohlen said.
Winners of Metropolis Future 100 are featured in the April issue of Metropolis Magazine and on its website.
"I am truly thankful to my professors in the department who have supported me over the last four years with their guidance, wisdom, and friendship and for helping to shape me as a designer and as a person," Bohlen said.