Miami University's Early College Academy will be a 'game-changer' for local high school students
Through Early College Academy, high schoolers can earn an associate's degree and two years toward a Miami bachelor's
Miami University's Early College Academy will be a 'game-changer' for local high school students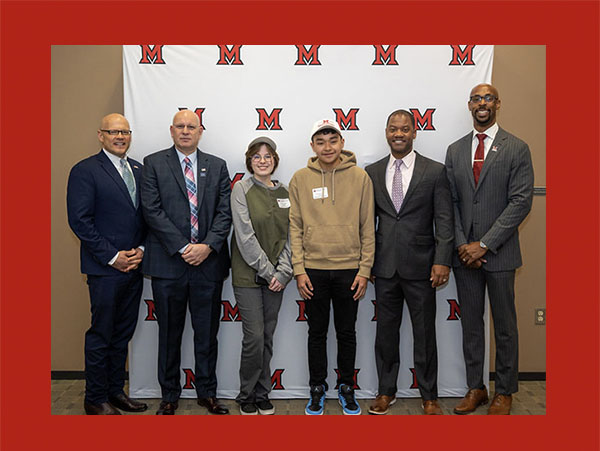 Celebrating the launch of the Early College Academy (left to right): Miami University President Gregory Crawford; Hamilton City School District Superintendent Michael Holbrook; Hamilton High School student Evelyn Duggins; Middletown High School student Eric Alonso Diaz; Middletown City School District Superintendent Marlon Styles Jr.; and Vice President and Dean of Miami University Regionals Ande Durojaiye.
Miami University and two local school districts today announced a program that will allow high schoolers in the region to earn a Miami associates degree and credit hours toward a bachelor's degree, all while still in high school and at no cost to them. 
This fall, 50 juniors from Hamilton and Middletown high schools will participate in the Early College Academy, in which they will graduate high school with an Associate in Arts in General Studies degree and with only two years remaining to complete a bachelor's degree at Miami University. In fall 2023, students from Lakota will join the program, the university and school district announced today. 
"The Early College Academy gives more students an equitable opportunity to pursue an incomparable Miami education," Miami University President Gregory Crawford said. "Partnering with the school districts enables us to prioritize college readiness, reduce financial barriers, shrink completion gaps, and elevate social mobility. As a result, more Ohioans will have college degrees,strengthening our future workforce and community leadership. Our region and state will thrive. Our return on investment will be invaluable, and our students will soar."
Participants will be enrolled as full-time students at their local high school – and participate in extracurricular activities there – but will attend Miami University Regionals' Hamilton and Middletown campuses for credit-bearing courses. 
"The Early College Academy at Miami Regionals will be a game-changer for many Hamilton High School students," said Mike Holbrook, superintendent of Hamilton City Schools. "Students having the opportunity to earn both a high school diploma and associate degree while also participating in high school extracurricular activities is the best of both worlds."
Utilizing the statewide College Credit Plus program, these students can enroll in a minimum of 15 credit hours (per semester) for four semesters and have the associated fees covered by Early College Academy. Their high schools will be providing transportation, lunch, and will cover the cost of required textbooks. 
"Through our partnership with Miami University, Middletown High School has long provided students with college-level opportunities," said Marlon Styles Jr., superintendent of Middletown schools. "We expect this program to break the educational mold, blurring the lines between traditional College Credit Plus classes and a high school diploma." 
Early College Academy Students will select from eight focus areas to pursue, creating a natural pathway to continue on to a bachelor's degree: Humanities; Natural Sciences and Mathematics; Social Science; Business; Education, Health, and Society; Engineering and Computing; Creative Arts; and Liberal Arts and Applied Science. 
To participate in the program, students must hold a 3.0 GPA upon applying (and maintain a 2.0 GPA to continue); be a high school student with junior standing. Priority will be given to first-generation college students. 
"A traditional route to college has often left students behind, most notably those from economically disadvantaged households. A college degree seemed out of reach," said Ande Durojaiye, vice president and dean of Miami Regionals. "We must look past what we've done traditionally to find new ways to best impact the students and communities we serve. Our new Early College Academy is designed to do just that." 
More information, as well as applications, can be found on the Miami Regionals website at MiamiOH.edu/Regionals/ECA.