Miami VP launches podcast about effective higher education marketing
'Confessions of a Higher Ed CMO with Jaime Hunt' will unpack the tips, tricks, tools, and tactics of the trade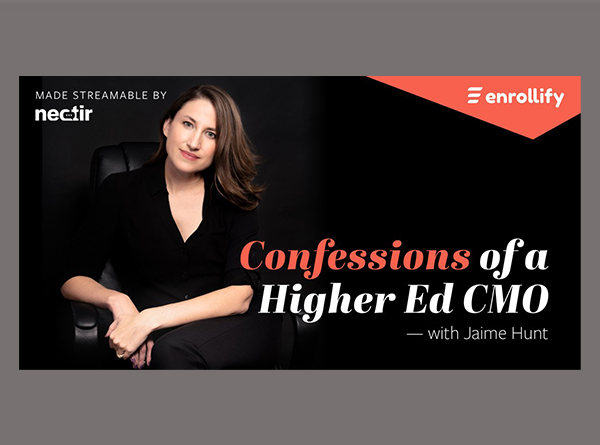 Miami VP launches podcast about effective higher education marketing
This week, Miami University Vice President and Chief Marketing Officer (CMO) Jaime Hunt will launch "Confessions of a Higher Ed CMO," a new podcast that unpacks the tips, tricks, tools, and tactics for effective higher education marketing. 
Produced by Enrollify, a professional development hub for higher ed marketers and admissions professionals, the podcast will feature conversations between Hunt and higher ed marketing experts as they explore the unique opportunities and challenges of the industry. Discussion topics range from measuring ROI, to engaging with a board of trustees, to navigating budgets, to serving diverse stakeholders. 
"This podcast really targets the higher ed community," Hunt said. "Of course, there will be things that can cross over and have value in other industries, but I want this to be the space where we can really take deep dives into the questions and complexities of our field and help each other find answers."
Hunt said "Confessions of a Higher Ed CMO" will provide listeners with actionable insights and an instant community of fellow higher ed marketers on social media. Using the #higheredcmo hashtag will allow for thoughtful discussion in between each episode. Hunt hopes to host live Twitter chats with her guests to facilitate further community engagement. 
"I will consider this podcast a success when the sharing of ideas is not just between me and my guests," Hunt said. "I want this to be more than just a broadcast mechanism that we are pushing out to the world and more about creating conversations and a community of experts that push each other to do their best work."
She has found the adage "a rising tide lifts all boats" is especially true in the higher ed marketing community, where people are generous in sharing ideas, insights, and best practices. 
"I've received great insight and help from my peers along the way, and I want to pay it forward and share what I've learned with others," Hunt said. "Some might see it as giving competitors fuel or allowing others to steal your ideas, but I fundamentally disagree. Having these conversations and building these networks paves the way for innovation and creates new opportunities."
With "Confessions of a Higher Ed CMO," Hunt is enjoying one such opportunity. As Enrollify sought a host for its podcast, Hunt's name kept coming up. Peers across her network volunteered that she would be a good podcast host and someone they wanted to hear more from. Hunt said she was humbled to hear that and learn that her counterparts and colleagues really value what she contributes to the higher ed CMO community. 
In addition to her work on the podcast, Hunt regularly authors op-eds on marketing and leadership, and she presents on these topics at conferences. She is a regular contributor to Inside Higher Ed and VoltEDU, and has appeared on more than a half-dozen podcasts in the last year. In May, she will be speaking on higher education marketing leadership in Canada, and she is a member of the faculty for the 2022 EduWEB Summit. She is also on the planning committee for the American Marketing Association's Higher Education Symposium, the largest gathering of higher education marketers in the country. As a Forbes Council member, she publishes monthly columns for Forbes. She also maintains an active Twitter presence @JaimeHuntIMC, cultivating a community of more than 2,000 followers who engage in discussions about marketing communication issues and strategies.
"I have found that the people in my network are very mission driven," Hunt said. "We believe in the mission of higher education, and that mission is bigger than any one college or university. We want each other to succeed."
Hunt said that she hopes that her work on the podcast,  in her publications, and her speaking engagements can help inspire others at Miami to see themselves as thought leaders and build similar communities of interest in their respective fields. 
"The world wants and needs the insights of our faculty and administrators," Hunt said. "There are a lot of hardships facing our world and the brilliance of Miamians can help solve some of those challenges."
Enrollify's "Confessions of a Higher Ed CMO with Jaime Hunt" is available on ApplePodcasts and made streamable by Nectir. New episodes will air each Friday covering topics such as measuring marketing ROI, convincing leadership to provide more resources, and how to decide what work to bring in-house.