JEPC Article of the Year awarded to Miami faculty for youth mentoring research
Community-based mentoring program customizes culturally relevant programing to meet the needs of local African American girls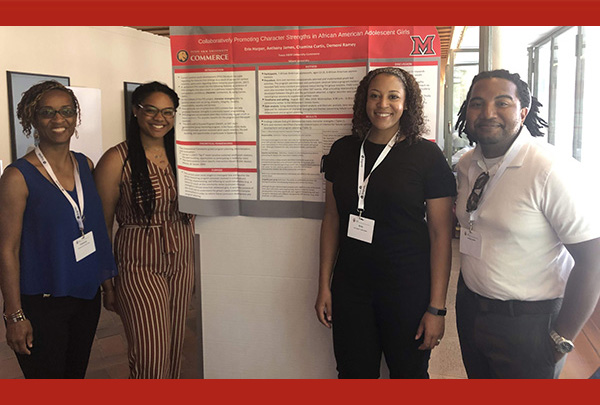 Study authors, left to right: Chamina Curtis, assistant lecturer of Commerce at Miami Regionals, Demoni' Ramey '20, graduate student in Family Science and Social Work, Erin Harper, former assistant professor of Educational Psychology (currently associate professor of Psychology and Special Education at Texas A&M University) and Anthony James, associate professor of Family Science and Social Work
JEPC Article of the Year awarded to Miami faculty for youth mentoring research
Study authors, left to right: Chamina Curtis, assistant lecturer of Commerce at Miami Regionals, Demoni' Ramey '20, graduate student in Family Science and Social Work, Erin Harper, former assistant professor of Educational Psychology (currently associate professor of Psychology and Special Education at Texas A&M University) and Anthony James, associate professor of Family Science and Social Work
Youth mentoring programs can be critical to promote the positive development of African American girls who often face a variety of social challenges including racial and ethnic stereotyping and bias that may lead to feelings of disempowerment, low self-esteem, and unjustly harsh discipline.
A study led by Erin Harper, former assistant professor of Educational Psychology at Miami University, was designed to address many of these culturally specific challenges, exploring the first year of a youth mentoring partnership between Miami University and a community center in Hamilton, Ohio.
Their study, Using the Participatory Culture-specific Intervention Model to Improve a Positive Youth Development Program for African American Adolescent Girls, published in the Journal of Educational and Psychological Consultation (JEPC), was selected as the 2022 JEPC Article of the Year.  
Study co-authors with Harper, currently associate professor of Psychology and Special Education at Texas A&M University, are Anthony James, associate professor of Family Science and Social Work, Chamina Curtis, assistant lecturer of Commerce at Miami Regionals, and Demoni' Ramey '20, graduate student in Family Science and Social Work.
Their work showed that the program could be adapted to better meet the culturally specific needs of African American adolescent girls aged 12-17. 
To complete the study, the authors used a participatory action research (PAR) model, which is a scholarly approach that brings research participants directly into the research process.
"The program didn't have some of the things that were culturally relevant to this particular population of girls," said James. "In the past few years, Hamilton has struggled with some youth development challenges of youth not acting responsibly and engaging in violence. And these young girls live in that community. So this project allowed us to adapt the program, to get closer to their needs, and to find an even stronger outcome."
The researchers also added a multigenerational approach, which incorporated multiple perspectives from Baby Boomer, Generation X, and Millennial adult mentors as well. 
Through the PAR model, they also solicited input and feedback from the girls themselves, before weaving their perspectives directly into the program. "The youth who were in it not only received something, they actually contributed to the program that was being created for them," James said. 
"Don't try to divorce the youth from the context in which they're embedded," he continued. "Bring those together because that's where your success comes. We found that that participatory nature helped the young ladies have a stronger buy-in to the program, and helped meet their needs."
In this case, actively listening to the girls' interests, preferences, and perceptions of the specific issues they faced led to increased feelings of trust, empowerment, and psychological well-being. 
According to the research, this approach can have important implications beyond this particular local community context. 
PAR can not only potentially increase the relevance, engagement, and buy-in among participants in other youth mentoring programs elsewhere. It can also be reciprocally beneficial to adult mentors as well. 
Through the co-construction of the program interventions and evaluations, the mentors themselves even marked an improved capacity to understand, respond to, and connect with participants. "As one of the mentors in the group, I worked firsthand with the girls," Ramey said. "Throughout the project I was able to tell not only how I impacted the girls, but also how they impacted me." 
Furthermore, the study also demonstrated the promising potential of leveraging university-community partnerships as a viable way to successfully fund, staff, and implement relevant youth development programs. 
"Our work offers other universities and community organizations a good example of how they can work together to enhance the financial, physical, and intellectual resources needed to support a culturally specific youth development program," Harper said. "Youth played a key role in co-leading this program and cultivating a space that was sensitive to their needs at the time. This is the outcome I am most proud of."