Miami University student shines in national light fixture design competition
Suva Mendoza also was a finalist in another design challenge earlier this year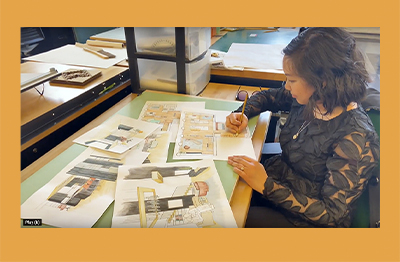 Miami University student shines in national light fixture design competition
By Margo Rutledge Kissell, University Communications and Marketing, with Mary Ben Bonham, coordinator of Miami's Interior Design program 
Suva Mendoza, a fourth-year student in Miami University's BFA in Interior Design program, was awarded the Citation for Presentation in the 2022 Robert Bruce Thompson Annual Student Light Fixture Design Competition.
She also was a finalist in the 2022 Gensler Brinkmann Scholarship + Design Challenge earlier this year.
Both competitions draw entries from design programs at universities across the nation. Mendoza's was one of five projects recognized in the light fixture design competition. She was awarded $600 and a plaque.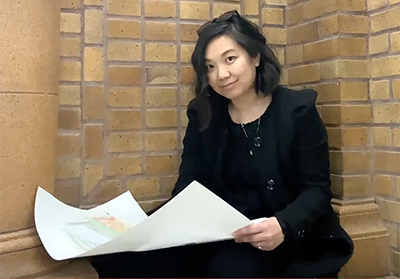 Mendoza of Springboro (pictured on the right) started at Miami as a non-traditional student in 2019.
"Prior to entering Miami's Interior Design program, I had spent nearly 10 years in the fashion and graphic design industry, yearning to go into Interior Design, wondering if it was too late because I was in my early 30s and I had a husband and kids to think about," she recalled.
"But when I decided to take the jump into Interior Design, I started rediscovering myself and picked back up pieces of me."
Mendoza said she was thrilled and honored to be a finalist in Gensler's 2022 Design Competition — the first design contest she entered — and then place in the 2022 Robert Bruce Thompson's competition.
"They were humbling experiences and learning opportunities, but I think most importantly of all, it solidified the fact that it's never too late to do what you love and makes you happy — something I hope for my own children."
Inspired by morning dew drops
The Student Light Fixture Design Competition's design problem challenged students to design a light fixture for the produce section of a major supermarket chain.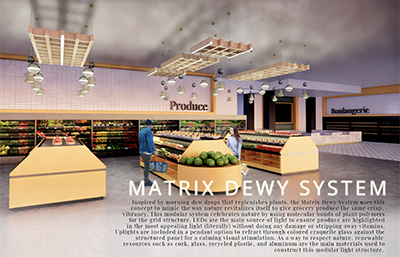 Mendoza's project, Matrix Dewy System, integrates multiple forms of LED lighting within a customizable modular grid system suspended above grocery store produce displays. She described the genesis of her design, which features sphere-shaped pendants and linear downlighting strips recessed into sections of the grid frame.
"Inspired by morning dew drops that replenish plants, the Matrix Dewy System uses this concept to mimic the way nature revitalizes itself to give grocery produce the same crisp vibrancy," she wrote in her concept statement.
Mendoza's presentation considered practical construction design details, light sources, distribution of light, and sustainability issues.
The light fixture design project is an assignment in ARC 414/514 Environmental Control Systems II course taught by Associate Professor Mary Ben Bonham, coordinator of the Interior Design Program.
"I am sure I speak on behalf of the entire Miami University Architecture + Interior Design community when I say that we are extremely proud of Suva," Bonham said. "Her talent and commitment to design are inspiring to students and faculty alike. We are delighted that her exemplary work has been recognized in these prestigious professional venues." 
A history of successful designs by Miami students
Last year, the competition's design problem was a light fixture for the apparel area of a university bookstore. Miami students won four out of the six awards:
Emily Pate '22, BA in Architecture, first place ($5,000) for "Eclipse."
Mollie McNally '22, BA in Architecture, second place ($2,500) for "Tunnel Vision."
Kari Kruse, '22, M.Arch, Citation for Engineering Achievement ($500) for "Arena."
Danielle Young '22, BFA in Interior Design, Citation for Innovative Concept ($500) for "Canopy."
Mendoza's "Dream Space" concept
In the 2022 Gensler Brinkmann Scholarship + Design Challenge, Mendoza's application featured a project completed in the third-year Interior Design Studio taught by Ann Weigand, adjunct faculty in the Department of Architecture + Interior Design.
Mendoza designed "Dream Space," a hostel and cafe concept for the adaptive reuse of a four-story building in Cincinnati's historic Over-the-Rhine neighborhood. Her program includes a floor specially designed for families to stay and a street-level STEAM (Science, Technology, Engineering, Art, and Mathematics) center for pre-K special needs children to benefit the community. In her presentation, she explains the driving concept behind her project.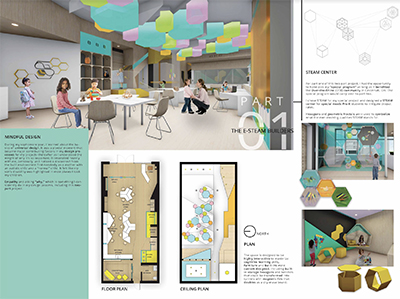 "Since STEAM is about connecting ideas and people together, the first floor is designed to be interactive as a way to bring people together," Mendoza wrote in her presentation. "As flow of space is vital to user experience of space, I used brain activity wavelengths as inspiration for how people would circulate and for zoning. Evolving patterns and overlapping shapes resulting from geoforms create a dream-like kaleidoscope effect."
Soft colors, geometric patterns and playful, positive messaging on the theme of dreams and a good night's sleep are integrated with the interior space and branded products such as reusable water carafes and hostel room keycards.
Mendoza was among a select group of finalists that Gensler — a global architecture, design, and planning firm — invited to submit a digital video to introduce themselves to the jury and present their work.
After she graduates in May, Mendoza said she plans to take her NCIDQ exams within a year and work with an architectural firm in commercial design.
"I really want to make spaces for people that are mindful, functional, experiential, sustainable, and inclusive — all things I've been able to explore deeply during my time at Miami and my Spring 2022 co-op and Summer '22 internship with Moda4 (an interdisciplinary design firm in Dayton).
"I have been lucky to have been immersed in an environment that has been so encouraging and has allowed me to gain vital knowledge in the design industry," Mendoza said. "From my first steps into Alumni Hall until now, it's so rewarding to see what could be built in just three short years."