Free K-12 math and literacy tutoring offered through Miami University Learning Lab
A collaborative connection of partnerships, experiential learning opportunities, and essential community services provide win-win solutions for all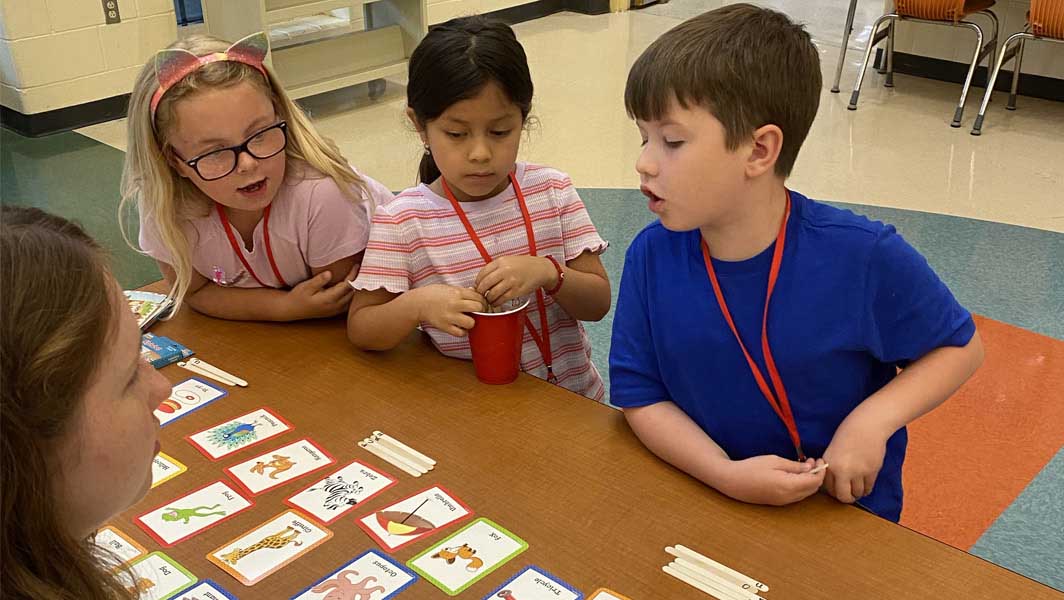 Students receive in-person literacy tutoring from the Learning Lab
Free K-12 math and literacy tutoring offered through Miami University Learning Lab
Students receive in-person literacy tutoring from the Learning Lab
Great tutoring can help students master key concepts and gain valuable learning skills, while also boosting self-confidence along the way. But quality tutoring is not always affordable, easily accessible, or even available to many students. 
To address these challenges, the recently launched Miami University Learning Lab pairs pre-service teachers with K-12 students across the state to provide high-dosage, evidence-based tutoring in literacy and math.
"Anyone can get involved," said Michelle Cosmah, Miami clinical professor of Teaching, Curriculum, and Educational Inquiry (TCE) and Learning Lab director. "Once we know of an interest, we will match the interest with a specific program recommendation to serve the needs of the child. If we can't find a current match with one of our existing programs, individualized tutoring can be accessed through one of our local partners including Keepsake Tales and Schwartz Tutoring." 
Offered through the College of Education, Health, and Society (EHS), and made possible by a donation from the Christine and Mark Johnson Literacy Partnership and a grant from the Ohio Department of Education, the Learning Lab is available for both face-to-face and virtual settings. 
As a structure, it supports a variety of experiential learning activities across EHS, while also providing culturally relevant instruction in collaboration with several EHS programs. The goal is to provide reciprocally beneficial solutions for everyone involved.
College students get the hands-on teaching and field experience they need to become future educators. The K-12 youth get the extra support and individualized attention that's often unattainable in traditional learning environments, and parents can get easier access to an important service. 
Among the EHS programs included within the Learning Lab is Fostering Reading.
Created by Leah Wasburn-Moses, Miami professor of Educational Psychology, with assistance from Miami students Evette Harrell and Lizzie Rumford, Fostering Reading pairs college students who are teacher education majors with foster youth from around Ohio for virtual tutoring. 
"Foster children often have so many needs that education is often put on the backburner," Wasburn-Moses said. "If you look at the data, sadly, foster children are amongst the most at-risk populations that we have in terms of student outcomes. And I also know first-hand how hard it is to be a foster parent. You really have to pick and choose the supports the child gets because you just can't do it all, and tutoring can be expensive and not even easy to find."
Fostering Reading has already become so successful that it's expanded to match foster youth with college tutors from partnering institutions across the region including Cincinnati State, Ohio Wesleyan, Cedarville, Hocking College, Zane State, Clark State, Troy City Schools, and more.
Additional tutoring programs within the Learning Lab include:
Fundamentals Math Club. Managed by Miami associate professor of Educational Psychology Sarah Watt, this project tutors at-risk Talawanda Middle School students.
Summer Scoops Camp. Managed by Michelle Cosmah, the camp offers literacy tutoring for K-12 students across Hamilton City Schools. 
Camp Ubuntu. Managed by Paula Saine, Miami TCE professor, and Nathaniel Bryan, TCE assistant professor, the camp provides virtual culturally-relevant literacy tutoring to first through fourth-grade students statewide from the Ohio Connections Academy. 
"A lot of the programs are very different from one another," said Wasburn-Moses. "But now they are centralized. We know what the other one's doing, and we have a structure." 
The Learning Lab will also support a variety of faculty and student research opportunities including a current project exploring the self-efficacy of children around reading and math.
Located in the Engaging Technology Lab (ETL) in McGuffey Hall, the Learning Lab's Resource Center also houses educational materials and books, which are free for pre-service teachers to check out and use during tutoring sessions.