Miami, ODHE partnership helps K-12 teachers provide pattern recognition and abstract thinking skills to students
Computational thinking modules will allow education prep programs to meet new state-wide licensure requirements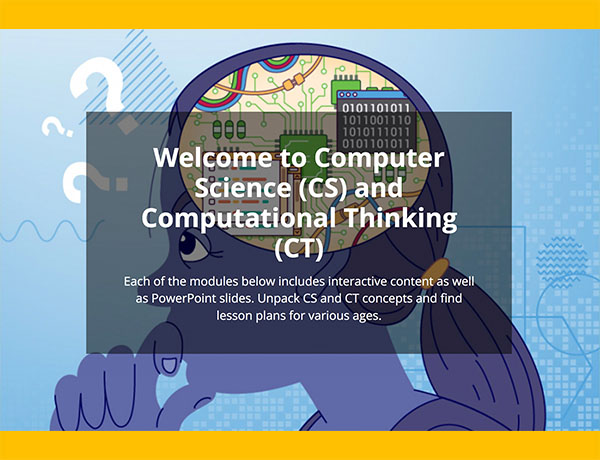 Introduction page of the new computational thinking modules
Miami, ODHE partnership helps K-12 teachers provide pattern recognition and abstract thinking skills to students
Introduction page of the new computational thinking modules
The Ohio Department of Higher Education (ODHE) and Miami University's College of Education, Health, and Society (EHS) and College of Engineering and Computing (CEC) have partnered to make a new series of Computational Thinking Modules available for K-12 educator preparation programs across the state.
The online learning modules and lesson plans were developed by a panel of experts from across the state and hosted by Miami. They were developed in response to Ohio House Bill 110, which mandates that all educator preparation programs provide instruction in computer science and computational thinking as part of licensure programs.
"What started as lists of resources and simple PowerPoints evolved into interactive HTML with embedded links to external resources after Miami volunteered to host the modules and (learning design) staff from Miami Online got involved," said Krista Maxson, ODHE Associate Vice Chancellor, P-16 Initiatives. "I am so impressed with what Miami has put together. It is so engaging that my first experience with the modules was like falling down the rabbit hole."
These interactive tools focus on the kinds of conceptual skills and algorithmic steps that computers use to solve problems including decomposition, pattern recognition, and abstraction reasoning. 
So it's not about programming computers. Instead, the goal is to ensure that teachers possess the know-how to engage K-12 students in computational thinking, especially as it is connected to the content they teach.
"Many people are surprised to learn that computational thinking is not about writing code," said Todd Edwards, Miami professor of Teacher Education and a member of the module team. "Students in all grade levels may benefit from engaging in computational thinking. Problem solving is an essential skill for students regardless of content area. Computational thinking encourages students to solve problems more methodically and more strategically." 
In an elementary school art class, for example, students could practice computational thinking by identifying patterns in an existing work of art, practice decomposition by breaking down the original piece into individual components, and use abstract reasoning to reassemble it into a cohesive work of new art based on a theme provided by the teacher.
Key members of the module development team also included Jim Kiper, professor of Computer Science and Software Engineering (CSSE), and  Norm Krumpe, senior lecturer in CSSE.
"We hope to help teachers be better aware of these concepts, and then to help students at the various levels use those concepts to be better learners," Kiper said. "So it's more general knowledge around the kinds of things that computer science and computational thinking can bring to everyone, and the ways of approaching problems that are useful in everyone's lives."
The computational thinking modules are free for educator preparation programs across Ohio. 
Anyone seeking additional information or assistance can email: csct@miamioh.edu