Fall Career and Internship Fairs to connect students and employers
Recruiters will identify Miami talent for full-time and internship positions at events September 20-28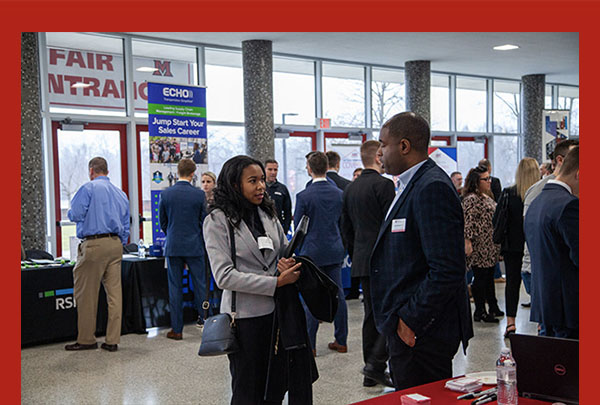 Career Fair participants (Spring 2020, pre-COVID-19)
Fall Career and Internship Fairs to connect students and employers
Career Fair participants (Spring 2020, pre-COVID-19)
Miami University students will have the opportunity to explore job opportunities with national and regional employers at the 2022 Fall Career and Internship Fairs.
The three-day event will connect more than 300 hiring organizations with an expected 4,000 students representing all majors. Each fair will be held from 1-5 p.m., with the first two taking place in Millett Hall and the last occurring online.
The all-majors Career and Internship Fair is set for Tuesday, Sept. 20. The STEM (Science, Technology, Engineering and Mathematics) Fair will follow on Wednesday, Sept. 21. A week later, on Wednesday, Sept. 28, the last fair will be held virtually through Handshake, Miami's job and internship database.
"We are very proud of our track record in attracting a diverse array of employers to our on-campus and virtual Career and Internship Fairs," said Jennifer Benz, assistant vice president of the Center for Career Exploration and Success. "Our students continue to be highly regarded by employers."
The fairs will feature employers from business and other industries. Select governmental and public service agencies will also attend. Students will speak with employer representatives, gain insight into career opportunities, and distribute copies of their resumes. Employers use the event to identify candidates to invite for interviews.
A sample of the employers confirmed to appear at the 2022 Career and Internship Fairs include Cardinal Health, Cincinnati Children's Hospital Medical Center, Eli Lilly and Company, General Electric, KeyBank, Kimberly-Clark, PepsiCo, Phillips Edison & Company, Standard Textile, Stryker, Talbert House, The David J. Joseph Company, Unlimited Systems, and Western & Southern Financial Group.
"I recommend students research the organizations and the positions they offer," Benz said. "They should also consider positions based on the skills they require and not only on their job titles. Academic major alone does not always determine qualification for a position. The skills needed for it are as important to consider."
Students who have never attended an in-person Career Fair are advised to attend a training session and visit the First Year Friendly Table at Millett Hall. The training sessions' dates and times can be found on the  Center for Career Exploration and Success website. First-year students are encouraged to attend to experience the event and begin building their networks.
Students who take part in the virtual fair can fill their schedule with group and one-on-one sessions based on their availability.