The value of an internship: a Q-and-A with Miami University student Katie Gabe
The junior majoring in Biology with a co-major in Sustainability and a minor in Photography learned a lot from her internship at Mote Marine Laboratory & Aquarium in Sarasota, Florida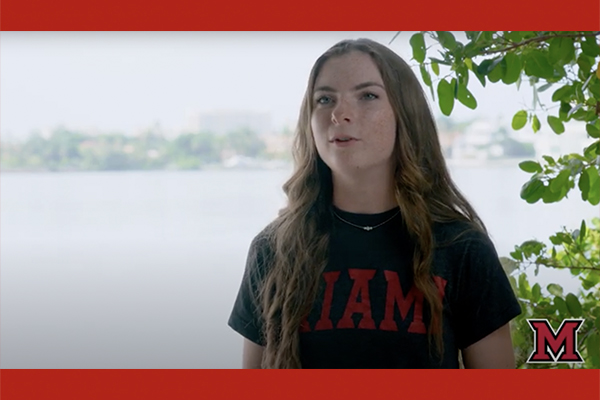 The value of an internship: a Q-and-A with Miami University student Katie Gabe
Video by Zach Burnett; interview by Margo Kissell, University Communications and Marketing
Katie Gabe, a junior majoring in Biology with a co-major in Sustainability and a minor in Photography, learned a lot from her summer internship at Mote Marine Laboratory & Aquarium in Sarasota, Florida.
We caught up with Gabe, who is back on Miami's campus, to ask her a few questions about the experience.
How did you find this internship?
Over winter break in 2021, I spent a lot of time researching summer opportunities in marine science. The internship at Mote came up on numerous websites that I was frequenting. Resources such as the Center for Career Exploration and Success and fellow members of the Marine Biology Club also aided me in my search.
What did you take away from this experience?
This experience was so valuable, challenging, and rewarding. Some of the most valuable things I walked away with were connections with marine scientists, animal trainers and caretakers, and peers who also were interning. The experience taught me a lot about what I like and do not like about the field and where my interests lie. 
I gained an understanding of how to collect reliable, consistent data for research as well as an understanding of ocean science and the many disparate career options there are in marine science.
I also learned how to interact with the public from the standpoint of a scientist. Many times while doing field work, there would be people asking questions about manatees, what we were doing, and even about other marine creatures such as sea turtles or sharks. I realized the importance of comprehending your work, knowing the laws, permits, and regulations around your research, and deepening your understanding of the entire ecosystem you are studying.
What advice would you give other Miami students seeking internships?
Gaining any job experience or getting involved, especially in your field of interest, is extremely beneficial. It is a great way to gain and improve core skills, network, and build your resume.
One of the biggest obstacles in my internship search was timing. I started looking later than I should have and had to squeeze in schoolwork on top of meeting pressing deadlines for cover letters and resumes. I definitely recommend starting early, finding many options (I was rejected from many other positions before I was offered this one), and taking advantage of the Career Center!
I used the Career Center in Armstrong (Center for Career Exploration and Success) to practice my interview skills, perfect my resume, take a professional headshot, have my cover letters reviewed, and receive constructive criticism on my applications. I formed a valuable relationship with my career advisor (Samantha VanHavel), who guided me through applying to a research grant that later greatly assisted me in affording my unpaid internship.
Katie Gabe talks about her summer internship at Mote Marine Laboratory and Aquarium in Sarasota, Florida.