Career Center hosts Into the Queen City
Presidential Career and Leadership Series program set for Jan. 17-20, 2023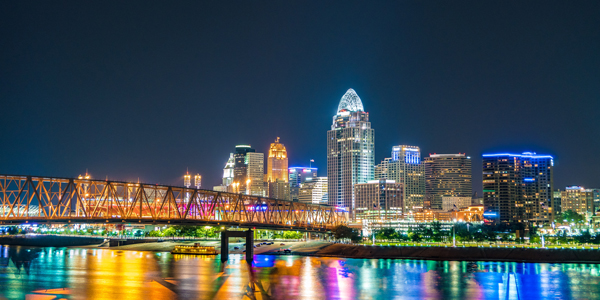 OXFORD, Ohio — Miami University students will have the opportunity to connect with some of Cincinnati's most dynamic and innovative employers during Winter Term as part of the  Presidential Career and Leadership Series.  
Into the Queen City, an immersive career experience in Cincinnati run by the  Center for Career Exploration and Success, is scheduled for Jan. 17-20, 2023. During this trip, students will network with Miami alumni and career partners to gain valuable knowledge about recruiting trends so they can adapt their skills to meet the needs of an ever-changing labor market.
 "We're proud to offer Into the Queen City," said Jennifer Benz, assistant vice president of the Center for Career Exploration and Success. "This event is especially impactful because it will allow employers to showcase their professions and opportunities to students in their own workplaces."
For the past four years, Cincinnati was ranked as the top city for new college graduates by  SmartAsset. Blending big-city amenities with small-town charm, it is home to six Fortune 500 companies and has become a significant player in the startup scene. Opportunities also abound in the education, professional sports, and cultural sectors.
"Today's labor market can feel ambiguous and uncertain, yet full of possibilities," said Tekeia Howard, director of Career Equity and Access. "New opportunities are always in reach and innovation is always leading the way. Into The Queen City allows students to gain access to alumni, employers, and city professionals in a pure learning environment."
Into the Queen City is part of Miami's commitment to spotlighting career opportunities in its home state. It is also designed to immerse students in Cincinnati's vibrant culture to help them understand the intersection between their future career and active citizenry in Ohio.
 "Students are known to develop improved career plans after receiving advice directly from employers," Benz said. "Into the Queen City will foster valuable connections between students and employers. It also represents a unique opportunity for students to become more connected to their surrounding community." 
Students will take part in 10 hours of networking, four hours of professional and personal development, and two cultural events. The $50  registration fee covers the student's hotel, meals, transportation, and admission to the cultural events.
Employers currently slated to participate include the Cincinnati Bengals, the Cincinnati Museum Center, the Cincinnati Reds, the Cincinnati Symphony Orchestra, FC Cincinnati, the Federal Reserve Bank of Cleveland, REDI Cincinnati, and the National Underground Freedom Center. Continue to check the  Into the Queen City website as more employers will be added.
 "After Into The Queen City, students will be ready to make a smooth transition from college into the workplace," Howard said. "They will have increased their awareness of career possibilities, expanded their professional networks, and gained skills needed in a variety of industries."