Regional convenings to address statewide teacher shortage stress collaborative solutions
"We need to own this crisis," said Jason Lane, dean of the College of Education Health, and Society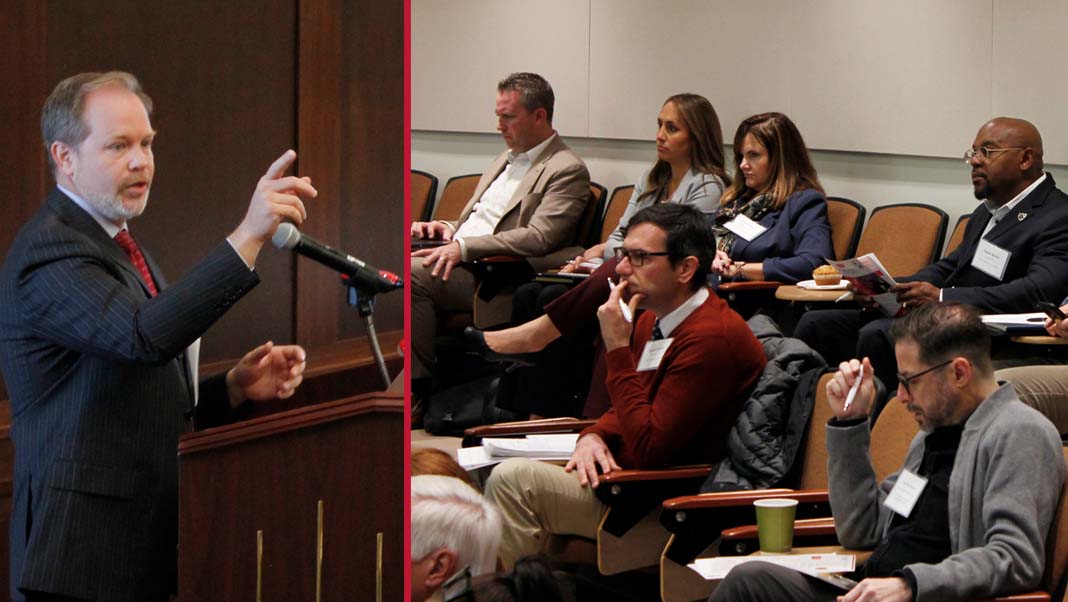 Regional convenings to address statewide teacher shortage stress collaborative solutions
When leaders from colleges and universities across Southwest Ohio, pre-K-12 schools, government agencies, and local businesses gathered at Miami University's Voice of America Learning Center, the goal was simple: Identify collaborative solutions to address the ongoing teacher shortage.
This was the first of five regional convenings held across the state in partnership with Ohio Departments of Education (ODE) and Higher Education (ODHE). And it opened with a recorded video message from Ohio Governor and Miami College of Education, Health, and Society (EHS) alumnus Mike DeWine '69, who expressed concern.
"High quality teachers are the backbone of great schools, and great schools are the backbone of great communities," DeWine said. "Now is the time to think in an innovative way about how we can ensure that Ohio remains among the best education systems in the country." 
Additional speakers included ODE's Interim Superintendent of Public Instruction, Stephanie Siddens, as well as Dayton Public Schools superintendent and Miami alumna Elizabeth Lolli '77, Ph.D. '94.
Lolli, who was also recently named 2023 Ohio Superintendent of the Year, stressed the need for everyone to work together.
"We all face the same issue and we all serve Ohio's children," Lolli said. "We need to stop competing with each other for teachers and resources. Having Miami, and all the universities at the table, strengthens all of us."  
Discussions throughout the event also touched upon several existing programs and partnerships presently addressing the issue on multiple fronts. 
Marlon Styles, Middleton City Schools superintendent, spoke about his district's Admiral Squad.
"We have made the commitment in our community to hire 25 black male certified educators," Styles said. "We've put a unique inclusive systemic framework in place to focus on the recruitment of black males into the profession. But also to retain those black males through a very genuine and authentic affinity group to keep our black men employed in educational positions once they get into the profession."
Additional initiatives include the newly expanded partnership between EHS and Cincinnati Public School (CPS), TEACh Cincinnati, which provides academic, social, and financial support for students interested in pursuing a teaching career beginning at the high school level.
"The expansion of [TEACh Cincinnati] allows CPS students to not only have the opportunity to immerse themselves in meaningful, continued education at Miami University," CPS Superintendent Iranetta Wright said in a recent release, "but also gain the experience needed to ensure they are prepared to successfully return to CPS as our next generation of teachers."
This initial convening covering Southwest Ohio was immediately followed by four subsequent events hosted by Ohio University, the University of Akron, Ohio State University, and Bowling Green State University to cover the remaining regions across the state.
"For the first time you saw practitioners, legislators, our state department, and higher ed all in the same space," said Styles. "That is a fantastic first step. The unique piece is how we ended with the call to action. We can talk, talk, talk, but can we move into specific action?"
Going forward, this specific action will establish a regional council, which will continue to build upon these collaborative efforts to mitigate the deleterious impacts that, if left unresolved, will inevitably reverberate far beyond local schools and local school districts. 
"We need to own this crisis," said Jason Lane, dean of Miami's College of Education, Health, and Society. "It's a regional imperative that we work together to strengthen and diversify the teacher pipeline. For our communities, not having high quality teachers will only exacerbate the other workforce shortages across the state. If we don't have teachers in our schools, we aren't going to produce the talent that Ohio needs to be successful."