A statistician and a journalist bring light to a darkening age of misinformation
Stats + Stories podcast inspires best-selling book to help readers become critical consumers of news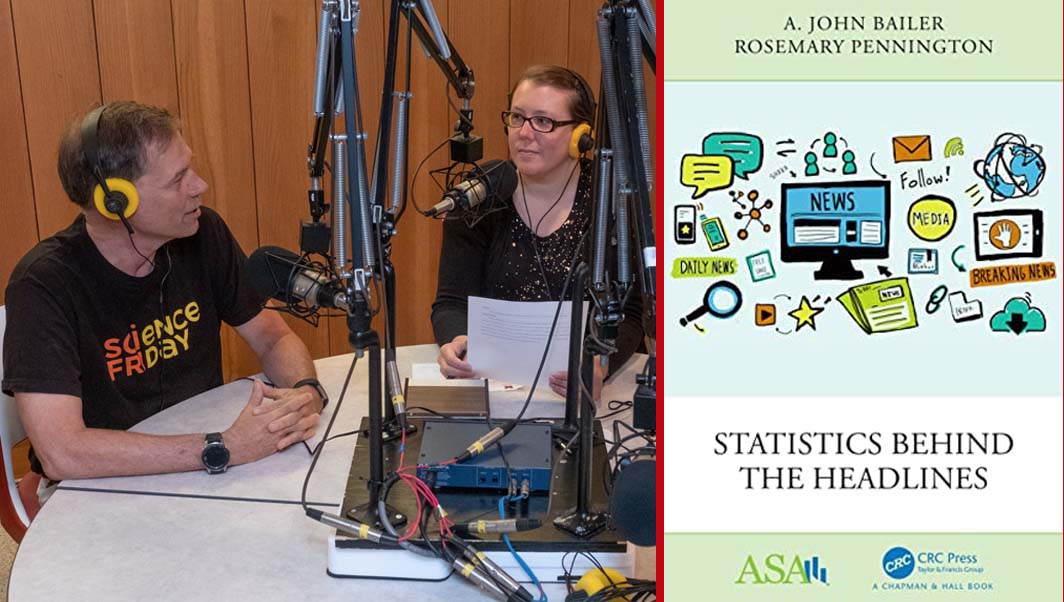 John Bailer (left) and Rosemary Pennington (right) recently recorded the 250th episode of Stats + Stories
A statistician and a journalist bring light to a darkening age of misinformation
John Bailer (left) and Rosemary Pennington (right) recently recorded the 250th episode of Stats + Stories
We are now surrounded by a sea of data, misinformation and false news, and many may feel lost or even drowning amongst the discord. 
But in the new book, Statistics Behind the Headlines, A. John Bailer, Miami University Distinguished Professor emeritus of Statistics, and Rosemary Pennington, associate professor of Media, Journalism, and Film, provide an accessible and fascinating way to shed light on the statistics behind the stories and the stories behind the statistics for more readers.
"The need for this has exploded because of concerns about misinformation or fake news," Bailer said. "We hope readers will become critical consumers of news, and of numeric data, information and evidence that's presented in the news. So one aspect is equipping the public for data self-defense."
Throughout the book — which reached No. 1 and No. 3 in the Journalism and Statistics categories on two Amazon Best Seller lists and was recently featured on the BBC — Bailer and Pennington encourage readers to question how they learn about current world events, why certain headlines grab their attention, and to notice if stories report on recent research.
The authors use a variety of engaging and timely stories to provide the tools for readers to develop an appreciation for statistics and data journalism by interrogating the way data can be presented and interpreted.
It's perfect for general audiences. But the book also serves as a resource for professional journalists and statisticians who wish to communicate their work and ideas more accurately and effectively.
"Journalists often go into the profession with this clichéd fear of numbers, which is not so clichéd," Pennington, who was formerly an award-winning broadcast journalist, said. "So there's certainly an acknowledgment in the field that the industry needs to become more statistically literate, and more competent dealing with big data in particular."
"And on the flip side," said Bailer, "there's also a lot for people in technical fields to learn from journalists in terms of communicating and sharpening a message. So the book also gives professional statisticians a chance to better understand how journalists think about framing and shaping stories."
This is also a mission that connects directly to the long-running and award-winning Stats + Stories podcast, which Bailer and Pennington also host.
"The book was a clear spinoff of the podcast," said Bailer. "In fact, each chapter highlights podcast episodes that will be of interest to those who read it. So we were thinking about it right from the start."
Chapters cover a variety of episodes and topics including social media and mental health, investigating series binge-watching, tracking the spread of false news, and more.
As a podcast, Stats + Stories has already passed its 250th episode. Next year, the podcast will celebrate its 10th anniversary, and it will again receive funding support by the American Statistical Association through 2023.
"The trust we've developed on the podcast allowed us to write the book the way we did," Pennington said. "It just made the process very easy and very smooth. It really grew out of those interactions on the podcast, and not just content-wise, but also with our approach to making space for one another's expertise."
The first edition of Statistics Behind the Headlines, which is part of the ASA-CRC Series on Statistical Reasoning in Science and Society, is available now. Listen now to the podcast and follow the podcast on Twitter @statsandstories.