'We're not done'
Backup quarterback leads Miami to Bahamas Bowl with quiet confidence and competitive spirit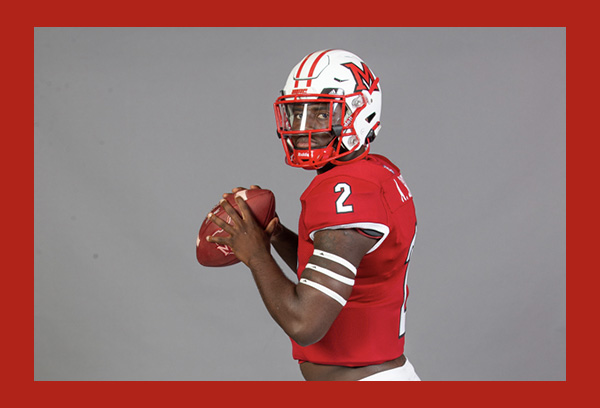 2.9 percent.
That, Chuck Martin later found out from his father, was how much of a chance Martin's Miami University football team had to win late in the fourth quarter against Ball State.
Martin calls his father "an eternal optimist," so things were looking dire indeed for the RedHawks and their — at least at one point extremely slim — chances of making the Bahamas Bowl.
Enter Aveon Smith. 
Originally the program's No. 3 quarterback when he joined the RedHawks, Smith was thrust into the spotlight this year because of a shoulder injury to starter Brett Gabbert on Sept 3. Smith had done pretty well, too. He won five of the eight games he started and helped Miami get to this "win and get in" scenario vs. Ball State.
But, would an 11-point deficit with less than 7 minutes to play be too much to overcome for the redshirt first-year? The odds to win, calculated throughout the game for both teams, surely were stacked against the RedHawks.
Not stacked enough, though. Just as he had all season, Smith reacted with silent confidence and fierce competitiveness. He ran for one touchdown and passed for another, all in the game's final 6 minutes, to secure the win and a trip to the Bahamas.
"Some guys are natural leaders and natural competitors," said Martin, Miami's longtime head coach who has the RedHawks preparing for their third bowl game since the 2019 season. "He's so quiet, but when he gets out there, everybody sees it and feels it and rallies around him."
Miami has one more chance this year to rally around its quarterback. The RedHawks play the University of Alabama at Birmingham (UAB) at 11:30 a.m. on Dec. 16 in a game nationally televised on ESPN.
Stepping into a leadership position
Martin wasn't sure how Smith would take to the starting role. He had been around the South Carolina native for two years now and knew he was a good student and a good teammate. But, how would he handle this new role?
"Everyone reacts differently," Martin said. "Is he going to thrive in that environment, or is he going to shy away? That first game, you could tell by the look in his eyes how much he enjoyed being out there and competing."
Smith's debut was a winner. He tossed three touchdowns in a 31-14 victory over Robert Morris University and then another two during Miami's Sept. 24 road win over Northwestern of the Big Ten.
While Smith hadn't taken many "physical reps" for the RedHawks prior to that, he had done more than his share of what he called "mental reps."
"I knew what I had to do, but at that point, could I do it?" Smith said. "I learned from Brett and AJ (Mayer, former Miami quarterback). I had to step up and work on my game and do what I needed to do in order to help the team succeed."
Smith takes that mentality on his first trip to the Bahamas. The RedHawks will face a UAB team that sports an identical 6-6 record (and, like the RedHawks in the Mid-American Conference, the Blazers also finished 4-4 in Conference USA).
It'll be the first of 43 bowl games to be played this season. Sponsored by HomeTown Lenders, the Bahamas Bowl is the longest running international bowl game in college football history.
"It gives us a chance to start it off right," said Smith, a Sport Leadership and Management major who counts SLM 413 — where students manage a fantasy team and break down revenue, ticket sales, and expenses like player salaries — as one of his favorite classes. "It's exciting to go to a bowl game. Our main goal was to contend for a MAC championship. I feel like the bowl game shows us we didn't put all that work in for nothing. We've been working since January, and we want to be able to show that we were working for a reason."
'We had a chance in all of them'
Smith's work has been eye-opening at times for Martin. When Gabbert's injury happened, Miami's plans for the season went out the window. 
Well, almost.
Martin went home after the Kentucky game and talked to his wife about his young defense, his inexperienced quarterback, and what the year had in store for the RedHawks.
"It's hard to win with your backup. It's hard to win with an inexperienced quarterback," Martin said. "There are examples of that all around us. Aveon went 5-3 as a starter, and we had a chance in all of them. He helped us get to the bowl game."
From his first game as a starter, Smith displayed a competitive fire that doesn't necessarily show off the field. Naturally quiet, Smith comes out of his shell on game day.
Martin has seen plenty of examples. Smith threw an interception against Robert Morris, came to the sidelines, and told Martin, 'That isn't happening again, coach.' Martin liked that response. He also liked the way Smith responded in his latest start, the 18-17 come-from-behind win vs. Ball State on Nov. 22.
Not only was this the regular-season finale, but it carried with it the added stakes of a trip to the Bahamas for the winning team.
Down 17-6 in the fourth quarter, coach and quarterback shared another exchange with 9 minutes to play — and with their odds of winning continually dwindling.
"We're not done yet, Aveon."
"We're not done, coach."