EHS alumni receive prestigious '18 of the Last 9' award for outstanding accomplishments
Three EHS alumni honored for making a significant positive impact on the world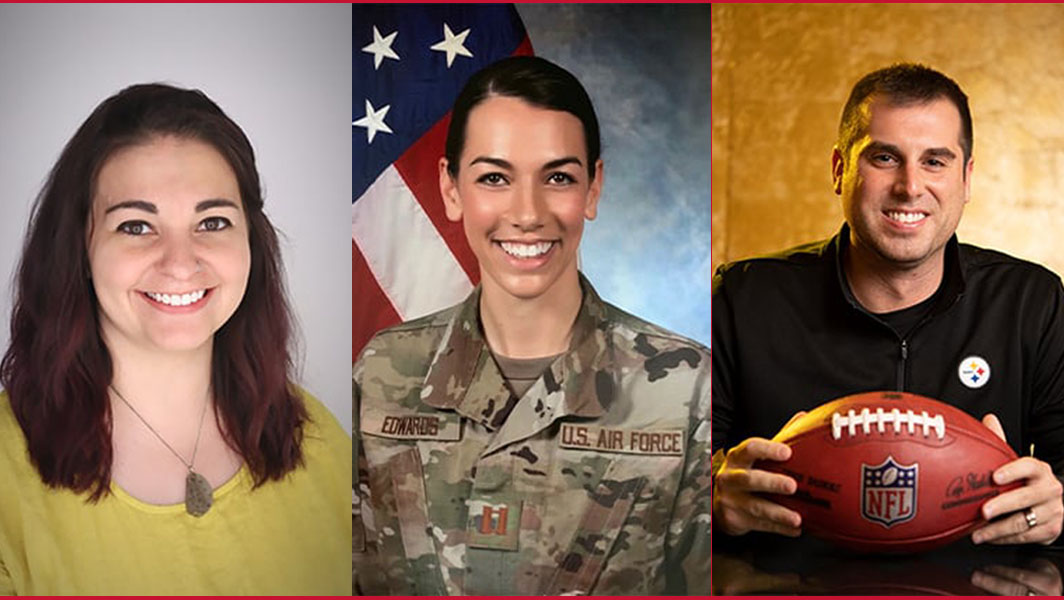 Kenzie Andrews, Katherine Edwards, Kyle Kron
EHS alumni receive prestigious '18 of the Last 9' award for outstanding accomplishments
Kenzie Andrews, Katherine Edwards, Kyle Kron
Several alumni Miami University's College of Education, Health, and Society (EHS) were selected by the Alumni Association to be among the 2022 18 of the Last 9 Award honorees.
Now in its 10th year, award recognizes alumni who lead, innovate, create, or make a significant positive impact on the world around them by consistently living out the values inherent in a Miami education through their work and/or service. 
Kenzie Andrews '14, M.Ed. '18, Ed. D. '22, currently serves as a visiting assistant professor in the Department of Teaching, Curriculum and Educational Inquiry (TCE) at Miami University, where she also earned degrees in Teacher Education and Educational Leadership.
"Dr. Kenzie Andrews is a dedicated and passionate educator positively impacting the lives of hundreds of students across Southwest Ohio," the Alumni Association's entry said. "Dr. Andrews began her career as a third-grade teacher in Cincinnati, where she won awards for innovative and student-centered teaching. She then moved into Gifted Education work in Butler County. In each location, she has been a fierce advocate for students, children, and teachers, applying her deep belief in compassionate and justice-oriented pedagogy. Currently, she continues her teaching efforts at Miami University, where her career began. In her current position, she works with future elementary school teachers, equipping them with the passion and resolve to reimagine the world for a more democratic society. Dr. Andrews prides herself on her innovative, humorous, and engaging praxis. Through her work, she hopes to bring about positive social change by dismantling the oppressive structures of schools." 
Katherine Edwards '16 is the Alcohol and Drug Abuse Prevention and Treatment (ADAPT) Program Manager for Osan Air Base with the United States Air Force, where she also displays a passionate for treating adults with trauma, while investing in the next generation of mental health providers and enlisted technicians.  
As the director of the clinic, Edwards provides dual-diagnosis substance use and mental health treatment for roughly 8,100 active duty personnel in the Air Force's most forward-deployed permanent wing. 
In a previous role, she also managed the Family Advocacy Program, which provides treatment and prevention of domestic violence and child abuse. "While managing this program, I was selected to provide clinical testimony to House and Senate representatives to advocate for laws to mandate screening for military affiliation on all allegations of child abuse," Edwards said. 
While attending Miami, she earned a bachelor's degree in Social Work.
Kyle Kron '14, M.S. '16 currently serves as the Senior Manager, Digital and Social Content for the Pittsburgh Steelers, where he helms the NFL team's social media strategy and works closely with various content departments to plan, execute and distribute daily content across the team's digital and social media platforms.
"Before being in his current role, he was the Steelers' Social Media Manager from 2019 until 2022 and Digital/Social Media Coordinator from 2018 until 2019," said the Alumni Association. "Prior to joining the Steelers, Kron was the Director of Video Operations for the Miami RedHawks football team from 2014 until 2018. At Miami, he was responsible for the distribution of practice and game footage to players and coaches, graphic design, social media, and video production."
In 2014, Kron earned degrees in Sport Leadership and Management and in Media and Culture, as well as a master's degree in Sport Management in 2016.
This year, over 70 Miami University alumni were nominated for the prestigious 18 of the Last 9 award, which is based on the popular "30 under 30" model and inspired by Miami University's charter year of 1809.