Miami graduate realizes dream as U.S. ambassador
Shefali Razdan Duggal '93 serves as U.S. ambassador to the Kingdom of the Netherlands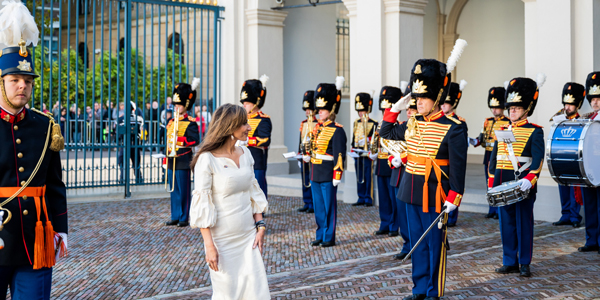 Shefali Razdan Duggal is an example of what is possible.
A Kashmiri immigrant raised by a single mother who worked two minimum-wage jobs to support her family, Razdan Duggal arrived at Miami University optimistic and eager. It was at Miami where she began to cultivate a specific aspiration — to represent the United States abroad as an ambassador.
That dream was realized this fall as the 1993 Miami graduate was confirmed as the U.S. ambassador to the Kingdom of the Netherlands. Razdan Duggal credits a positive Miami experience for her spiritual, emotional, and mental growth.
Miami provided the epiphany, she said, that the pursuit of dreams, when done from a well-intentioned place, can result in the unfolding of a long-held and quiet aspiration.
"My college years allowed for my heart to recognize that the very particular vision for my future was not simply an abstract concept," Razdan Duggal said.
She envisions a future where she can be an inspiration, especially to young people. To that end, Razdan Duggal plans to visit each of the Netherlands' 12 provinces in her role as the personal representative of President Joe Biden and his administration to the Kingdom of the Netherlands.
"It is very critical for me to see and experience many areas of the Netherlands and interact with people who have never likely met a United States ambassador," she said. "I want to gently remind young people that you have as much of a right as anyone to excel and shine. As Shirley Chisholm (the first-ever elected U.S. Congresswoman) so wisely stated, 'If they don't give you a seat at the table … bring a folding chair.'"
Razdan Duggal has a seat at many tables. Noted in the White House press release as "an experienced political activist, women's rights advocate, and human rights campaigner," she is a former presidential appointee (President Barack Obama) to the United States Holocaust Memorial Museum and serves as a Western Regional Advisor. She also is a San Francisco Committee member of the Human Rights Watch, a member of the Wake Forest University Leadership and Character Council, and served on the National Board of Directors for Emily's List.
Born in Haridwar U.P. India, Razdan Duggal moved to Cincinnati at age 5. After graduating from Miami with a bachelor's degree in Mass Communications and a minor in Political Science, Razdan Duggal earned a Master of Arts from New York University in 1996.
As the U.S. ambassador to the Kingdom of the Netherlands, Razdan Duggal leads the U.S. Mission, which consists of the Embassy in the Hague, a consulate general in Amsterdam, and staff working at EUROPOL and the American Cemetery in Margraten, all working together toward further building on a vibrant and durable 240-year partnership.
"We are proud of the many positive contributions Shefali has made to make the world a better place for all," Miami President Gregory Crawford said. "Shefali has continued to engage with Miami through our Inside Washington program, and we are grateful for her efforts as a mentor and an example for future generations of Miamians."
Serving on the advisory board for Inside Washington — which gives Miami students the opportunity to meet with prominent politicians, newsmakers, journalists, and others — was a way for Razdan Duggal to interact as an alumna with the university and its students.
"My time at Miami fueled my desire to find solutions and places of agreement in situations that did not appear to have commonality," she said. "Specifically, Miami further enhanced both my desire and ability to engage with people of diverse mindsets and beliefs, an indispensable tool for diplomacy, especially as an ambassador."
University Ambassador Dr. Renate Crawford is certain Razdan Duggal will enjoy her time in the Netherlands.
"Being born and growing up in the Netherlands and living there for more than a year with our daughters during our sabbaticals in the early 2000s – I know Shefali will love and thrive in the Netherlands and embrace the innovative Dutch commerce and culture," Dr. Crawford said. "A heartfelt congratulations to Shefali, and as the Dutch would say, hartelijk gefeliciteerd."