$1.2M award for Project AWARE increases early identification and mental health support for K-12 youth
Additional supports lead to 55% reduction in major behavior incidents, pilot school reports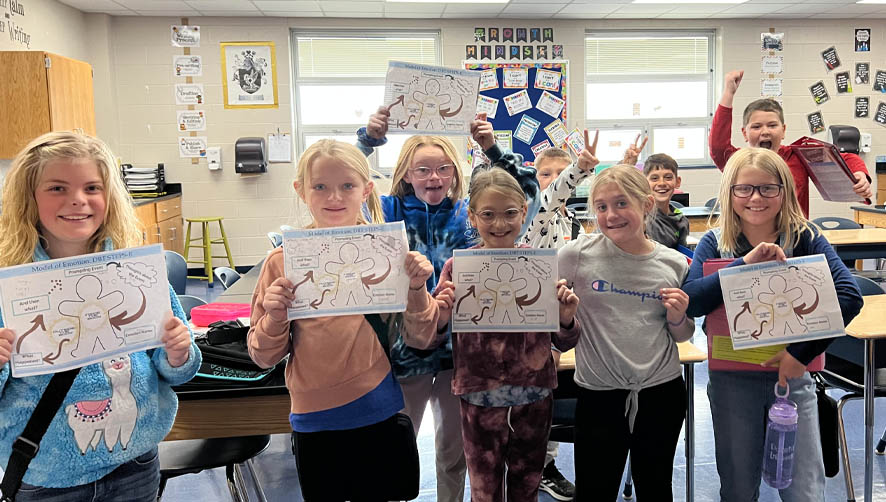 "Models of emotion" displayed by students from Patrick Henry Middle School, an OSWI pilot school
$1.2M award for Project AWARE increases early identification and mental health support for K-12 youth
"Models of emotion" displayed by students from Patrick Henry Middle School, an OSWI pilot school
Ohio continues to prioritize mental health and wellness in K-12 schools with a new $1.2M grant to advance Miami University's Project AWARE (Advancing Wellness And Resiliency in Education).
The new funds provided by the Ohio Department of Mental Health and Addiction Services (OhioMHAS) via the Substance Abuse and Mental Health Services Administration (SAMHSA), will allow Project AWARE to increase awareness of behavioral issues among school-aged youth, while bolstering access to more behavioral health supports for children, youth, and families.
More specifically, the grant will also help schools increase their capacity to provide mental health services and support by placing dedicated Behavioral Health and Wellness Coordinators (BHWC) in schools around the state. 
These BHW Coordinators will create and implement Student Assistance Programs (SAP), which will focus on the early identification of struggling students, locate appropriate services for youth in need, and strengthen the statewide resources that are already available through Project AWARE.
BHW Coordinators will also establish partnerships with existing local organizations -- such as 4-H, for example -- by identifying where common youth wellness goals exist to establish and enhance a growing network of mental health resources and supports across communities.
Project AWARE is directly connected to the ongoing work of Miami's Ohio School-Based Center of Excellence (SBCOE) for Prevention & Early Intervention and the Ohio School Wellness Initiative (OSWI).
"When we launched OSWI, we had schools committed to implementing Student Assistance programming," said Deb Robison, SBCOE Director of Outreach and Collaboration. "But what we found was, really, the people that were already doing a lot now had one more thing to do. Because the principal [for example] was trying to run the SAP and run the school. So we wanted to have one person, a BHW Coordinator, and that would be their only job."
BHW Coordinators have already been strategically placed in schools in 13 Ohio counties: Allen, Belmont, Champaign, Coshocton, Cuyahoga, Hamilton, Henry, Jackson, Lorain, Meigs, Montgomery, Morrow, and Portage.
And various success metrics have already begun to rise.
"They're seeing an increase in students getting connected to resources and staying connected," Robison said. "Schools are seeing a decrease in minor infractions, and in suspensions. School climate surveys are showing an increase in school connectedness. And we are also seeing more local partners being trained on the referral process. So if a young person comes to them expressing thoughts of self-harm or suicide, they know exactly how to get them help. All of these things are successes."
One pilot school -- Kinder Elementary in Miamisburg, Ohio -- reports a 60% reduction in minor behavior infractions, a 55% reduction in major behavior incidents, and a 55% reduction in suspensions.
"Kinder has become the school where everyone wants to be, an impressive turnaround from two years ago," said Kinder Principal Rebecca Huber. "Not only is OSWI having a state-level impact, but more importantly, my students' lives are better for the work we have been doing."
Alongside Robison, the Project AWARE team at Miami also includes SBCOE Executive Director Cricket Meehan and Sharon Custer, SBCOE Director of Workforce Development, in the department of Psychology, Amity Noltemeyer, professor of Educational Psychology and associate dean of the graduate school, and Kristy Brann, assistant professor of Educational Psychology, who also serves as the school-based mental health programming content expert.