Intel Ohio offers 'informative' look at company's future
Miami students hear how new Ohio plant is expected to generate 3,000 long-term positions in manufacturing and engineering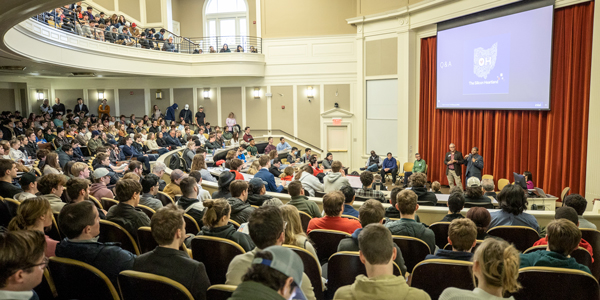 When Dillys Fongong received an email that leaders from Intel Ohio would be visiting Miami University's Oxford campus, she was intrigued.
The first-year Biology major and Premedical and Pre-Health Studies co-major from Cameroon did some research and was excited to hear what representatives from Intel had to say. That excitement was still palpable following the near hour-long presentation held Friday, Feb. 10, in Taylor Auditorium at the Farmer School of Business building.
"I love the sense of diversity. I loved the fact they were very interactive, very friendly," Fongong said. "They knew so much about each other. There was so much teamwork. I was like, 'Wow. This is a place I want to be.'"
A standing room only crowd filled Taylor Auditorium to hear from Jim Evers, the Intel Ohio general manager. Evers spoke in detail about Intel's more than $20 billion investment in a new semiconductor manufacturing site in Ohio. The new plant is expected to generate 7,000 construction jobs and 3,000 long-term positions in manufacturing and engineering.
A 20-minute Q-and-A followed with Evers and other members of Intel's team fielding queries from the audience. Andrew Azeez, a sophomore Marketing major from Cincinnati, said he learned new things from the presentation, including the job and internship opportunities that could be available to Miami students and graduates.
"Intel has a very robust hiring process," Azeez said. "They're going to be bringing in a lot of people soon, and that is probably something I should look into."
Miami is one of the core participants in Intel's Ohio Semiconductor Education and Research Program. The program will fund collaborative proposals led by eight Ohio higher education institutions.
Miami is part of the Ohio-southwest Alliance on Semiconductors and Integrated Scalable-Manufacturing led by the University of Cincinnati. There are more than 80 institutions participating across Ohio.
Evers laid out Intel's vision for Ohio, noting that the semiconductor campus in New Albany would be known as Ohio One. Evers said the name came from Ohio's storied history of firsts, pointing to Ohioans like Jerrie Mock, who was the first woman to fly solo around the world, to Neil Armstrong's first steps on the moon.
"Ohio will be the first of an overall technology ecosystem we like to call the Silicon Heartland," Evers said.
Intel's leaders learned more about Miami during their visit, and Evers talked about some of the similarities between the company and the university, including their shared "idea of tech as a force for good."
"I'll close with a quote from one of our founders, who said, 'Don't be encumbered by history. Go out and do something wonderful.' And Ohio Intel will be wonderful, for sure," Evers said.
Heather Siudak, a first-year Business Analytics major, found the presentation "informative."
"I've gone to a lot of presentations that kind of didn't really keep my attention, but they did a good job of explaining their overall goal," Siudak said. "I really feel like I know a lot more about them now."