Miami alumna makes PBS debut Feb. 25
Show based on Karman Meyer's "Eat to Sleep" book will have multiple airings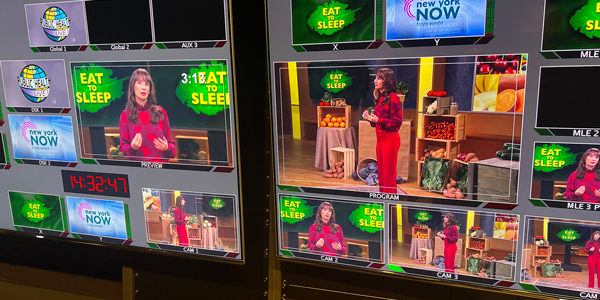 As a student in Miami University's Department of Kinesiology, Nutrition, and Health, Karman Meyer '09 always looked to try new things, from writing for the first student nutrition group newsletter to helping with education nutrition workshops — even when one coincided with spring break. 
Now a dietitian, Meyer still has the same mindset that served her so well at Miami. It's one of the reasons she was willing to write her first book, "Eat to Sleep," which will soon be featured in a special on PBS.
Meyer's "Eat to Sleep" program debuts Saturday, Feb. 25, at 10 a.m. on ThinkTV and 7 p.m. on CET Dayton. Repeat showings will continue through March 9. Check PBS.org for air times in additional markets.
"Karman always took an interest in gaining new experiences and developing new skills as an undergraduate," said Nancy Parkinson, associate clinical lecturer for Kinesiology, Nutrition, and Health. "She has taken her foundational work, knowledge, and passions that she expressed at Miami and developed those. That's so rewarding to see as a teacher, professor, mentor, and friend."
Published in 2019, "Eat to Sleep" details to readers how to utilize food to fall asleep faster and wake up refreshed. A step-by-step program incorporates "sleepy" foods into diets and describes an all-natural path to an ideal slumber.
Meyer said producers connected with her publisher, Simon & Schuster, about possibly turning the book into a special. Airing as part of a PBS pledge drive, the show features four sleep participants, as well as sleep experts who talk about the science behind sleep.
"We did follow-ups with them, and everyone was feeling better, sleeping better," said Meyer, whose degree is in Dietetics. "It ended up improving other parts of their lives as well. It was incredible to see. That's the best part of it, really."
Filming began in November and took about four weeks to complete. Meyer had appeared in TV segments before, usually in a format lasting 3-5 minutes.
This time, Meyer had an audience, script, and teleprompters, creating a very new experience for the Nashville resident.
"I had a lot of fun, and I'm hoping there will be more in the future," Meyer said. "I had a great team of people to help me through this as a first-timer."
Meyer's second book, "The Everything DASH Diet Meal Prep Cookbook," was released in January. She will be doing a Zoom session with Miami's student nutrition group in March during which she'll prepare meals from her new book.
Parkinson stressed the importance of giving alumni a platform to share their expertise and real-world experiences with current students.
'It opens their eyes to different experiences," Parkinson said. "I'm really proud of Karman. I can't wait to see what comes next."
Meyer, too, is excited about the future. "Eat to Sleep" came about when her publisher reached out after reading some articles Meyer had written. The PBS show grew from the book.
Just like at Miami, Meyer will keep an open mind and be flexible.
"Nancy was always great at creating opportunities for her students," Meyer said. "I tried to make the most of that. That was a big takeaway. You can create something to be whatever you'd like, make those connections, and put yourself out there. Putting the work out there, it will get noticed."