Social work major part of winning team at climate change-focused Social Innovation Weekend
Meechie Poston '23 helps design app that allows shoppers identify socially conscious brands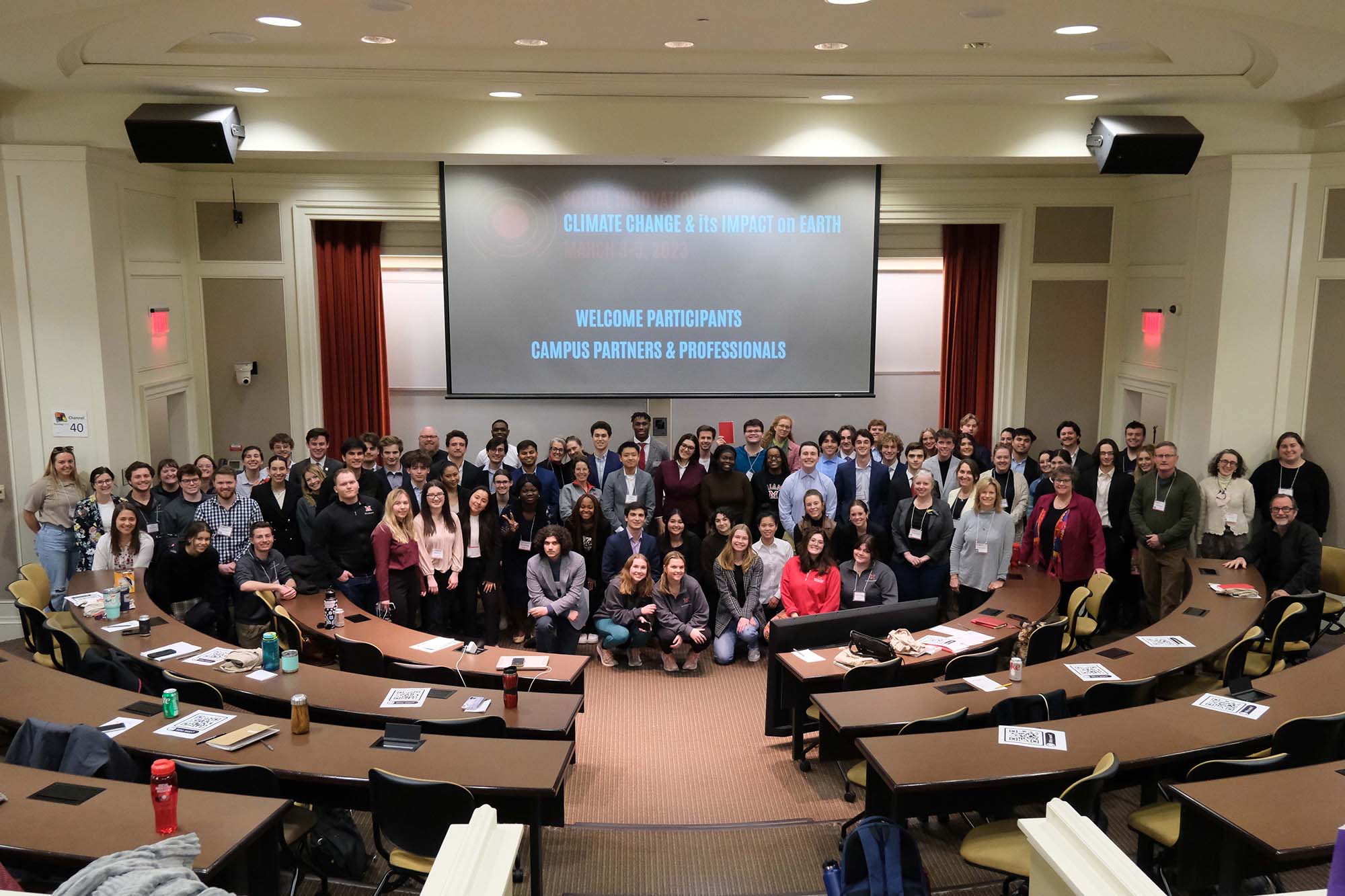 Social work major part of winning team at climate change-focused Social Innovation Weekend
Kevin Kushman is a 1991 Economics graduate and CEO of Electrada, a company working to improve electric vehicle infrastructure. As the keynote speaker at a Miami University Social Innovation Weekend (SIW) taking on climate change, he noted that the event's topic couldn't be more critical.
"It's incredibly important as we see all around us, between extreme weather events and pollution and developing nations and the stresses that are borne by the most impoverished nations and people around the world are currently being created by the richest nations around the world," he said. "We're in a position of privilege and a position of responsibility to think about those that could be more highly impacted by our success in addressing these things, rather than just sitting back and waiting for others to solve it."
The sixth annual Social Innovation Weekend brought the most academically diverse group of students in the event's history to the Farmer School of Business for a weekend of brainstorming and developing new ways to impact climate change in an actionable way, sometimes into the wee hours of the morning. Their ideas ranged from a landscaping service using only native pollinating plants to medical glove recycling, to a program for encouraging more use of biodegradable packaging made from fungus.
"This weekend was important because it gave people an opportunity to present ideas that they otherwise probably would never have had the chance to present. You miss a hundred percent of the shots you don't shoot. And if there's never something put out there, then people won't know what could have been," senior Social Work major Meechie Poston said. "I would never have thought, 'Hey, you can make packaging out of mushrooms.' Climate change is important because our world is ending, and if we do nothing to slow it, then we'll have nothing to show for it."
"I think I now have a greater understanding of finding pain points, because our solution related to our problem was something that we all felt passionate about," sophomore Marketing and Entrepreneurship major Lacey Walker said. "That's also an advantage of being in our generation and knowing what we know and seeing the results of climate change, and that gives us an edge in the business world too."
Out of 15 teams that presented Sunday morning, four made it to the finals:
First place and $2,500 went to GreenScan, an app that helps shoppers identify brands that actually are as socially conscious as they claim to be. Team members: Mason Williams, Lacey Walker, Khloe Gill, and Meechie Poston. GreenScan also won the People's Choice award.
Second place and $1,500 was won by Native Landscapes, a company which would create and design outdoor spaces using pollinator-free plants and sustainable practices. Team members: Kyle Neckar, Nico Laser, Alexandra Leurck, and Lillian Angelo.
Third place and $500 went to Med+Cycle, a company designed to take medical waste from hospitals such as medical gloves and prevent it all from going to landfills. Team members: Felicia Guagliardo, Karim Sammouri, Molly Schneider, and Will Landman. Landman was also named Social Star by the mentors.
Fourth place and $500 went to MyFied, a program to promote companies that use biodegradable mycelium-based packaging. Team members: Abby Robertson, Charlie Boomer, Carolyn Bowman, and John Farrell.
"We had a great team and we collaborated a lot, I learned a lot, and feel like we got rewarded for it, so it was awesome," sophomore Psychology and Entrepreneurship major Khloe Gill said. "I learned a lot about teamwork and not giving up. When you hit a wall, working together to find a better solution is more effective then we can come up with sometimes by ourselves."
Mentors and judges from around the region took part to help the students and give feedback. "This was wonderful. It was just a great way of connecting people from all different departments and working to make actual change in our environment and our society," assistant teaching professor of Biology Katie Feilen said. "We need new solutions, and this provided a way for our Miami students to work together and think about creative ways to make positive change in the world."
"I think it's a great experiential opportunity and a way to get a first step in entrepreneurship. Obviously, in three days, they're not creating a billion dollar company, but you're laying the groundwork for creating a big company, a successful company," Green Light Improv's Nathan Minns said. "There's a lot of support from all of the faculty and staff, and it's clear that Miami has invested a lot in the entrepreneurship ecosystem."
"I thought it was really incredible to be able to have access to so many really engaged and excited mentors throughout the whole process that were really excited to work with us and give us as much guidance and help as they could to solve a really important issue at a variety of different levels," senior Mechanical Engineering major Will Landman said. "Creativity and entrepreneurship doesn't have to be a huge scale endeavor that takes place over multiple years. You can incorporate it into a lot of different things, and if you're passionate about an idea, it further gives you fuel to pursue it."
And beyond the potential solutions developed this weekend, also developed and honed were skills and methods that could benefit any student.
"It was crazy, our first idea was so broad and we were able to see how narrow it got. Narrow, narrow, narrow until we finally got to this one idea. The process of accomplishing that, that's something that I'll keep forever," senior Computer Science major Mason Williams said. "I think there's so much to gain from this event. You gain so many valuable skills that apply to the rest of your life, anywhere you go, whether it's your professional career or your social life, these skills will go with you and will enhance your life."