Center for Career Exploration and Success earns national award
Miami University's career services recognized for holistic excellence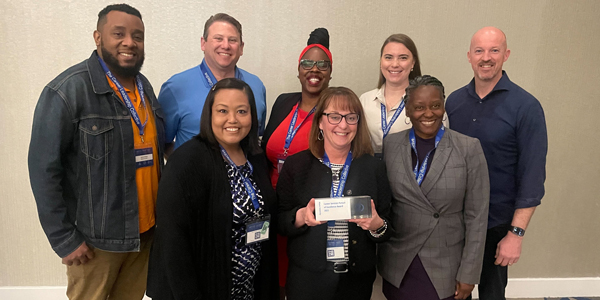 Center for Career Exploration and Success earns national award
Miami University's Center for Career Exploration and Success was honored as an inaugural winner of the Career Services Pursuit of Excellence Award, presented by the Career Leadership Collective at its annual conference on April 26.
"We are honored to be recognized for our holistic approach to career services," said Jennifer Benz, assistant vice president for career exploration and success. "Our staff is committed to helping our students excel in today's global society. We will always strive to pursue excellence in everything we do."
Miami joined Centre College, Smith College, and the University of Delaware as the first four campuses to earn this award for embodying a holistic and long-standing commitment to excellence in career services. The recognized career centers also displayed a high commitment to growth and quality in career services strategic planning, career staff leadership development, career outcomes data analysis and visualization, scaled and equitable career services, and career team professional development.
The Center for Career Exploration and Success offers a wide array of programs, resources, and advising opportunities for Miami students of all class years. During its 2023 Spring Career and Internship Fairs, 362 unique employers visited campus, far outstripping the national median of 150; that total was also up from the 329 unique employers that attended the 2022 Fall Career and Internship Fairs.
Other premier programs conducted by the Center for Career Exploration and Success include the Presidential Career and Leadership Series, Career Academy, ELEVATE: The Diversity and Inclusion Career Institute, and the Mock Interview program. It also offers Career Grants, Internship/Research Grants, and Professional Attire Grants to support students in their pursuit of meaningful careers.
"We work to engage our students in many ways to ensure they graduate from Miami with the skills they need to be competitive in the workforce," Benz said. "All of our offerings, from our one-on-one advising appointments to our premier Career Fairs in Millett Hall, are designed to help students develop both professionally and personally."
The
Career Leadership Collective
is a thought-partner and consulting group for colleges and universities globally. It provides advisory and data services to assist campuses in building capacity around career development effectiveness.