Meet Miami's 2023 Goldwater Scholar, Hannah Wudke
Undergraduate research helped guide her path to the intersection of geology, environmental science, and social justice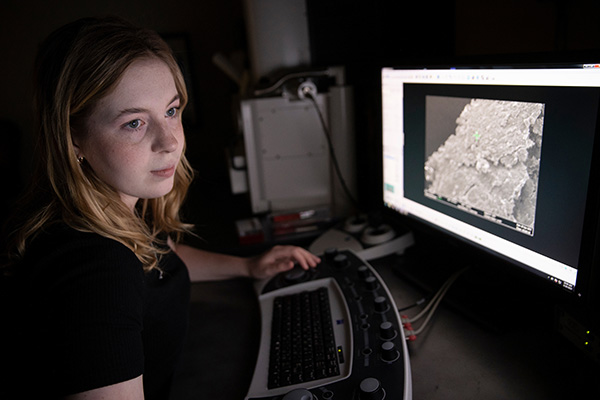 Hannah Wudke studies a talc ore sample using the Scanning Electron Microscope (image by Jeff Sabo)
Meet Miami's 2023 Goldwater Scholar, Hannah Wudke
Hannah Wudke studies a talc ore sample using the Scanning Electron Microscope (image by Jeff Sabo)
Miami University junior Hannah Wudke was named a Goldwater Scholar for 2023-2024. She is one of 413 students nationwide to receive the scholarship, the premier undergraduate award for students intending a research career in mathematics, natural sciences, and engineering.
She is one of eight Goldwater Scholars selected from Ohio public universities this year.  Nationwide, faculty nominated more than 1,200 students for the scholarship, worth up to $7,500 per year.
Wudke, from Liberty Township, is a Geology major and Environmental Science co-major, with a Social Justice and Inequalities minor.
She has been involved in undergraduate research with faculty mentor Mark Krekeler, associate professor of Geology and Environmental Earth Science and of Mathematical and Physical Sciences at the Regionals.
Krekeler works extensively with undergraduate and graduate students on projects often involving transmission electron microscopy (TEM) and scanning electron microscopy (SEM).
Wudke's research centers on understanding the occurrence of toxic materials in consumer talc products and talc ore sources that may lead to long-term diseases such as cancer and mesothelioma.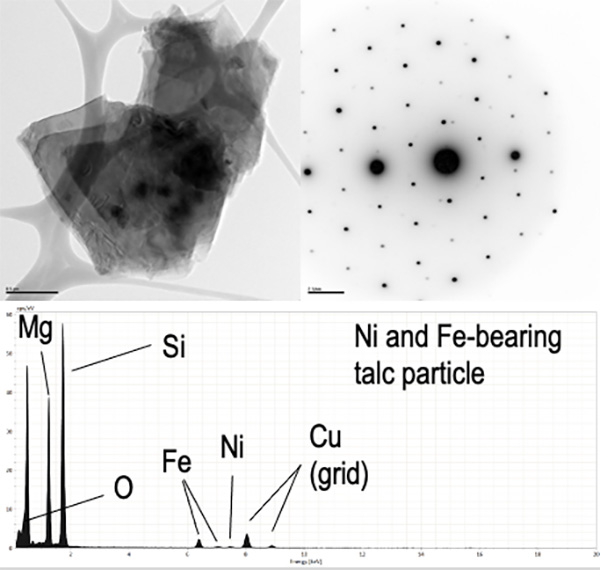 A figure showing a nickel-bearing talc particle that is respirable (less than 10 micrometers in diameter). Brightfield TEM image, electron diffraction, and spot energy dispersive X-ray spectra (image by Hannah Wudke).
Talc and asbestos are minerals similar in composition and can develop together in deposits over time. "Owing to various aspects of chemical and mineral stability and the complex geologic setting of talc deposits, a variety of metal and asbestos contaminants have the potential to occur within talc-derived consumer products," Wudke said.
There are currently thousands of lawsuits in cases related to asbestos exposure from consumer products.
For an ongoing research project, Wudke examined samples within a suite of historical talc-based baby powders to identify asbestos and heavy metals, using both transmission electron microscopy and scanning electron microscopy.  
Following the initial results of her project, she worked to identify elevated content of the heavy metals nickel and chromium to match their chemical profile in samples from a bottle of Johnson & Johnson's baby powder, circa 1985, to a potential talc mine source in Ludlow, Vermont.
She has co-authored a journal article about this work that is currently in revision before publication in Results in Geochemistry.
"Hannah has done excellent work in pursuing her research," Krekeler said. "One of the most memorable high points was a talk in the regular session of a regional Geological Society of America (GSA) meeting. It was her first talk, and it was a 'perfect talk,' in line with what one would expect of a stellar Ph.D. student. It was truly spectacular that a sophomore could deliver such a high-quality presentation."
Wudke will also be presenting a talk at the GSA regional meeting in Michigan next week.
COVID-19 restrictions and finding her path at Miami 
Wudke originally planned on majoring in Music Performance before starting at Miami. But the COVID-19 pandemic (and in-person school closures) made her think more deeply about what she wanted to do with her life, and she decided to pursue her developing interests in the intersection of environmental science and communities.
Her first semester at Miami — fall 2020 — was taught remotely, due to COVID-19.  But she connected with Krekeler after he gave a presentation about his research in one of her classes. She was interested in the environmental aspect of his work. She joined his lab group and started, remotely, by reviewing literature and data from Krekler's graduate students.
During her second semester, she moved into her residence hall, although her classes were still taught remotely. Laboratory courses, however, were taught in person, and through those she discovered her love of research and science.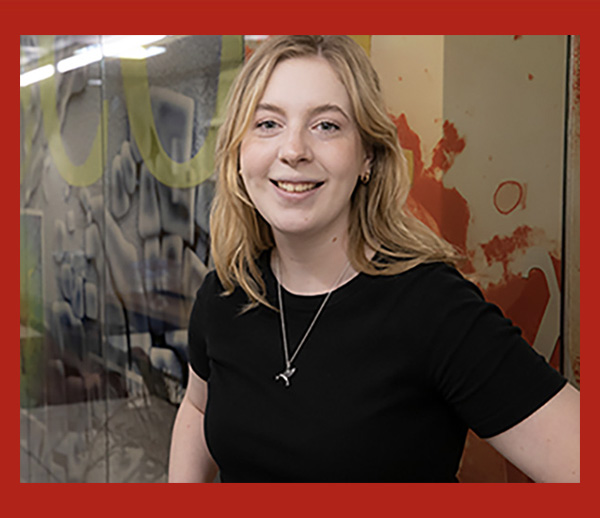 She eventually found the academic path that combines her interests.
She began training in the use of SEM at Miami's Center for Advanced Microscopy and Imaging (CAMI), an all-university research, teaching and service facility located in Upham Hall.  
Last summer, she was an Undergraduate Summer Scholar, working on a similar project with talc ore samples from a talc mine in Yellowstone, Montana. This summer she will participate in Miami's Field Geology course (Field Camp) in Dubois, Wyoming.
She is president of the Miami University Geological Society, a member of Miami's chapter of the Association for Women in Geoscience, and is a College of Arts and Science Ambassador.  
She plans to pursue a doctorate in Mineralogy and Geochemistry, with a goal of conducting mineralogy and geochemistry research at the interface of environmental health and teaching at the university level.
"It is beyond exciting to see what she will do as a senior at Miami and how her plans for graduate school evolve," Krekeler said. "Any top tier program would be lucky to have her."
Krekeler was also mentor to Miami's 2021 Goldwater Scholar Ethan Klein.