Six festivals over five days: Enjoy music, art, poetry, food and more April 25-30
Celebrate the end of the academic year and Miami's vibrant campus communities with these free, fun events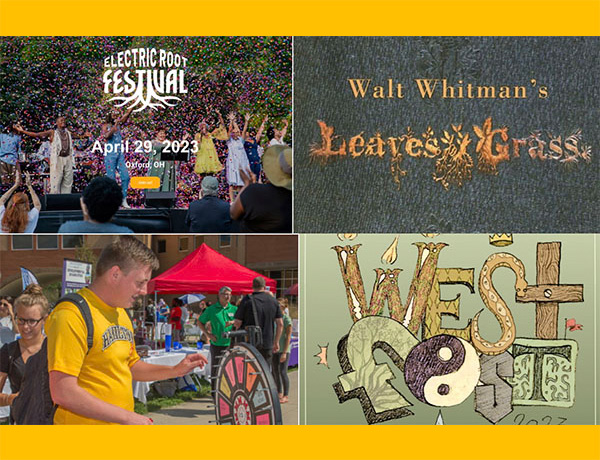 Six festivals over five days: Enjoy music, art, poetry, food and more April 25-30
Tuesday, April 25, Western Dining Commons (outside, weather permitting) 5 p.m.
Enjoy a plant-forward picnic lunch (or enjoy the other offerings at Western Commons). Meet Aramark's new sustainability manager, Angelica Alexander, and take home a free succulent plant. Faculty/staff meal $8.20.
Wednesday, April 26, at Ernst Nature Theatre (rain location Kumler Chapel), 8 a.m.-8 p.m.
Join members of the Literature program in the annual marathon poetry reading. Would you like to read an excerpt? Email Michele Navakas to sign up for a time slot. 
Tuesday, April 25, Middletown campus, 11 a.m.-2 p.m.
Wednesday, April 26, Hamilton campus. 11 a.m.-2 p.m.
Enjoy the annual, end of the year celebration at the Regionals campuses, showcasing student organizations and fun events. Organized by the Regional Office of Student Activities and Orientation (ROSA). 
Saturday, April 29, behind Peabody Hall, 3-7 p.m.
West Fest follows the historic tradition of the annual Western College for Women's spring event. Enjoy live music, food trucks, ice cream, circus performers, palm readings, art, and more. Sponsored by the Western Center for Social Impact and Innovation. 
Saturday, April 29, Oxford Uptown Parks, 3-9 p.m.
Festival of arts and culture for all. Celebrations of Black joy and radical hospitality. Fun for all ages: Check the lineup of Performances; visit the Radical Hospitality Tent; the Info Expo; Make-and-Take Art Tables; Relaxation Station; and food vendors (food for sale); plus free refreshments. Sponsored by the Performing Arts Series.