How everyone plays a role in overcoming the K-12 mental health crisis
Miami University is making big changes in the way schools approach mental health and wellness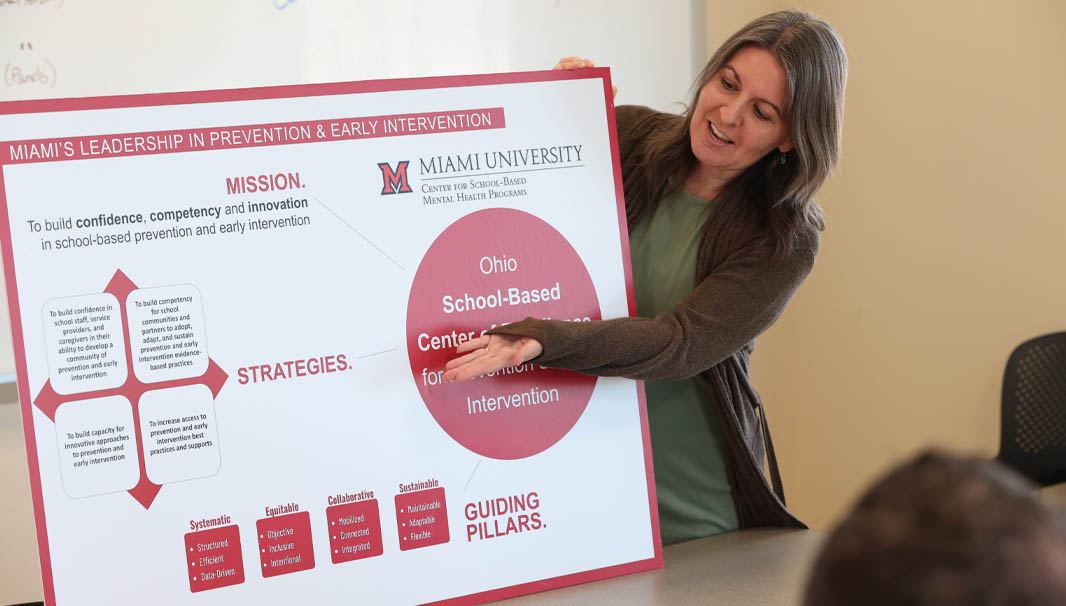 Cricket Meehan explains the guiding pillars for the Ohio School-based Center of Excellence for Prevention & Early Intervention
How everyone plays a role in overcoming the K-12 mental health crisis
Cricket Meehan explains the guiding pillars for the Ohio School-based Center of Excellence for Prevention & Early Intervention
The school was struggling and it wasn't alone. 
Like many across the state — across the nation, in fact — mental health issues among students and staff were soaring. COVID-19 had already taken hold. Its virulence ravaging more than just respiratory systems and attendance rates.
Teachers felt increasingly burned out and ineffective. Relationships between parents and teachers were strained, or nonexistent. Disciplinary issues were high.
"We were having so many fights at lunch, we had to institute an alternative lunch because kids were just unable to manage themselves," says Rebecca Huber, principal of Kinder Elementary School in Miamisburg, Ohio.
There were signs that these kinds of problems were already building for years. The virus was merely a flash point, a grim crescendo amongst a rising discord of similar challenges reverberating throughout the halls of schools everywhere.  
Cricket Meehan is the executive director of the Ohio School-Based Center of Excellence for Prevention & Early Intervention and the director of the Center for School-Based Mental Health Programs at Miami University, which is ranked among the top 50 national public universities, and where she leads several state-wide initiatives to support Ohio's K-12 students and staff. She says that even before COVID, mental health issues had skyrocketed. "Social isolation, anxiety, and depression are impacting classrooms and schools at a much higher level than ever before. One in five of our students are experiencing mental health concerns, and the pandemic just increased that."
So far, these various initiatives have received more than $12 million from the state to address what has become a full-blown mental health crisis.
In 2021, $6 million of this funding initially came from the Governor's Emergency Education Relief fund to create the Ohio School Wellness Initiative (OSWI), which began looking for pilot schools to help implement and evaluate an array of student assistant programs and staff wellness frameworks.
"It sounded like something I needed to be a part of," Huber says. "So I whipped up an application explaining why we should be included, and we were accepted."
A Dire Need
The OSWI began as a 21-month program led by an interdisciplinary team of experts from Miami's Psychology, Educational Psychology and Social Work departments to find new solutions to one of society's most pressing problems.
More than 70 pilot schools were chosen, and an initial needs assessment further revealed the extent of the challenges ahead.
When asked to evaluate their perceptions of changes in student needs since the pandemic, 75% or more of participating school officials reported increased concern for moderate-to-severe depression, significant anxiety and social isolation among students. 
Nearly 60% also reported increased concern for suicidal ideation or attempts, as well as trauma exposure or PTSD. And nearly 70% reported family engagement to be the primary barrier preventing students from receiving school-based mental health services.
These needs informed the blueprint for the student assistance program models and staff wellness frameworks that would begin to provide prevention, early identification and intervention resources and support to everyone in need.
Getting Involved
"Discipline was a huge problem, but the parent-school relationship was also really, really hurting," Huber says. "So one of the things we did with the funding for being a pilot school was to host monthly family nights." 
It was called Parent University, and was designed to transform parents into full-fledged team members, she says. Parents were invited in for dinner, while experts spoke about the student assistance programs concurrently unfolding at Kinder.
Behavior specialists, for example, discussed the brain science behind temper tantrums. Other experts talked about Zones of Regulation, which help kids self-regulate emotional control, problem-solving abilities and more.
"Instead of telling parents how to fix one more thing they might be doing wrong, we turned it into a family care night," Huber says. "We took what we've been teaching the kids in school about social emotional health and helped their parents learn how to implement the same things at home."
Parental engagement soared. What's more, Parent University also helped establish a common language between schools and families, which helped forge newfound relationships and reciprocity.
Shifting Perspectives
During the school days, Kinder also shifted its entire approach to student discipline. 
Previously, if a student misbehaved, they were met with a detention or suspension. Issues were compartmentalized. Root causes were ignored. The entire process was reactive, indiscriminate, unproductive and ineffective. 
"One student had been sent to the detention room 42 times for not doing homework," Huber says. "And he was about to get another lunch detention because he didn't do his homework. Again. And I kept saying, 'Is he gonna do it on the 43rd time?'" 
So the school took a step back. 
Instead of reacting to bad behavior as isolated incidents with consequence-based punishments, the school began to proactively consider the whole child by seeking to understand why they might be acting out in the first place. "Then you realize that their needs are interconnected," Huber says. "It's a chicken or the egg thing. Academics. Discipline. Which came first? You have to get to that root cause."
Similar stories were echoed by the other pilot schools, which also realized that these kinds of holistic and comprehensive approaches were key at every level. 
From family engagement to school discipline, it's not just the school's responsibility, nor is it just the parent's. It's about truly working together.
"Everyone in a student's life plays a role," Meehan says. "What we're really doing is identifying what role anyone can play, whether you're a parent, whether you're an educator, a bus driver or a community member, you can help address mental health."
Seeing Results
The OSWI was just one major effort under Miami University's School-Based Center of Excellence for Prevention & Early Intervention, which is making big changes in the way schools approach mental health and wellness.
"Many different organizations do good prevention and early intervention work, but often it's individual programming or individual training on one topic area," Meehan says. "But what we found is that's part of a full continuum. Unless you're addressing the entire continuum, so that all of the services and support are available, we may miss some students who need specific things."
So far, the Center has helped schools embrace this full continuum by emphasizing interconnected collaborations between schools, caregivers, community organizations and family members. 
More local partners are now receiving training on referral processes. So if young person comes to them expressing thoughts of self-harm or suicide, these partners know how to get them proper help.
In schools, educators are seeing increases in students who are getting connected and staying connected to resources. School climate surveys are also showing a rise in school connectedness. And some are already seeing decreases in behavior issues, minor infractions and even suspensions. 
"I have been in and out of hundreds of classrooms and a multitude of schools," says Ali Masters, the new Behavioral Health and Wellness Coordinator for Kinder Elementary. "I have never felt the sense of community I feel when entering Kinder, and it gets stronger every day. You can feel it in the building. Only five months into the school year we were already seeing drastic benefits, individually and collectively." 
When comparing behavior data from Fall 2021 to Fall 2022, Kinder saw a 60% reduction in minor behavior infractions, a 55% reduction in major behavior incidents and a 55% reduction in suspensions.
"Kinder has become the school where everyone wants to be, an impressive turnaround from two years ago," Huber says. "Not only is OSWI having a state-level impact. But, more importantly, my students' lives are better for the work we have been doing."
While the mental health crisis now facing many schools is far from over, rays of light are being seen. 
The stigma around mental health is shifting. More and more students are openly talking about their struggles with anxiety and depression. Parents and families are beginning to understand the crucial roles they can play. Community members and local partners are getting involved.
New frameworks and resilience strategies are in place. Those in need are becoming increasingly connected to an expanding network of support and services. And every day, tangible steps are being taken to ensure that students across Ohio are healthy and thriving. 
The seeds of wellness have been planted, and hope has already begun to grow.