Summer construction update: Central Campus Energy Systems Conversions
McGuffey Hall parking lot will be offline May 15 - Aug. 1; Spring Street to be closed May 18-27 in front of McGuffey Hall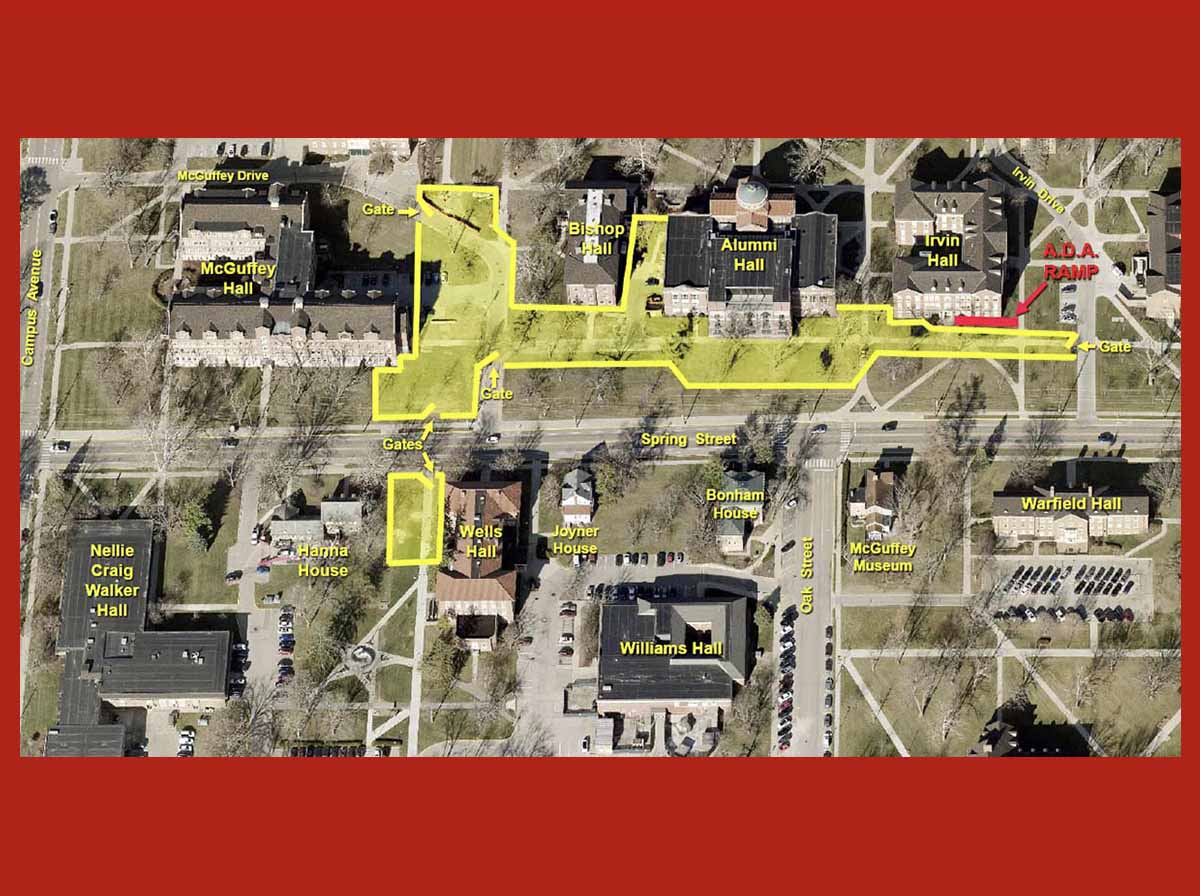 Areas highlighted in yellow will be enclosed within a construction fence May 15-Aug. 1
Summer construction update: Central Campus Energy Systems Conversions
Areas highlighted in yellow will be enclosed within a construction fence May 15-Aug. 1
Miami's Energy Systems department has been converting nine buildings in the center Academic Quad from steam heating systems to energy efficient heating hot water (HHW) systems.
The project, which began last summer with Upham Hall, is Project 4 of Miami's Utility Master Plan.
This summer, King Library, Hall Auditorium, McGuffey Hall, Bishop Hall, Alumni Hall, and Irvin Hall are being converted in the second and final phase of this multi-year project. 
Beginning Monday, May 15, the area shown highlighted on the map will be enclosed within a construction fence to support the HHW Conversion project. 
From May 15-Aug. 1: 
The McGuffey Hall parking lot will be offline.

The entrances on the east face of McGuffey Hall will be closed.

The drive/docks between Bishop and Alumni halls will be closed.

Bishop Hall will only be accessible from the north and west entrances,

Alumni Hall will only be accessible from the north and east entrances.

All entrances to Irvin Hall will remain open, with a temporary ADA (Americans with Disabilities Act) access path being installed along the south side of the building.
From May 18-27:
Spring Street will be closed near the intersection with McGuffey Hall to facilitate the installation of underground hot water and chilled water pipe across the street. 
Miami's Utility Master Plan: Decarbonizing and saving money
Through conversion of steam systems to geothermal exchange, simultaneous heating and cooling, and low-temp heating hot water, Miami:
Managed $95 million in energy savings since implementing its Utility Master Plan in 2008.

Reduced its carbon footprint by 57% per gross square feet of building space, between 2008-2022.
By 2027, most of the buildings on the Oxford campus will be off steam and heated and cooled by geothermal or heating hot water.